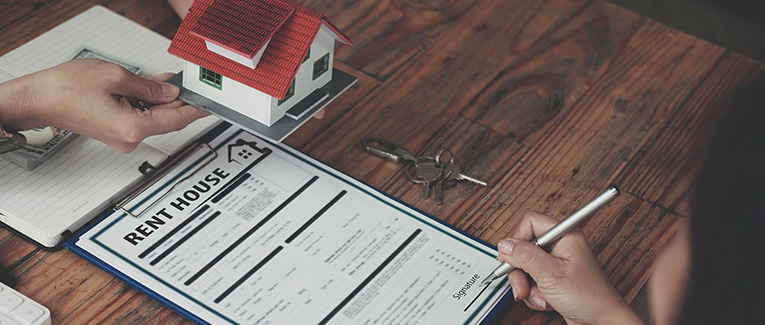 Renting a property for the first time, especially in a new place, can seem intimidating. It even can be quite a daunting task even for those who have rented before.
With all the places to visit before you shortlist, the hundreds of lease clauses to navigate, and negotiations with the landlord, it can seem like nothing short of a full-time job.
So, if it all seems like one giant maze and you don't even know where to begin the hunt, we understand. But, like everything else in life, understanding and breaking down the process into smaller steps can make it easier.
That, and having a friend to support you and guide you through it all helps, too. But, if you're new to America and don't have your support system set up yet, fret not; this guide is here for you.
The renting process in America is pretty newcomer-friendly. The contracts and procedures for property renting are very straightforward and simple. The only difference in the process between a citizen and an international resident is at the background-checking stage, where the documents to be presented vary.
Here's an end-to-end guide of how to go about renting a property in the U.S., so you're never left scrambling to figure things out on the go. Use this guide as a checklist of steps as you go through the process of finding your ideal home.
Stage 1: Identify What You Want
First things first, identify your needs and budget so you know what to look for. If you don't have an understanding of what your preferences are, you will likely be swayed by random properties that might not have the features that you actually need.
Choices like paying extra for a larger bedroom in a home instead of a well-functioning kitchen, or a house that looks pretty during the day, but is located in a dark street or shady neighborhood can end up being choices you regret later.
The three most important parameters to be considered before you even look for properties are:
1. What you need in a home:
For example, you may want a certain number of bedrooms, a backyard, a large kitchen, or for the house to be fully furnished. Knowing these details will help you decide if you should be looking at houses, apartments, townhouses, or something else.
2. Location is key:
Look for the proximity of the property to your workplace or college. If those areas are too expensive for you, then look for access to good transport facilities for your commute.
Additionally, the safety of the neighborhood, local community, access to facilities like gyms or libraries, and other amenities play a major role in your living experience.
3. Your budget:
This depends largely on the kind of property you're looking at and the location. Generally, the closer you get to the city center, the pricier homes get. Also, if a property has extra facilities and amenities, the prices will be higher.
Ideally, your rental expenses should be around 30% of your monthly income. But in some larger, more popular cities, like New York City, San Francisco, and Los Angeles, rental prices tend to go up to 50% of people's income.
Stage 2: Find Your Ideal Property
Once you've used those parameters to narrow down your ideal home type and your budget, you can start your hunt.
You may choose to either look for properties by yourself, or hire a real estate agent to make the process easier. Hiring an agent will save you time and help you avoid scams, but will cost you more money.
If you're doing it by yourself, start with trusted online rental websites. Then, you can move on to local classified ads and word-of-mouth suggestions.
While visiting properties, the landlord will typically show you around the exact unit available for rent.
You can walk around and experience what the spaces, views, light, and ventilation are like for each. If they are furnished homes, you can also get a sense of the furniture style, and how sturdy the furniture is in these viewings.
But, before you close on a place, there are seven very important things you should inspect while viewing a property.
Be sure to check:
The walls, floor, carpets, and ceiling for any major leaks, damage, or stains.
All windows and doors to see if they swing well and lock smoothly. Also, check for the functionality of lights and light switches, as well as wall outlets.
For the presence of functional safety equipment, like fire alarms and smoke detectors.
The thermostat (and air conditioners if they're included) is functioning well.
All bathrooms, to see if the toilets and faucets run smoothly, and if the water pressure is comfortable for you.
All the appliances, like the refrigerator, stove, oven, sink, washing machine, and dryer to ensure they're in working condition and not damaged.
For any pests, like bed bugs or roaches, and also for any signs of mold in dark and damp areas of the house.
If there are any flaws or damage, ensure the landlord or property manager documents them in a Rental Inspection Report.
Take pictures of any damage (along with the rest of the property), and back them up on the drive. These images can help you avoid issues while getting your security deposit refunded later.
Additionally, you can ask the landlord to have these damages fixed, repainted, or deep cleaned before you move in.
Pro Tip: Once you shortlist a few properties, visit them later at night, around midnight or so. This will give you a sense of how loud the neighborhood is at night, and how safe it seems at that time. This requires more effort from your end right now, but can save you many sleepless nights in the long run.
Stage 3: Finalizing the Deal
Once you decide on the property, the background checks, contract drafting, and negotiations begin.
1. Background checks:
Before you can sign a contract, your landlord will do a background check on your credit history. If you don't have a credit history in the U.S., you will have to show them an international credit score, proof of employment, or a local guarantor.
The most common documents you will have to furnish at this stage will be:
Your passport and visa
Proof of employment, or proof of college admission if you're a student
Financial papers, like your bank statement, plus proof of financial support if you aren't earning
Your Social Security Number if you have one
Contact details of your previous landlord in the U.S., if applicable
2. Rental/Lease contract:
Most properties require you to sign a contract to lease them for at least six months or one year, with the option to renew the lease after that period. If you're looking at a shorter stay period, consider a monthly rental contract.
Don't sign a contract before fully reading and understanding it. It is a time-consuming step, but an important one to safeguard yourself from ending up in a sticky situation.
Carefully read through the following details in your lease agreement:
The length of the lease or rental contract
Security deposit amount, plus refund details
Monthly rent amount
Monthly utility cost and what is included in it – like water, heating, garbage disposal, electricity, etc.
Monthly rent due date and mode of payment
Mode of payment for non-included utility bills, and what comes under those
Late payment clause
Maintenance and repairs clause
Termination clause
Conditions for rent increases or putting the property up for sale
In case of an apartment: building rules to be followed by you as a tenant
3. Negotiations:
While you may not be able to budge your landlord on the cost of rent, you can definitely negotiate on the terms of the lease.
You can negotiate certain details of your lease, like your move-in date, so you can move in at your own date without having to pay a whole month's extra rent.
Once you've checked all that, go ahead and sign those lease papers to close the deal!
Before you move in though, here's a final piece of advice for you: Consider getting a renters insurance policy, even if your landlord or building doesn't require it. It can protect you from having to pay extra in case of an accident. Most policies cover property damage, and help you recover the cost of your belongings.
With all that wrapped up, you can move into your new home, and enjoy the sweet comfort of all your labor.
We are sorry that this post was not useful for you!
Let us improve this post!
Tell us how we can improve this post?