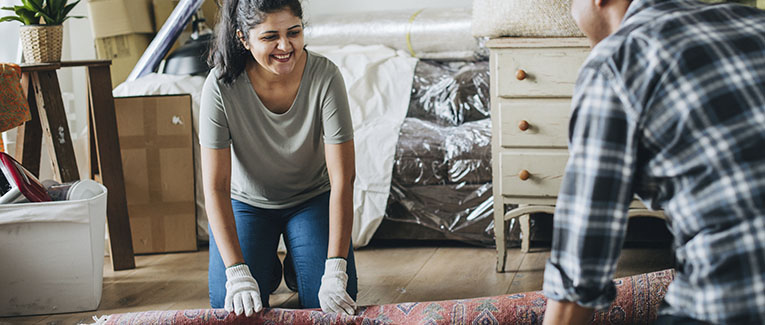 Are you planning to relocate within the U.S.? It is a good idea to be aware of what to expect, and this checklist will help you do just that. Tick off each item to make sure that your moving experience is as smooth as possible.
You can think of the process in three phases: pre-move, the journey, and post-move. Each stage needs special planning.
But worry not. With a little foresight and careful organization, moving from one state to another will be a piece of cake.
Phase I: Pre-Move: What to Remember Before You Take Off
Residence: Find a place to live
This will likely be one of your top priorities before you move. Don't defer finding a place to live until after you get there.
Take the help of your friends or acquaintances in the new town or city to find the ideal neighborhood for you. From there, take up the search for housing that fits your budget.
We suggest searching online rental or real estate forums that regularly update the listings on their website. If you can guarantee a good place to live before you leave your current residence, that's half the battle won.
Prepare a budget for the move
Moving can be an expensive affair, so to make sure that the costs don't go through the roof. Prepare a comprehensive budget, and stick to it. Here are some of the things to include in it.
Cost of new accommodation – including deposits, first month's rent, down payments, setting up utilities, etc.
Bill for the moving company
Flight tickets or cost of gas (if you are driving)
Cost of new services (like schools, medical insurance, local registration, etc.)
Updated living expenses
Miscellaneous and unexpected expenses
Sit down and list out all potential cash flows. Using a budget app to keep track of your finances is very convenient.
Schools
If you have children, then finding a school to transfer them to will be another one of your top priorities. The first place to start your search is the public school system or the education department's website. Then, narrow down your options based on your preference for a public or private school.
Some factors to keep in mind:
The distance of the school from your new home
Tuition and extracurricular costs
Quality of education (academics, activities, teachers, etc.)
Is the school accepting new students in that term?
You might have to plan your move according to when the school term starts.
Tip: Summer break is the best time to transfer schools. This way, your children will not miss out on any school time.
Sell off unnecessary stuff
Get rid of all those bulky items that you have no use for at your new place. It is a good idea to hold a garage sale or put up the items to be sold online. It's always better to purge your unnecessary belongings before you move than after – you don't want to pay to lug an old couch across the country only to throw it in a dumpster when you get there.
Not only will you get all that junk off our hands, but you can make a quick buck off of it, too.
Forward your mail
Inform your local USPS office about your relocation by filing a Change of Address request. This will ensure that you don't miss out on any mail at your old address after vacating it.
Phase II: During the Move
Hire a moving company
Find a reputed moving company to transport your belongings across states. This is the most efficient way to move your belongings. The excellent road transport network in America makes it a quick affair.
What should you look for while researching a moving company?
How old is it? What are its reviews like?
How does it compare price-wise to its competitors?
Does it have an office in the region that you are moving to?
What benefits does it give to its customers (like insurance policies or flexible pricing options)?
Packing
This is one of the most time-consuming steps of moving between states. Fortunately, you can use this general packing flowchart to do it effectively, wasting as little time as possible.
Get packing material: Cartons, packing tape, styrofoam pieces, bubble wrap, etc.
Start packing non-essential items 3–4 weeks in advance. This includes books, decorative items, lamps, extra furniture, etc.
Clothes, shoes, kitchen items, and appliances come next. Pack these 4–5 days before your departure.
Make separate boxes for each room, like "kids' bedroom" or "dining room", and label them clearly. This will help you avoid chaos when you arrive and start to unpack.
Pack the most essential items, like the last few sets of clothes and toiletries, a day before moving.
Phase III: Post-Move
The moving process is still not over even after you have arrived in your destination state. There are still crucial things to be arranged, so make sure you don't forget about these points:
Apply for a driver's license at the local DMV. You will need an updated proof of address, proof of identification, and your existing driver's license.
Register in the new state for your tax domicile. All states have moved the domicile application process online, so simply follow the registering instructions on the respective website.
Transfer utility services. You will have to pay for utilities like electricity, water, gas, cable and Internet, etc., when you move into your new house. You can either inform your current utility companies about the transfer of residence or apply for a new connection.
Update your health insurance plan. Many insurance plans require you to register with the service provider anew when you move between states. Check the details of your policy, and inform the insurance company at the earliest.
Acquire a pet license (if applicable). Different states in the U.S. have different rules regarding pets. Find out the necessary documentation you might need to own a pet in that state, and get a license accordingly.
There are many challenges of moving to a new state, but all it takes to make this process seamless and comfortable is smart planning. The pointers in this article will keep you on track and help you organize your move in the most efficient way possible.
We are sorry that this post was not useful for you!
Let us improve this post!
Tell us how we can improve this post?