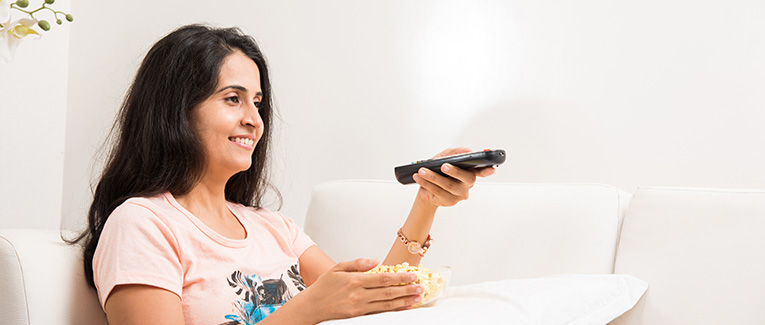 When setting up your television service at home, you can choose from cable or satellite dish connections.
Cable connection is available in almost all U.S. residencies. To activate a connection, simply call your local cable company. If you are renting an apartment, ask the rental company for the contact details of a cable company. You can choose from various cable television plans, depending on your preferences. A variety of packages such as limited, basic, and comprehensive are available. Additionally, premium channels like HBO and ShowTime can be added to your plan if you wish. Pay-per-view programs can be ordered for a one-time fee. These programs are generally used for watching movies or games.

Cable television does not usually have dedicated Indian channels that you might find in India such as Sony TV and TV Asia. Most cable providers have limited Indian programs on weekends and weekdays, depending on your location in the USA and the cable company. However, some cable companies offer channels such as Zee TV as part of their digital or other more expensive packages.
Many cable companies also provide high speed or broadband internet access. Some of these companies provide deals by combining the cost of a cable television connection with a broadband connection. It is worthwhile to consider this option.
Instead of a cable connection, you may choose to opt for a satellite dish. To do so, you will need to have a satellite dish installed in your apartment or house. If you live in an apartment, check with the apartment management before buying a dish, as some apartments do not allow the installation of satellite dishes. The dish must be pointing in a specific direction–usually the south, to receive reception. Therefore, it is necessary to first decide where you would install a dish before you purchase it. An apartment balcony, for example, may not have enough room for a dish. If trees are interfering with pointing the dish in a given direction, this may impede optimal reception as well.
There are two major satellite dish companies, Dish Network, and Direct TV. A Dish Network dish is available through the Dish Network only, while the Direct TV dish is manufactured by many companies such as RCA, Sony, HNS, and ProScan. Both companies have different programming packages. You can find more details on their websites.
Dish Network currently offers many Indian programming channels:
Hindi: Zee TV, Star Plus, Life OK, Aap Ka Colors, Sony TV, TV Asia, Sahara One, Sahara Samay, Aaj Tak, Headlines Today, B4U Movies, Zee Cinema, SET Max, and B4U Music, SAB, Zing, Zoom.
Starting at $19.99/month
Punjabi: Zee Punjabi
Gujarati: Zee Gujarati
Bangla: Channel-i, NTV Bangla, Tara Muzik
Tamil (2): Sun TV, KTV
Telugu (2): Gemini TV, Teja TV, Maa TV, E TV, TV 5, TV 9, Zee Telugu
Malayalam (2): Surya TV, Kairali TV
Kannada (1): Udaya TV, Zee Kannada
South Asia Radio (1): Asian FM
Starting at $0.99/month
You can choose as many channels you like.

DirectTV does not offer many choices but has channels like Zee Lamhe.
We are sorry that this post was not useful for you!
Let us improve this post!
Tell us how we can improve this post?