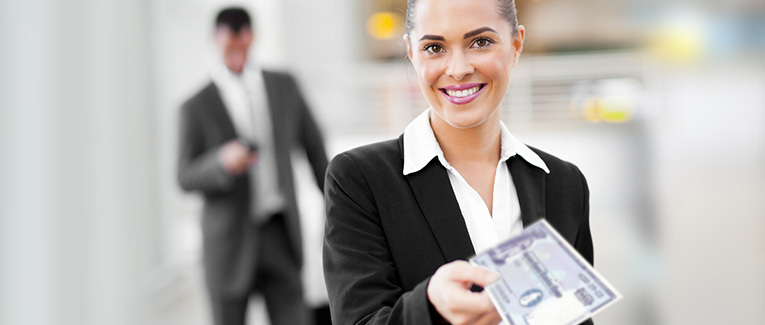 Traveler's checks are preprinted, prepaid, fixed-amount checks, and are a safe and easy way to carry money when traveling.
You can purchase traveler's checks from authorized dealers, like banks, or other full-service money changers. U.S. dollar traveler's checks are accepted at U.S. banks, stores, hotels, and restaurants. If a traveler's check is lost or stolen, it can be replaced with a simple phone call.
These days many people use credit cards; therefore, the importance of traveler's checks has gone down over time. However, some companies like Travelex offer traveler's check cards that work like a debit card. You can use it wherever Visa/MasterCard credit cards are accepted. You can even withdraw cash at ATMs. American Express no longer offers traveler's check cards.
Terminology
Obligator/Issuer: The organization that produces the check, e.g., Bank of America, Citibank, American Express.
Agent: The bank or other money changer organization that sells them.
Purchaser: The person or company that buys them.
Payee: The organization to whom the check is written in exchange for services or goods, e.g., store, hotel, restaurant, or bank. A bank may give you cash in exchange for a traveler's check.
Purchasing
Traveler's checks from American Express, TBank of America and Citibank are the most popular. Some agents charge a 1% fee to issue traveler's checks, while other banks do it free if you have a high minimum balance account with them. If you are buying traveler's checks for a different currency than the one you are making payment in, there are different rates. That is how they make money.
There may be restrictions on the amount of foreign exchange you can purchase, and there may be restrictions on returning the foreign exchange upon your arrival into your home country.
Traveler's checks can be purchased in various currencies, such as U.S. Dollars, Canadian Dollars, Australian Dollars, Euro, Pounds Sterling, Japanese Yen, etc. They are usually sold in packs of 5 or 10 checks, and you may get checks of different denominations, such as 20, 50, 100 (that is, $20, $50, $100).

For visitors, travel, student and other international travel medical insurance.
Visit insubuy.com or call 1 (866) INSUBUY or +1 (972) 985-4400

When you purchase a traveler's check, you should sign it immediately in the designated place. You must read the terms and conditions for the purchase, claim, and refund. There may be further details inside the wallet provided with the traveler's checks.
You should keep the purchase agreement form and/or proof of purchase separate from the traveler's checks. You should keep the traveler's checks with you in your handbag, proof of purchase in your checked bag, and an extra copy of the proof of purchase at home. That information is required if the traveler's checks are lost or stolen. Some payees may ask for proof of purchase when you try to cash the checks.
Most traveler's checks are one-signature checks. This means that only one person can sign and cash it. However, some traveler's checks are dual-signature checks (such as husband and wife). Two people sign the check at the time of purchasing it. However, either person can cash the check. Both parties are not required to sign at the time they are cashed.
Cashing
You can either cash your traveler's checks at a bank or you can use them at stores, hotels, restaurants, etc. When you want to use a traveler's check, you need to show a photo ID. You may also need to show the proof of purchase at the time of using it.
When you cash the checks, you should keep track of their numbers. That way, if you lose the remaining checks, you will know which ones were left.
When you cash a check, you should sign in the designated place exactly the same way you signed the check when purchasing it. The payee should match the two signatures before he/she accepts the check. If the payee has any doubt about the authenticity of the check, he/she can contact the issuer.
Loss
If your traveler's checks are lost or stolen, you can contact the worldwide refund service network of American Express, Visa, or MasterCard. They have services available 24×7 and 365 days a year. You must have proof of purchase and checks numbers ready when you contact them.
You should contact your local police within 24 hours if your traveler's checks are lost or stolen. You should be ready to give full details about you, your identity, the information about the traveler's checks, the circumstances, and the value of your traveler's checks.

We are sorry that this post was not useful for you!
Let us improve this post!
Tell us how we can improve this post?