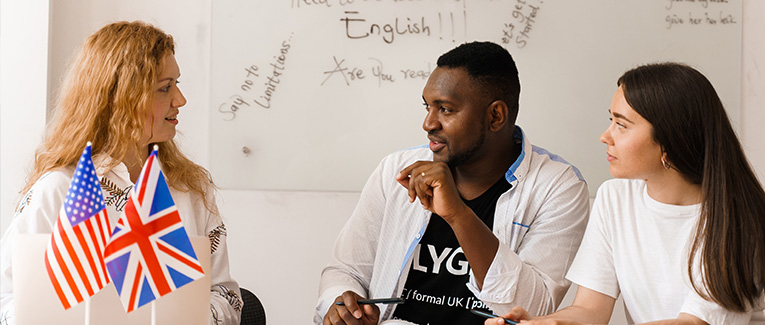 Becoming fluent in English is one of the best ways to ensure your life in the U.S. goes smoothly. There are a lot of benefits to brushing up on your English skills, from helping you qualify for better jobs to expanding your social circle.
English as a Second Language (ESL) classes are your best bet to do so quickly.
No matter what your current level of English, budget, and preferences are, there's an ESL class for you. We've covered the five best ESL course options in the U.S., along with how to find them, their cost, and their pros and cons.
But, before you start hunting, be sure you know why you're looking to take up an ESL course in the first place.
Are you looking for courses that offer you a certification?
Do you also need academic credits from the course?
Will you be needing one-on-one coaching, or would you prefer a classroom environment?
What is your budget? What schedule works for you?
Do you have a deadline for finishing the course?
Use these factors as the deciding criteria to find the right option for you.
With that in mind, here are the top 5 ESL class options in America:
1. Private Language Schools
With hundreds of schools across the U.S., these are the easiest choice for formal ESL classes in the country. They offer a variety of English courses, and often specialize in teaching specific groups of people.
As a result, most of these schools offer services beyond just teaching basic English.
Some schools cater only to visiting international students, and hence offer accommodation along with full-time ESL classes. Others cater to adults already working full-time in the U.S., and offer daily or weekly night classes.
Private ESL schools also tend to offer many types of English courses for learners of all ages and levels. From basic English speaking for beginners, to business English for mid-career professionals, you can find them all.
A huge benefit of these schools is that they accept fresh students at all times of the year. Most of them even begin a new batch of students every alternate week, so you can start almost immediately.
The tuition for these private language schools depends on the school you choose, the type and duration of the course, and the location of the school. You can expect to pay anywhere from $700 to $2,000 dollars per month for these courses.
If you're taking courses that prepare you for certifications or exams like TOEFL, then be prepared to pay a lot more. Course prices shoot up when there are tighter deadlines or specialized coaching needs.
You can find your pick of private schools that offer certifications at the end of a course, and ones that do not. (The programs with certification will be more expensive, obviously.) But, if you're looking for academic credit points, then these courses are not for you. Look at university or community college programs instead.
Remember though, the quality of learning at these schools is not always assured. Some may be outstanding and reasonably priced, while others have paltry education at exorbitant rates. So be sure to do your research, look at their past record, and talk to current students before deciding.
2. University ESL Courses
Almost all public and private universities in the U.S. offer ESL courses. Any high school graduate can apply to study these courses as either a full-time or part-time student.
But, most often these courses are offered as bridge-to-university courses for international students, and carry academic credit points.
These rigorous programs are designed to help students achieve college-level proficiency in English. Because of this, they also include training on speeches, presentations, and writing academic papers.
Some international students have to take these programs to qualify to study an undergraduate or graduate course in an American university.
These courses are offered only three times a year – for fall, spring, and summer semesters. Since they're offered to students, classes are usually held during the weekdays, for around 15-20 hours per week to meet F1 visa requirements.
If you're considering these courses, you'll have to budget for an application fee, tuition deposit, tuition fees, and the cost of books.
Application and tuition deposits are around $150 – $200 on average. Tuition for full-time programs in most universities is usually in the range of $2,500 to $3,500 per semester.
3. Community College Courses
If you're looking for a cheaper alternative and don't need a big university name on your certificate, community college might be the perfect option for you.
These ESL courses are tailored to help immigrants learn or improve their English, both for employment and everyday life. The courses focus only on regular speaking, listening, reading, and writing skills.
To cater to adult immigrants who are already working full-time day jobs, these classes are offered in post-work hours, four to five times a week.
These colleges separate learners into class levels based on 'placement test' results. So, you can find the right class for your skill level and start from there.
The price of each course ranges from $300 to $500, depending on your location. These classes are also a great way for you to network, make new friends, and find local support if you are a new immigrant to the country.
4. Free ESL Courses
If community college proves to be out of your budget, don't lose hope yet. Look in the right places, and you will be able to find ESL courses offered for free in your city or town.
The most popular option for free ESL classes in the U.S. is the non-credit ESL courses offered by community colleges in the country. These programs are tuition-free, but you will still have to pay for your own books and supplies.
If that isn't an option for you, then many local churches, public libraries, community groups, and even school districts offer free ESL classes for immigrants.
Unfortunately, these are informal programs and aren't always easy to find. A great way to find them is by asking for suggestions on your neighborhood Facebook group. You could also find the nearest public library and ask the librarian or manager there.
The biggest drawback of these free ESL courses is their quality. Since they're not-for-profit, you're unlikely to find expert teachers and great amenities. They are often run by helpful volunteers, so the quality of the class depends entirely on their teaching ability.
5. Online ESL Courses
The most convenient option for those who have busy schedules or can't find classes in their neighborhood is online ESL classes.
These courses offer almost unlimited certified and non-certified options for you to choose from. Whether it is one-on-one coaching, or pre-recorded videos for you to view on your own schedule, you are sure to find one that fits your needs.
The internet is filled to the brim with online ESL course options, so it can be easy to get overwhelmed while choosing one. Avoid this by filtering courses first based on your needs, then your budget, and then the reviews of the course.
The downside of online courses is that they don't offer the support and accountability of a real-life classroom. If that is something you don't mind missing out on, then go ahead and learn online.
P.S: These courses also don't fit F1 student visa requirements, so keep that in mind before you choose.
The pricing of online ESL courses starts from $5 per hour and goes up to $100 per hour, depending on the type of program and the instructor's experience.
In Conclusion
In regards to ESL classes, those are your five best options. Do your research and pick the one that works best for your needs, learning style, budget, and availability.
Before we close, here's one final piece of advice to help you make the best choice:
Before you finalize any options, be sure to look deeper than just their online reviews. Try to experience their classes firsthand by requesting a free or discounted introductory class. This will not only give you an idea of the quality of teaching, but also if the level of the program is right for your needs.
Here's wishing you luck on learning English in the U.S.!
We are sorry that this post was not useful for you!
Let us improve this post!
Tell us how we can improve this post?