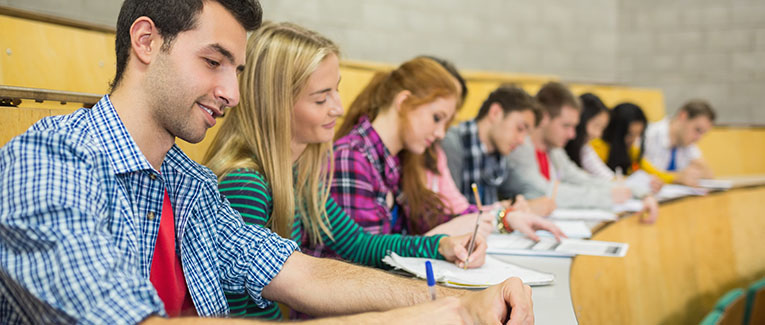 The U.S. higher education system has many levels and can be confusing to those unfamiliar with its details.
Community colleges are one level in this complex educational system. This guide aims to provide an overview of what exactly community college is, its features, and what you can expect from one.
What is community college?
The U.S. education system caters to students from all backgrounds. They all have different objectives and expectations from the college experience. Community colleges are an essential cog in the system and provide affordable higher education in traditional fields, as well as technical training and skill development.
Normally, community colleges are smaller in size than regular universities and offer a variety of practical subjects.
What degrees can you get at a community college?
Most community colleges in the U.S. offer associate's degrees, which are shorter programs that take two years to complete. This is different from a regular bachelor's degree, which typically takes four years to complete.
You can begin taking community college classes either while still in high school or after graduation. You can go for an associate's degree in fields like science, arts, math, English, law, history, or administrative studies, just to name a few. You can choose from a vast number of major and minor subjects that fall within your areas of interest. These community colleges are known as "transfer colleges" and serve as an intermediate step to completing a bachelor's degree at a traditional four-year university.
Another type of community college is the technical college, which focuses on building technical skills and market employability of students.
Many colleges in the U.S. are trying to foster a mix of both approaches to give students the best education and job opportunities possible.
Certificate courses at community college
Another qualification you can get at a community college is a certificate. This is a specialized course (or series of courses) in a field of your choice, and it typically takes about a year to complete.
Certificate courses are designed to boost your technical and practical skills and can be very useful while applying for jobs.
The most popular certificate programs are in such programs like business management, accounting, nursing, and engineering. Depending on the level of the program, its duration may range from a few months to about two years.
Applying to a community college
Almost all community colleges follow an open admission process. This means that students do not need to fulfill prerequisite academic criteria to enroll. This is different from universities, which tend to follow a rigorous and highly selective admission process.
You will have to submit your application to the community college (nowadays available online on their respective websites), along with the necessary identification and legal documents. You can generally apply all year round, though we suggest that you send in your application before the school year begins.
Note that some colleges do have selection criteria (high school diplomas, for example). They might filter applications for their most popular courses like nursing, paralegal studies, accounting, and computer science, for example.
However, community colleges rarely reject any applications. The admission board will help you find alternatives if the course of your choice is unavailable.
Preparing for community college
The college will ask you to take a placement test before registering for subjects like math, science, or engineering. This is to judge your level of aptitude in that subject. Some colleges also require a general comprehension test for language and reading skills.
If you are interested in applying for such courses, learn more about the college's previous placement tests. Practice a few at home to gauge where you stand with your preparation.
The level of these tests is not advanced, so you don't have to worry too much about full-time preparation.
Student life at community college
Community colleges have great student interaction and numerous opportunities for extracurricular activities. You will find various campus clubs and initiatives like debate societies, music clubs, dance clubs, and fitness societies. Such initiatives are a great place to explore your interests with like-minded people.
These colleges have very diverse campuses, with students and staff from all over the country. The number of international students on campuses has also been steadily increasing over the last few years.
Many community colleges also have social-impact groups that work with the community in social development issues like education, healthcare, housing, and civil rights. This is an unparalleled opportunity for students to engage with their communities and make a meaningful difference.
Housing and residence
Community colleges are mainly commuter colleges—that is, they do not have on-campus residences for students. You will have to find an apartment off-campus or a host family to live with if you want to attend community college.
Tips to keep in mind when choosing a community college
Get an overview of the courses and facilities for students in the college's course catalogue, available on their website.
Be clear about your financing options. If you plan to take out student loans, the choice of your college might affect your premiums.
There are many federal, state, and institutional grants to help you partially fund your college education. Some examples are the Pell Grant or the Tuition Assistance Program. Check your eligibility for these before applying.
Research the placement opportunities for the particular course that you are applying to. Also, take a look at the college's historical employment data. This will give you a fair idea about what your job prospects look like after graduating from community college.
Choosing a community college will give you a very strong base to start your career regardless of what you do afterward, whether enrolling in a university or getting a job. You can count on your education here to open up many doors for you. It will give you essential skills to succeed in your future career.
We are sorry that this post was not useful for you!
Let us improve this post!
Tell us how we can improve this post?