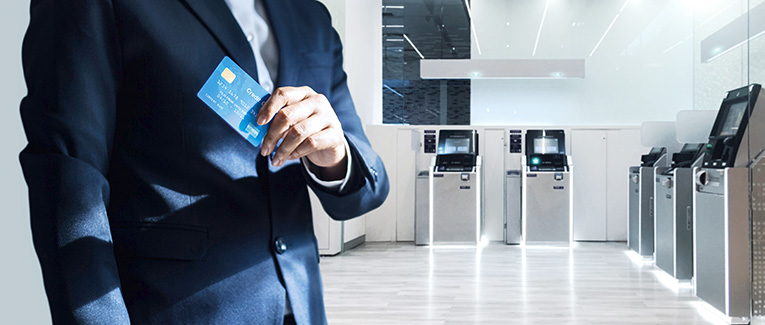 If you've just moved to the U.S. and are planning on living here for a while, then getting your own local ATM card and bank account is probably on your to-do list.
After all, you can only keep surviving on cash and paying hefty conversion fees for so long.
If you're looking at a short-term stay in the U.S., then you can get away with using your overseas account, especially if it is in an international bank. Most major international banks have operations in the U.S., so you can just open a local account with that same bank.
But, if your overseas bank has no presence in America, or if you are going to be staying here for longer, then consider opening up a new account in the U.S.
With a plethora of options, service types, and competitive rates, choosing a bank can become an overwhelming task.
To assist you, we've broken down the process of choosing a bank in the U.S. (and opening an account) into three simple steps for you to follow.
Step 1: Identify Your Needs
Knowing what you really want is often the best way to narrow down your search. So, before you get down to choosing a bank, there are two questions you must first ask yourself:
1. Why do you want to open an account? What are your goals?
Is it to save up some money? Or is it so you can simply store it for spending?
Knowing what you plan on doing with the account, or what you are expecting from it will help you decide the type of account you need to open.
The most popular types of accounts are checking accounts and savings accounts. But, there are many other options like money market accounts, certificate of deposit, brokerage accounts, and individual retirement accounts.
Once you've decided on the types of accounts you want, make a list of banks offering the best benefits and features for those types of accounts.
2. What other services will you be needing?
It's important to find a bank that fits your lifestyle, and your spending and saving habits.
Do you also want a mortgage from the same bank?
Is there another type of loan you want to take out?
Are you looking at starting an investment account?
Perhaps you want a bank that will quickly approve a credit card for you.
Maybe you're looking for a bank that allows you to open multiple savings accounts, each for a different purpose.
Will you be transferring money internationally often?
Decide what services you want from your bank, and use that to look for banks that offer exceptional service in those areas.
Step 2: Compare Your Options to Narrow Down the List
Now that you've got a slightly smaller list of potential banks to work with, it's time to whittle down that list even further. Here are the essential parameters on which to judge the shortlisted banks:
1. Are deposits required?
Some banks need you to deposit a minimum amount of money before you can open an account with them.
This practice can act as an extra layer of protection, for you as well the bank. But, if you're working with a very limited budget, then by all means consider alternate options.
Do your research beforehand and find a bank that allows you to open an account without a deposit, so you don't end up wasting time.
2. Fees (both the upfront and the hidden ones)
This cannot be stressed enough: Read the fine print.
Most banks have hidden fees that you might not even be aware of until they are suddenly deducted from your account.
These fees may seem minimal, but they really add up over time; especially if you're looking to save money. So, if having to pay those additional dollars bothers you, then look for banks that don't charge fees.
3. Accessibility (physical and digital)
This is another factor you don't want to compromise on.
You want managing your money to be as easy as possible, whether that's in-person at a branch, or while making online transactions.
Even in today's day and age, you might still have the occasional need to visit your bank physically to deposit checks or cash. If so, look for banks that have branches near your home or place of work. This way, you won't have to travel halfway across town for a 20-minute task.
Perhaps, you're someone who does all their transactions online. In that case, you will want a bank that has a solid online banking system in place, so you can make payments, check balances, manage mobile banking alerts, or even lock your debit card in the case of misuse. Also check if the bank has a smartphone app, or if they still use only a mobile browser for their online banking.
4. ATM (locations and fees)
The convenience of being able to withdraw cash with ease whenever you need it is severely underrated.
Choose a bank that has ATMs in your neighborhood and close to your workplace. If you're someone who travels a lot domestically, then also look for a bank that has a large ATM network to avoid extra fees.
Also, look into the fees the bank charges for using another bank's ATM. The lower the fees, the less money you have to pay up every time you withdraw money. Again, these fees can seem insignificant, but can really add up over time.
5. The safety of your money
Ensure your hard-earned money is protected no matter what by weeding out any banks that are not protected by the Federal Deposit Insurance Corporation (FDIC).
The FDIC reduces your risk of losing your money by insuring your deposits in the approved banks. If you have an account in an FDIC-approved bank, your balance will be insured for up to $250,000 in case the bank fails.
6. Customer service and support
Always be aware of what the bank's customer support system is like before you commit to opening an account. Nothing is more off-putting and frustrating than bad customer service, and this applies to your banking experience as well.
You don't want to have to wait on hold for hours before your bank can offer you support over a simple transaction issue!
So, ask these questions to avoid nightmarish banking experiences later:
What is their support like?
Do they have a solid online complaint redressal system, or will you have to visit a branch office every time?
Are they available 24×7, via phone, email, and over text?
How long do they generally take to resolve account issues?
Before you confirm with a bank, go online and read some customer reviews or ask your friends which banks gave them their smoothest banking experiences.
Once you filter your list of banks through these parameters, you should be able to easily find the one bank that best fits your needs.
Now, you only have one thing left to do. You need to actually open an account in the bank of your choice.
Step 3: Open Your Bank Account
To open a bank account, traditionally, you would have to visit a branch office. But, most banks these days have provisions for you to open a new bank account online.
Based on your needs and convenience, you can choose either option.
For an online application:
If you've got all of your documents ready beforehand, and you're opening your account online, you may be able to fill out your applications in 10-15 minutes.
However, the bank will likely take a couple of days to process your application and issue your account number. You may have to wait for seven to 10 working days to receive your debit card in the mail.
At a physical office, you can have a banker to open your account and guide you through the whole process.
Opening an account in-person:
If you'd prefer to open an account in-person at a branch, then the application process may take much longer.
Anywhere from 30 minutes to an hour is the norm when an appointment is booked in advance. If you don't book an appointment, then be prepared to wait a while longer.
On the bright side, when you open your account in person, you will likely receive your debit card immediately.
Remember to carry with you all o the necessary documentation and proof to open up an account. For most banks need you to prove your name, address, date of birth, and national ID number. The ID could be your local driver's license, social security number, passport, or your Individual Tax Identification Number (ITIN).
Generally, the SSN (Social Security Number) is the standard ID proof used for bank accounts. But, if you haven't applied for or received your SSN, then you may use your ITIN to show proof of identity.
And that's all there is to it.
With that big task crossed off your list, you'll definitely feel a weight lifted off your shoulders. So go open up that bank account as soon as you've done your research, and you can enjoy the relief of having that sorted. Be sure to share this article with your friends to help them find the best bank for their needs as well.
We are sorry that this post was not useful for you!
Let us improve this post!
Tell us how we can improve this post?