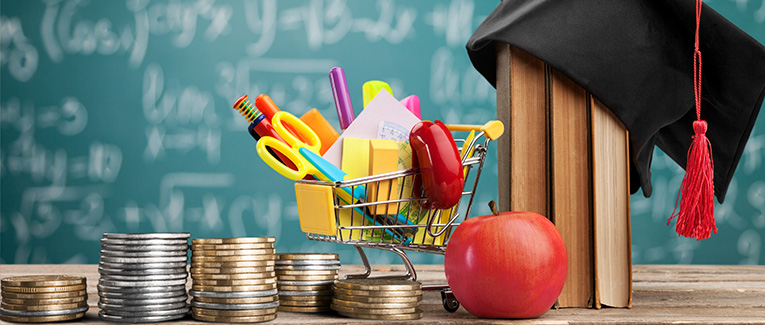 If you dream of studying at an American University, you are not alone. Over one million international students come to the U.S to study every year. However, millions of more students have to give up on that dream due to financial constraints.
Before you pack your bags to come to the U.S., it is important that you critically analyze if you can afford your U.S. education dream or not.
How Much Does It Cost to Study in the U.S.?
The answer is usually a string of five-digit numbers. If you are seeking an undergraduate degree at a four-year public university in the U.S., the price as of 2021 could be anywhere from $26,290 to $99,417.
However, both of those figures are extremes. The cost of studying in the U.S. depends on a number of factors, as the tuition fee is only the starting point.
The tuition at your school of choice might be within your budget, but tuition alone does not pay for an education. For example, the average estimated tuition and fees for a four-year degree at a private, nonprofit university as of June, 2021 can cost around $36,000. However, when you add in the cost of lodging, boarding, and other expenses, the total price rises to around $60,000.
Once you have shortlisted a couple of U.S. colleges, you should research the following factors in addition to tuition fees, to determine if you can afford to study there or not.
Cost of Living
The cost of living in the U.S. varies greatly by location. The fact is, some locations are more expensive than others. The location of your university or college makes a huge difference in how much money you will have to spend on things like food, transportation, and living accommodations.
Room and Living Expenses
While living on campus might seem like the most suitable option, it might not be the most affordable. The average cost of living in a dorm on-campus at a public U.S. university during the 2020-2021 academic year was over $9,000. Living off-campus with a host family can be a more economical option. However, this option is still not completely free. Even trying to live with roommates in an off-campus apartment can still be extremely expensive depending on the location of your school.
Travel Expenses
Other than commuting to classes when living off-campus, students should budget for other travel expenses as well. For example, the cost of traveling to your home country during breaks should be considered.
Textbooks and School Supplies
It might not feel like a substantial expense, but textbooks and school supplies can command a lot of your budget.
Then, there's the issue of your computer. While you may be able to do much of your coursework on a library computer, having your own laptop is a definite advantage for taking notes in class and writing essays.
In addition to these items, everything from pencils and notebooks, to binders and erasers will add into the cost of your education.
Daily Needs
Food, clothing and other daily essentials should also be included in your budget. These are obvious expenses, and that's why they are often forgotten. If you're planning to attend school in a colder climate than you're used to, are you aware of the cost of a pair of insulated winter boots? Have you calculated how much you'll have to spend on food each week? These are questions you'll need to answer to create your budget.
Entertainment Expenses
It is impossible to not enjoy the American lifestyle while studying at an educational institution in the U.S. It is wise to budget at least some funds for entertainment and leisure activities, because you might want to spend some time off of your campus as well.
Insurance Costs
While calculating the cost of living in the U.S., insurance is the most overlooked aspect.
The majority of U.S. universities and colleges require international students to have a certain level of insurance coverage. That is the minimum insurance coverage that you need for admission to that university. It by no means is the most comprehensive plan. There may also be certain requirements your insurance must meet depending on your visa status. The cost of this insurance can increase if you have dependents accompanying you, as you'll need to insure them as well.
Healthcare in the U.S. is expensive. International student insurance with appropriate coverage is the best way to save yourself from paying huge medical bills in case of emergencies.
It is important that you budget enough funds for insurance. Explore the marketplace and make sure you find the most suitable international student insurance coverage.
Understanding if You Can Afford Your U.S. Education Dream
Once you have calculated how much it costs to study in the U.S., it is time to determine if you can afford it.
If you feel that you cannot afford to study at an American University after looking at your finances, you can explore sources of financial aid.
The majority of the financial aid available for education in the U.S. is for U.S. citizens. However, you can find scholarships for international students as well. You just need to look at the right places.
If you are having trouble finding scholarships or grants, you could take out international student loans. A word of caution, though. Before using loans to study abroad, make sure you will be able to pay them back. A university course that requires you to take out a $50,000 student loan won't be logical if the starting salary for graduates in that field is only $20,000 per year. In such a situation, you could get caught up in student loan debt.
What to Do If You Cannot Afford Your Dream College?
Here are a few alternatives that you can consider:
Choose a More Affordable College
The program that you are interested in is likely to be offered by more than one college or university. If you can find a college that offers the same course at a lower cost, you can go to that college instead.
Community Colleges
In the U.S., it's extremely common for students to attend community colleges prior to completing their degrees at a four-year college or university. The reason for this is because community colleges are much less expensive. They allow you to attend a year or two of core classes – even earning a two-year associate degree – for a much lower cost. You can then transfer to a four-year school for your remaining years of classes to earn your undergraduate or graduate degree.
However, keep in mind that most community colleges are commuter schools. This means they do not allow students to live on campus. If you choose to attend a community college, you must also factor living expenses into the total cost.
Attend College Online
The vast majority of expenses that you incur in the U.S. are on things other than the actual tuition fee. If your desired program is available online, you can still get your degree from a U.S. university. This way, you can get the same degree for much less expense.
Be Realistic
Studying in the U.S. is a dream for many. But before setting out to chase that dream, understand the reality of what it will cost. Being honest about what you can afford today can save you from a mountain of debt and disappointment tomorrow.
We are sorry that this post was not useful for you!
Let us improve this post!
Tell us how we can improve this post?