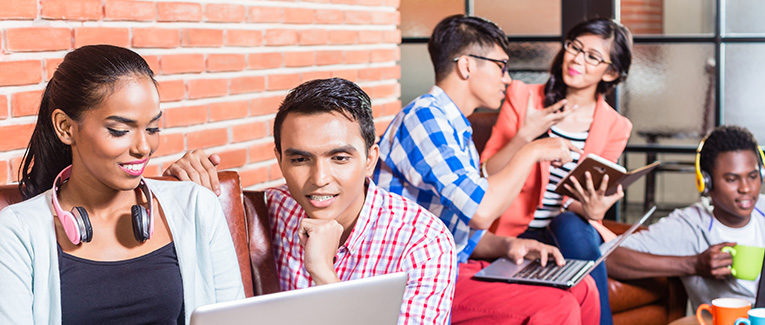 Education is not just about academics. In fact, a well-rounded education should offer students experiences that nurture aptitudes in varied fields. This is the reason why extracurricular activities have gained such importance over the years. Even in regards to your career, recruiters will look at extra skillsets you can offer to employers.
Getting involved with your college community is the first step towards building new skills. Community participation helps forge lasting friendships and meaningful connections. There are a lot of ways to enrich your college experience, so here we bring to you the top seven ways you can get involved.
Top Seven Activities You can Participate in While in College
Join a club
Joining a club is the most common way to interact with fellow students while exploring your interests. Campus clubs can help you build skills and relationships that last well beyond your college years. It also helps you practice teamwork and develop your communication skills.
Depending on your area of interest, you can find a wide range of clubs to join. Some of the clubs that you can find in a typical U.S. college include academic clubs, political clubs, media groups, theater and arts, cultural clubs, spiritual groups, and sports clubs.
Greek organizations
You have most likely heard about fraternities and sororities in U.S. universities. These are popular organizations found in most U.S colleges that use Greek symbols for their names. That is why they are also known as Greek organizations. If you wish to include yourself in one of the Greek chapters, be aware that they don't allow for any half-hearted measures.
The process of becoming a member of any Greek chapter is usually a challenging one and comes with a price. Your eligibility will be verified by current members, which in itself is quite a marathon. Once accepted, you will be required to take a pledge and go through an initiation process. Only after you have completed the initiation process will you be considered a full-fledged member.
Although Greek organizations can be quite expensive, they come with definite perks. As a member, you get to enjoy legendary parties, upscale living quarters, and exciting activities, as well as engage in volunteer projects.
Volunteer groups
Volunteering is the most direct way to contribute to the local community. As an international student, this is the most profound way you can make an impact on your immediate surroundings. Some of the more popular volunteering activities you can participate in are:
Rehabilitation of animals/wildlife
Beach/community park cleanup
Tutoring students
Helping at a retirement home
Assisting after a natural disaster
Depending on the location of your residence, you can find a number of suitable volunteering opportunities. Consider giving back to the community by joining one of the local volunteer organizations. You can also approach your college administrator to learn more about volunteering activities. Alternatively, you can search online and find volunteer opportunities with local schools, soup kitchens, animal shelters, or nonprofit organizations.
Community events
Your college will organize community events from time to time. Art exhibitions, science fairs, fashion shows, and book fairs are some common activities held on-campus. Don't just be a passive partner in these community events. Get involved in organizing, managing and hosting. It will help not only in building your communication skills, but will also reflect extra credits in your resume.
Participate in workshops and seminars, not just as an audience member, but also as an organizer. It will boost your networking capabilities for future job opportunities. Approach the college administrative office to get a list of scheduled events and ask for ways to get involved directly.
Professional associations
Your college will have many professional associations for students to join. These groups are great avenues for exploring an occupation or a field of study. They also provide excellent opportunities for networking and building connections.
Look on your school's website for more information about the campus's professional associations. Ask the administrative office for ways to get involved in such associations. Some examples of professional associations are:
Student committees, like student government
Research committees
Academic groups based around things like arts or finance
Taking up unique courses
The U.S. education system is quite flexible and allows students to study different subjects in unrelated fields. Make the best use of your time and the resources available to you by exploring unique course offerings.
You can learn a new language, or take up classes related to your hobbies. You can also choose to study a technical skill that can be helpful later in your career. Use this as a unique opportunity to earn extra credits while having fun.
Local events
While campus life itself is bound to be hectic and crazy, you will probably not spend all of your time on campus. Explore the local community and get to know the lifestyle by making friends with local residents.
You might have to do some research to learn about what is going on in your community. Opt for active participation in local events like seminars or workshops happening in your area. Not only will you get to interact with lots of new people, you will also gain experience tackling real-world problems.
Getting Involved in a Meaningful Way
Creative students will always find innovative ways to get involved with their environment and community. There are two ways to approach this: You can either be proactive or reactive, depending on your interest. When you search for opportunities in advance, you can also make strategic choices to improve your career prospects. But not everything in life is about your career. Sometimes you just wish to explore an interest, and that's perfectly normal. In fact, student life is all about exploring new avenues.
Be flexible and open-minded when it comes to choosing activities to participate in. Set realistic goals for yourself. Acknowledge your limits and your potential, and realize that you cannot be everywhere at the same time. Get involved as you are able, and enjoy your time in school.
We are sorry that this post was not useful for you!
Let us improve this post!
Tell us how we can improve this post?