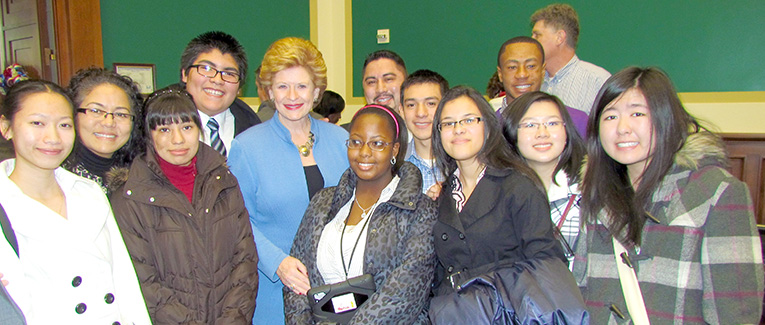 Here's a fun fact: The TRIO program is not composed of three programs like its name suggests. It actually consists of eight programs!
Here's another fun fact: You know less than you think you do about the nuances of the TRIO program. So, how about a refresher? Or maybe an introduction?
The TRIO program – A background
In the U.S., there is a huge gap in accessibility to education. While 81% of students from high-income families attend college, that number drops to a staggering 38% for students from low-income families and disadvantaged backgrounds. In 1964, President Lyndon B. Johnson started the TRIO initiative to bridge this gap.
In its struggle to fight poverty with education, the TRIO initially comprised three programs (hence the name), and it was only later on that the other five programs were added. These are federally funded outreach programs meant to put disadvantaged students through college to pursue their higher education dreams.
Here are some little-known facts about the TRIO program:
This initiative isn't just meant to uplift students from low-income backgrounds. They also help students with disabilities, as well as first-generation college students.
Federal TRIO programs can start as early as middle school to support students and help them succeed. This is done considering that some students might not even make not make it through school due to their circumstances.
This program doesn't just help students. It also includes initiatives to train staff and directors for greater TRIO projects. So, you can get involved in more ways than one.
The eight TRIO programs are:
Upward Bound
Talent Search
Student Support Services
Veterans Upward Bound
Education Opportunities Centers
Training Program for Federal TRIO Programs
Ronald E. McNair Post-Baccalaureate Achievement Program
Upward Bound Math-Science
Each program covers separate fields and levels of education.
A student cannot apply for this program directly. They receive help from educational institutions and community-based organizations that receive TRIO funds and act as mediators. Disadvantaged students associated with such institutions can receive help.
Everything in the program is free of cost. This includes excellent personal advisor support, scholarships, and compulsory TRIO activities.
TRIO participants can remain in the program until they graduate or transfer to another college. They can even study abroad if they wish.
Now for the real question you've been waiting for…
Who is eligible for the TRIO program?
There's some bad news for all you international students willing to study in the U.S. In case you haven't guessed already, the TRIO program won't be beneficial to you. Here's why:
Only a U.S, citizen, national, or permanent resident is eligible for the TRIO program.
U.S.-based students have to qualify as either a first-generation learner, fall under low-income guidelines, or show documented disabilities.
International students holding F1, F2, J1, and J2 visas, which is the case for international students, are strictly ineligible.
In other words, you can still get involved with the program as a staff or advisor, but you can't benefit as a recipient. But, before giving up entirely, let's address the final question lingering in your mind right now.
Is there another way to achieve your international education dreams?
Fortunately enough, the answer is yes. In fact, there are numerous other possibilities for financial aid when studying abroad.
Thank goodness for scholarships, grants, and financial aid!
If you are a motivated student with excellent grades, getting a scholarship or grant is possible. Here are some paths you can take:
Apply for full-merit government scholarships and aid for international study offered by your home country.
Look for international scholarship opportunities (both globally and within the U.S). Keep in mind that these will be quite competitive.
International study programs (such as exchange programs) provided by your home country or educational institution are a great solution.
Financial aid opportunities for students from low income families could be helpful if you qualify.
Crowdfunding through online resources is an ingenious idea if you can show a genuine cause.
Enroll in a public or community college, or a tuition-free university.
Student loans can be the stepping stone you need
In case the previous solutions don't work for you, this one ought to help. Although they must be paid back, student loans can still be your pathway to realizing your foreign education dreams. A few words of caution in this regard:
Try your best for government loans, since you can take advantage of loan forgiveness later on. Private loans should be your last option.
Only take calculated loans of reasonable amounts that you can easily pay off. Don't bite off more than you can chew.
Aim for affordable universities. There is no use going to an expensive university if you are going to be crushed by debt for the next 30 years.
Have a repayment plan ready that agrees with the pay range of the job you expect to land. With adequate planning, even hefty student loans can be managed.
International student insurance is essential
Let's imagine either of the previous two paths works out for you and you get a scholarship or a student loan to study in the U.S. Either way, it'll only cover your education expenses, and maybe some part of your personal expenses, if you're lucky.
What happens in case of medical emergencies? Who's going to pay for that?
You might be thinking that your school will provide insurance. That might be true for a fortunate few, but not for all. Even if you are covered by your school, there might be undesirable nuances involved that you would rather not face in a crisis.
It could be a 50/50 coinsurance system, or insurance only for extreme health-related emergencies. That means that your insurance will cover bone fractures, but not a bad cold or other common ailments. These situations can rack up thousands of dollars' worth of bills; an amount that won't be covered by any scholarship or loan.
You can't take that kind of financial risk in a foreign country, with no one to back you up financially. This is why having a student insurance plan is for the best. How should you do it?
Head to Insubuy.
Fill in your details, and compare among the numerous student insurance policies suggested to you. You can contact Insubuy's expert insurance advisors if you need assistance.
Make the purchase, save the policy, and rest easy.
Financing your international education
Even if you cannot be aided by a TRIO program, the three options suggested above are still the most surefire way of securing a foreign education in the U.S. Have some faith and confidence, and you'll be cracking on with your dream education in no time.
We are sorry that this post was not useful for you!
Let us improve this post!
Tell us how we can improve this post?