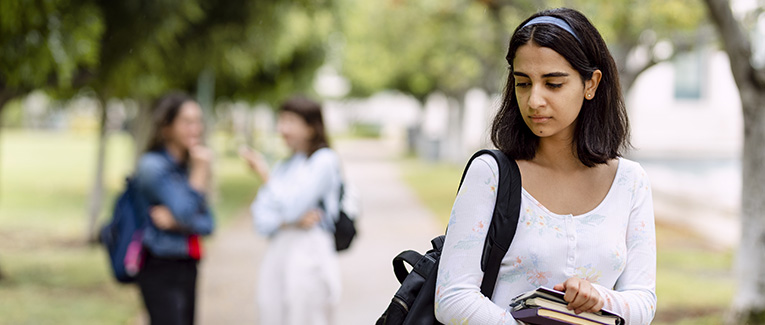 The aftereffects of being bullied at school last for a long time.
Ellen Walser deLara, a prominent writer and professor in the School of Social Work at Syracuse University, studied 800 adults who were impacted by bullying in their childhood. 90% of adults from her list agreed that the dreadful moments of being bullied at school as a child often come back to haunt them as adults.
According to a paper published in the U.S. Department of Education, one in every four students have experienced bullying. Students with disabilities, LGBTQ+ students, racial minorities, and international students are more likely to get bullied than others.
However, you should know that you can always seek help, and the sooner the better.
Bullying has been defined as three things according to the Centers for Disease Control and Prevention:
Intentional aggression
The power imbalance between aggressor and victim
Repetition of the aggression
If you have experienced these, you should immediately seek help. Here are some resources:
Stopbullying.gov: An online portal that educates students about different types of bullying, and helps them in combating it.
Call 1-800-273-8255 to TALK: A helpline for suicide prevention. It's observed that international students who are bullied at school often suffer from depression. If you feel hopeless, fearful, and have thoughts of suicide crossing your mind, call this number. They'll listen to you and help you find a solution.
Deaf or Hard of Hearing? Call 1-800-799-4889: A helpline that provides support to students who are hard of hearing and being bullied.
Student Union: Every university has a student union, which is supposed to address students' issues. Whether you're dealing with a bully, mental health issues, or struggling with studies, you can always reach out to the student union.
Follow a university campaign, and speak out: This might not be a full-time thing, but if your university is running a campaign for bullying or sexual harassment, be part of it. The university will also help you in case you want to report it to the police.
State Department of Education: If you already spoke about this issue to your school superintendent and still didn't get an adequate solution, then you can reach out to an officer at the State Department of Education in the U.S.
National Bullying Helpline: Call 0845 22 55 787 to talk about being bullied. You'll get help within 24 hours.
Victim Support: Call 0808 802 9999 for issues like sexual assault, sexual harassment, and rape.
Most often, universities take care of such issues if you speak about them. But, if it's hard for you to reach out to someone at school, you can always resort to other means. Take a note of these options, and seek help.
What Counts as Bullying?
A bully can be a classmate, a colleague, a security guard, or even a teacher. If you're facing any of these issues, you're being bullied:
Physical or sexual abuse
Discrimination based on your race, sexual orientation, or gender identity
Racist comments passed at you
Cyberbullying
Sexual harassment
Social and emotional bullying
What is Cyberbullying?
Cyberbullying is where people bully you via chat, social media platforms, text, or emails. Basically, bullying via the internet is cyberbullying. One in every 10 people is a victim of cyberbullying, according to ABC news.
While virtual learning during the time of the COVID-19 pandemic gave victims of bullying some sort of escape, it brought forth new cases of cyberbullying. Unprecedented times filled with uncertainties and overwhelming experiences already had a negative effect on students, but adding to that were cases of cyberbullying that increased feelings of loneliness and insecurity.
Whether it is bullying through social media or in-person, it's important for you to talk to your parents, peers, or a teacher at school. If you can't talk to any of these people, dial a helpline.
Do International Students Need Medical Insurance for Depression?
Being bullied can result in depression, and this may not be not something that you'll realize by yourself. If you often feel helpless, have unexplained insomnia, and constant fear or anxiousness, these can be signs of depression.
According to an Open Minds Market Intelligence Report, $225 billion was spent on mental health treatment in 2019. That includes therapy, rehabilitation facilities, prescription medications, and psychiatric treatments.
There is a shortage of mental health professionals in the U.S., especially in states like South Dakota, Washington, Missouri, and Arizona. This means that demand for mental health professionals would be high, and so would be the cost of therapy.
Because of this, it may be in your best interest to seek out international student insurance that can provide mental health coverage.
Prevention for International Students Being Bullied at School
Bailey Huston, one of the coordinators at PACER's National Bullying Prevention Center, said, "Students are powerful in bullying situations, as they often know about bullying long before adults are aware of it." But, students always need their parents' support, especially if they are living abroad and managing life all on their own.
If you're an international student dealing with bullying, you can sign up for activities held by PACER, or attend webinars and infographics at The Children's Safety Network. There are many other resources available for students to utilize:
The American Society for Positive Care of Children – It gives students a downloadable kit to help them understand bullying and get help.
The National Association of School Psychologists: The association has a bullying prevention page that provides support to students who are being bullied, their families, and educators.
PACER's National Bullying Prevention Center: A center that conducts activities at schools to make students aware of bullying, its impact, and prevention.
Psychologist Joel Haber notes, "Bullying can have lifelong effects. The lack of safety, connectedness, and isolation that can emerge can be life-altering." Getting bullied as an international student can affect you for the rest of your life. If you are experiencing it, ask for help now.
We are sorry that this post was not useful for you!
Let us improve this post!
Tell us how we can improve this post?