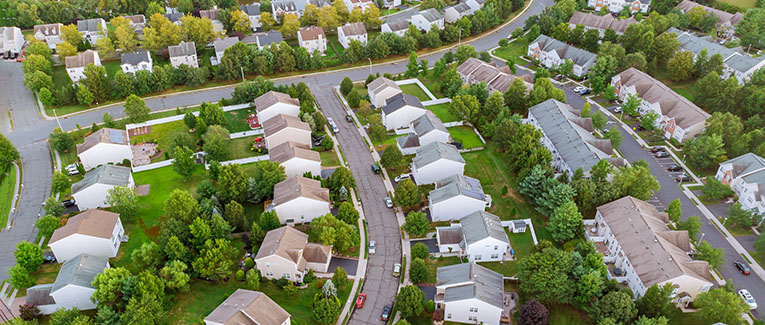 When you travel to the U.S., and you're thinking about settling in a nice house, you will either try to gain mortgage approval or buy it outright—more likely the latter if you are financially well-off.

But there are certain housing rules and regulations that are idiosyncratic to the U.S., namely the Homeowners Associations (HOAs).

Coming from another country, this may not seem obvious at first, but HOAs wield enormous influence over how you can live your life in your own home. And this can be quite off-putting to those immigrants who are used to more autonomy in their lifestyle, architectural design, outdoor spaces, and even pets!

Around 53% of the owner-occupied houses in the U.S. are represented by HOAs.
One in five Americans lives in a home that is part of an HOA.

This means HOAs are quite prevalent in the country, and you would do well to learn about them here.
What Do HOAs Do?
Homeowners Associations are groups of homeowners administering over a real estate typology in planned unit developments (PUDs), usually condominiums, townhomes, and single-family houses. They are composed of members elected by the community of homeowners and/or the developers. They take care of the responsibilities in and around the property.

The responsibilities include regulating the landscaping, exteriors, roads, parking, shared amenities, neighbor conflicts, common property insurance, etc. Homeowners are required to pay an annual upkeep fee to the HOA for costs that cover the property. The average monthly HOA fee in the U.S. is around $200. But these costs also depend on the property value and the quality of the amenities there.

If your prospective condo has a beautiful swimming pool, gym, and a bevy of tennis courts, expect the monthly fee to be much higher than $200. Use multiple listing services to check on HOA fees.
What Are Buyers & Residents Obliged to Do for HOAs?
HOAs will have bylaws that entail certain obligations for the residents and buyers. These are covered under CC&Rs (covenants, conditions, and restrictions).

Please try to get your hands on the CC&Rs to have an understanding of the nature of the HOA. This should be available online on the HOA's website. If not, contact the HOA.

If the HOA is too strict, you might want to reconsider buying a home in that area. For example, if you are a homeowner who wants to use your house as a rental for tourists through Airbnb, some HOAs have certain rental restrictions that may foil your plans. In such a case, you are better off choosing another home with a more lenient HOA. Some HOAs have simply ridiculous rules, such as that basketball hoops can't be visible from the street, curtains should only be white in color, etc.
How Do HOAs Affect Mortgage Lenders for Mortgage Approval?
When assessing your debt-to-income ratios, mortgage-lending banks will look at the HOA fees. If your income is too low to accommodate the HOA fees, property taxes, and annual mortgage installment, then they might reconsider you as a choice. You might need a lower HOA fee to qualify for mortgage if your income is lower.
Additionally, as mentioned above, HOAs can be strict with certain regulations. This can negatively affect the residents, who then might sue the HOA for certain fines and costs levied. In such a case, this could put off lenders from approving your mortgage. A sign of litigation disputes with an HOA isn't a good one for lenders. Check the Public Access to Court Electronic Records for litigation against a prospective HOA. If there are many, then the HOA might not be a wise choice.
After Purchase, How Can HOAs Stifle You?
The tendency of HOAs to influence your house depends on your type of residence.
Single-family homes: Since you own the outdoor lawn spaces and all exterior walls, the HOA restrictions on single-family homes are relatively smaller compared to other types. You might still have to conform to a "neighborhood aesthetic" and refrain from constructing elaborate architectural elements. Fancy roofs and eye-catching colors might not be allowed. But you can decorate your lawns and landscape with more freedom.
Townhouses: In most cases, there is a shared wall, as what you see in what the British call "rowhouses". The restrictions on exterior walls and architectural elements will be greater than with single-family homes. But there is freedom for decorations and window treatments.
Condos: Condos have greater shared amenities and exteriors. The HOA owns most of the outdoor spaces, which means you will get a minimal choice in the decor, door color, window treatments, and porch, if any. You will be expected to conform to a uniform visual style for your external walls.

In addition to all these, HOAs can regulate:

Parking restrictions
Number of pets
Satellite dishes
Fences
Number of cars & other vehicles
As mentioned before, check websites, online journals, court record databases, or with nearby citizens for information on an HOA. If there are too many red flags, choose another.

What Insurance Responsibilities Do HOAs Have?
The HOAs usually insure the common property that is shared by the PUD. In condos, this usually means all the external area around drywall. You, as a buyer, will be expected to insure all your interiors and internal personal property. But these laws differ between states and housing types, and you might want to check for catastrophe insurance if your area is prone to earthquakes, floods, or other natural disasters.
Are HOAs Good or Bad?
HOAs have their uses. While they can be restrictive, most of their processes are done for the good of the property and neighborhood.
In preventing too much independence in architectural design and visual art, they can prevent a resident with a bad taste from ruining the atmosphere.
In maintaining the property to be clean and orderly, your property values can increase.
In preventing and mediating disputes between neighbors, community morale can be ensured.
In every neighborhood that has an HOA, there will invariably be some busybodies that have nothing better to do in life than keep trying to enforce HOA rules. Why is your trash can still out past the evening on the day trash collection is scheduled? Why you have parked your car more than a certain number of inches from the curb? And so on.
Choose an HOA with a good reputation among the community that supports it. Research the area, talk to the community, and try to weigh the good opinions with the bad. When you have satisfied yourself and asked enough questions, make your decision.
Happy house hunting!
We are sorry that this post was not useful for you!
Let us improve this post!
Tell us how we can improve this post?