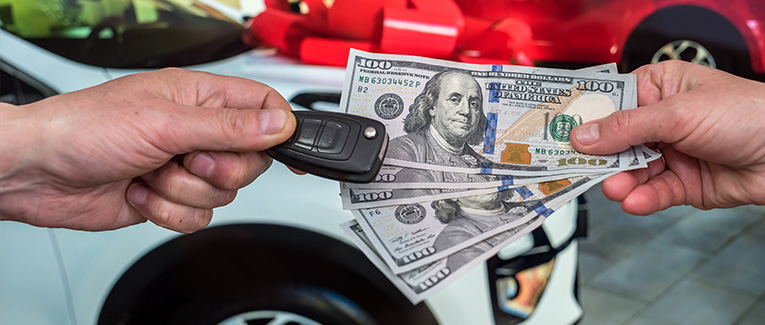 If you can afford it and are planning to keep the same car for a long time, it is generally better to buy a new car. You will be able to take proper care of the car from the beginning. If you buy the right car and maintain it well, it will be less expensive in the long run and will have a good resale value.
Generally, you should not have any maintenance problems during the first few years after purchasing a new car. New cars also come with a warranty. However, the terms may vary between 3 years/36,000 miles, 5 years/60,000 miles, or 7 years/100,000 miles. A 3 year/36,000 mile warranty means that your warranty will cover you up to 3 years or 36,000 miles, whichever comes first.
There is a wide variety of cars available in the U.S. Car manufacturers advertise national and local car deals constantly. Unlike most items in the U.S., the prices for cars are not fixed. There is a lot of negotiation involved. You can research automobile magazines, consumer reports, and online to figure out what kind of car you would like to purchase.
Once you have short-listed the type of car you want to buy, finding an authorized dealer is very easy. Just to go to the car company's web site and locate a dealer.
Car dealers and salesmen can be less than honest and may play tricks to sell a car. Even though there may be several car dealers in your area that sell the same makes and models, prices can vary. You may want to ask your friends, relatives, or colleagues for recommendations. The price of the car should not be your only consideration when choosing a dealer. Look at the size of the dealership, the post purchase services they provide, and what type of service department they have.
After you have chosen the car you want, you should be careful to not select unnecessary upgrades.
New cars have an MSRP, the maximum price you are expected to pay. Then there is the dealer invoice price, the price the dealer paid the manufacturer. Ideally, if the dealer sold you the car at invoice price, he would make no money on it. However, many times there are factory-to-dealer incentives, which can be up to several thousand dollars. Therefore, they still make plenty of money when they sell these cars at invoice price. Negotiate, negotiate, negotiate. Also, you can sign up with websites like TrueCar to find all sorts of deals.
If the salesman says a particular vehicle is in great demand and everyone pays MSRP on it, it is rarely true, especially if you see cars of that make/model sitting in the showroom or lot.
When buying a new car, if you have an older car that you would like to trade in, don't mention that until you have finalized the deal for a new car. Otherwise, he may give you a good deal on the new car, but offer you much less for the old car.
When leaving a deposit for the new car, make sure to pay with a credit card rather than a check. If a particular dealer demands a check, you should walk away. Also, don't leave more than $500 as a deposit.
If the dealer you go to does not have the exact car you want and they say that they will get it from another dealer for you, walk away. Go directly to the dealer that has the car to avoid all sorts of problems.
If you are a newcomer to the U.S. and you have no other car, you may have to by a car immediately. Otherwise, the fall season (around August to October) is a good time to buy that year's model, as dealers want to liquidate them to make room for the next year's model. Another good time to buy is around Christmas.
Many car dealers ask for your driver's license when you go for a test drive, and they will make a photocopy of it. They claim it is required for insurance purposes. That is simply not true. The truth is that they want to run a credit check. They may pass this information to four or five local banks that will run your credit history. Every time your credit history is run, your credit score may go down by 5 to 10 points. Don't let them make a photocopy of your driver's license. It might be a good idea to carry a photocopy of your driver's license and write on that copy that dealers MUST NOT run unauthorized credit checks. Be sure to remind them that the FTC (Federal Trade Commission) charges $2,500 for unauthorized credit checks.
We are sorry that this post was not useful for you!
Let us improve this post!
Tell us how we can improve this post?