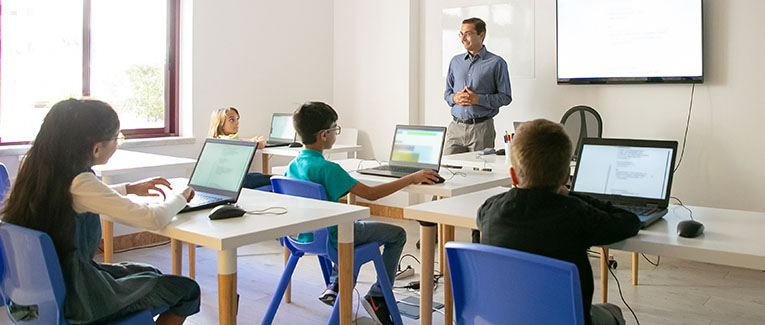 The U.S. has one of the largest higher education systems in the world and is a leading destination for students who are globally mobile. For those moving to the U.S., the various offerings of the American education system might appear overwhelming. Read on to acquaint yourself with the intricacies of the system before you develop an education plan.
Education in the U.S.: An Introduction
There is, as has there always been, a straightforward connection between wealth and education in the U.S. Initially, basic education itself was reserved for those born in rich families. College was a conclusion that only the succeeding generations of aristocracy reached.
With time, there has been a cultural change, and education rose from being a recommendation to a necessity for all children. Currently, as per the Bureau of Labor Statistics, the 15% of Americans who fail to graduate from high school are likely part of the lowest-earning demographic of American society, their wages being less than $600 per week.
January 2019 data states that there is a total of 130,930 schools in the U.S. This includes 32,461 private schools, 7,193 charter schools, and 91,276 public schools. Around 51 million students are enrolled in these schools, while almost 1.7 million are home-schooled.
Educational Structure
12 Years of Primary and Secondary Education
The formative years of primary and secondary school are also known as first through twelfth grades. Children in the U.S. begin primary school (also called elementary school) at age six. Five or six years later, starting in either sixth or seventh grade, they transition to secondary school.
The two programs constituting secondary school are known as "middle school" (also called "junior high school") and "high school". Students graduating from high school receive a certificate or diploma. They may then go to university or college, which is called "higher education".
The Grading System
An academic transcript in the U.S. includes grades as well as your grade point average, or GPA. These are measures of academic achievement. Most commonly, courses are graded through percentages and then converted into letter grades.
The GPA and grading system might be confusing for international students. There is also quite some variation in the interpretation of grades. This depends on the standards of each school and how academically challenging they are.
A few crucial tips for international students:
Figure out the U.S. equivalent of the highest level of education you completed in your country.
Closely follow up on the admission requirements set by each college and university, along with individual degree programs, as they might have differing requirements than the university.
Have regular meet-ups with a guidance counselor or educational advisor to ensure you meet all the requirements.
The Academic Year
Usually, the school calendar year starts in August/September and goes until May/June. Almost all new students start in autumn, so it is recommended that international students also begin their studies around this time. One reason for this is that a lot of courses are designed in a way that requires them to be taken in sequence.
Many schools have the academic year constituting two terms known as "semesters". A few schools also follow the "trimester" system. Some might even offer an optional session in the summers.
All about Student Visas
During the previous two decades, regulations for international students have grown in complexity. This is largely due to the attacks of September 11, 2001, as a few of the terrorists had entered the U.S. on student visas to attend flight schools. As a result, the Student and Exchange Visitor Program (SEVP) came into being.
Any institution accepting international students must be enrolled in SEVP. Once they get certified, students can get enrolled through certain visa programs. The following are the main categories of student visas:
M-1 visas: This is usually for full-time students enrolled in vocational programs and attending a technical, trade, or vocational institute.
F-1 visas: This is usually for full-time students aiming for academic studies in the country. This visa type is the most common among international students attending colleges or universities in the U.S.
J-1 visas: This is a visa for exchange visitors. It encompasses different kinds of students. These can be students under selected foreign government or U.S. scholarship programs, and even short-term exchange students. A particularly famous program under the J-1 visa is known as the Fulbright Program. This is a scholarship program by the U.S. government for foreign students. The J-1 visa program is mostly handled by the U.S. Department of State.
Dependents, whether children or spouses, traveling with the student have a corresponding visa followed by the number 2. Thus, they get an M-2, F-2, or J-2 visa. If you are a student from Bermuda or Canada, you do not need a visa.
What About Paperwork?
To get a visa, enrolled students are issued official forms provided by their institutions. Following that, they present their paperwork to the necessary U.S. embassies for their visa interview.
Students are supposed to present immigration officials with this paperwork once they arrive in the U.S. The form that gets issued to M-1 and F-1 visa students is referred to as Form I-20, or "Certificate of Eligibility for Nonimmigrant Student Status". The form that gets issued to J-1 students is known as Form DS-2019, or "Certificate of Eligibility for Exchange Visitor (J-1) Status".
Institutions use the SEVIS system to issue their respective forms.
Special Education
In the past decade, the number of students with mental health issues or learning impairments has increased by almost 50%. This includes students with epilepsy, bipolar disorder, mobility impairments, ADHD, etc. The U.S. has an "Individuals with Disabilities Education Act" governing the way public agencies and states provide special education, early intervention, and other related services to over 6.5 million qualified teens, children, toddlers, and infants with disabilities.
There is a positive outlook on special education teachers. The BLS has predicted an 8% national increase in employment in the special education sector by the year 2026. The application of technology has made it convenient for teachers to tailor content according to each student's needs. Some such programs include dictation programs, text-to-speech programs, interactive touchscreens and boards, and virtual learning.
Developmental Education
The U.S. also offers developmental (or remedial) educational courses that are designed to encourage the math, writing, and reading skills of specific students. These students are usually deemed through standardized tests to be underprepared for college-level courses.
Lately, it has come into the spotlight how developmental education reform efforts throughout the state of Florida have led to an increase in the passing rate of students in English and math. This is as per a December 2020 study published in the Educational Researcher Journal.
Room for Improvement?
While the American education system is among the best in the world, a survey conducted in 2019 highlights some improvement areas proposed by teenagers. The most popular of these are shared below:
Reducing the pressure on students: It was widely agreed that enormous pressure on students is among the biggest flaws in the U.S. education system. It might be counterproductive and lead to students performing poorly.
Reducing usage of technology in the classroom: Some teenagers argued that the psychological and social aspects of technology are detrimental for students. Overuse of technology has led to a decrease in the ability to meaningfully communicate, as well as smaller vocabularies.
Preparation for real life: It is a common grievance that students feel underprepared and clueless about life after graduating from high school. A lot of them feel that the American education system can greatly improve if students are allowed to be selective about the courses they take.
The school system in the U.S. might seem complicated, but the information presented above aims to bring you clarity and a direction for starting your preparation.
We are sorry that this post was not useful for you!
Let us improve this post!
Tell us how we can improve this post?