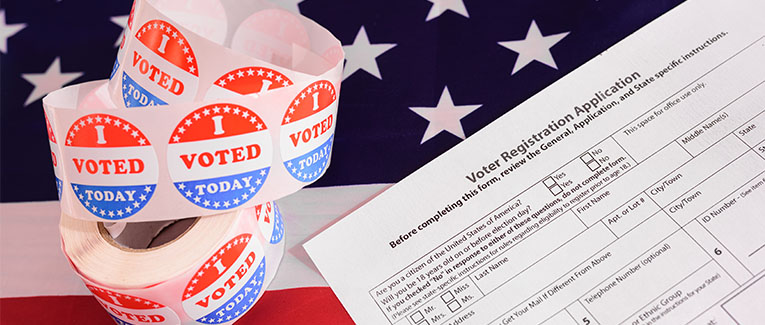 Before diving straight into what you can or can't do, let's discuss your position in U.S. politics as a newcomer to the country.
You need to review your residence status, as well as that of your family, before getting involved in politics. Just because you are lawfully present in the U.S. doesn't automatically mean you can vote or participate in the U.S. political system.
Only a U.S. citizen can vote in federal, state, and local elections. Specifically, foreign U.S. nationals (citizens of foreign territories of the U.S.) can't vote for the president in general elections. The Federal Election Campaign Act (FECA) enforces this rule and makes participation illegal. Contributing money or anything valuable to elections, political campaigns, or voting is a resolute "no", as well.
If you're a newcomer to the U.S., this essentially means that you're still years away from being able to vote. That shouldn't dampen your enthusiasm for understanding U.S. politics, though.
How does the American political system work?
It's not possible to give depth to an elaborate history of U.S. politics in one guide. But, we will give you the information you need to make sense of events around you.
The U.S. government is made up of three branches: the legislative branch, the executive branch, and the judicial branch.
The legislative branch, also known as the U.S. Congress, is broken into two divisions, the Senate and the House of Representatives. The U.S. Constitution grants Congress the power to make laws.
The President and his cabinet make up the executive branch. This body deals with governance. The President is the Commander in Chief of the U.S. Armed Forces.
The judicial branch is made up of the Supreme Court and other federal apex courts. They defend, interpret, and introduce changes to laws as necessary.
Each government organ functions independently, but the power distribution is in such a manner that each ends up keeping a check on the other two. You might have heard of "separation of powers" and "checks and balances", which refer to the mechanism of being independent yet keeping a check on the other organs.
The U.S. Constitution is quite brief, but the rules are literally etched in stone. One of the factors that make the country's political structure so powerful is how difficult it is to change its fundamentals.
Even as a lawfully present non-immigrant in the U.S., you may wish to be made aware of how the government spends its money. No matter which state you settle down in, a large chunk of federal expenditure always goes into these:
Social security, unemployment, and labor
Medicare and healthcare
Military
Now that's out of the way, let's take a look at what's allowed and what's not.
The Don'ts
Until the time you get a green card, do not make any monetary contributions or donations to political campaigns under any circumstances. The proceeds from sales of any merchandise—badges, T-shirts, or banners—also count as contributions if the point of sale is directly linked to an election fundraising campaign. So, if you buy a Donald Trump T-shirt from the corner shop, that's permitted. However, don't buy it from his campaign's official website.
Do not register to vote. If you can't produce legal documents to prove U.S. citizenship, you can't register to vote. It's prohibited by law.
If you violate this, you face a penalty in the form of a fine. Technically, knowing about the prohibition and still making a contribution makes it a criminal offense, which could result in getting jailed. This goes for the contributor as well as the one who accepts the contribution. However, landing in jail is rare. The Federal Election Commission (FEC) handles such cases.
The Dos
You can't make monetary contributions, but if you still wish to help out in political campaigns, you can.
You can volunteer to help out a federal candidate or a political committee. Lending creative talents to design banners, posters, or other graphics is perfectly legal. But, do refrain from meddling in decision-making or managing campaigns. All services or help you might provide must exclusively be voluntary and involve no pay or monetary donations.
Watch out for hidden clauses. Beware of campaigners who visit your home or stop you on the street. Before signing any petition or documents, read the fine print. You can't claim to be ignorant if caught later and fined for making donations or signing any document that states the same.
Your immigration attorney can help you with further knowledge of your status and how that affects your participation in the political scene.
We are sorry that this post was not useful for you!
Let us improve this post!
Tell us how we can improve this post?