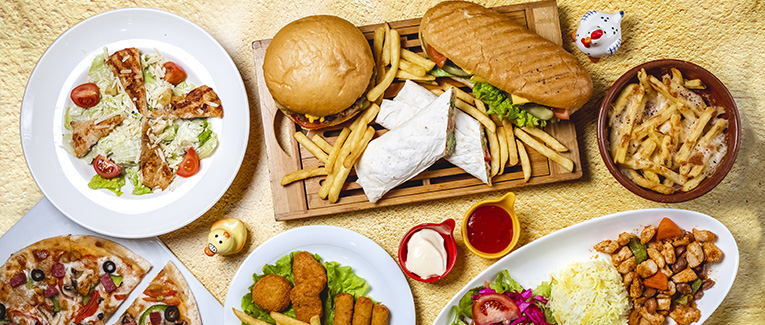 People often claim that "American cuisine isn't a real thing," and they aren't totally wrong…
Given that the U.S. was founded and built by immigrants, it's difficult to call a cuisine uniquely American.
Yet, as America is a melting pot of cultures, it has taken native produce and elements of immigrants' cuisines, and made them all its own. It is this unique fusion that has created the heartwarming dishes we call American cuisine today.
The idea of a 'traditional' American cuisine brings to mind a dish of meat and potatoes. Both are foods that English and German immigrants brought to the U.S. a few centuries ago, and it is an American staple, served in steakhouses nationwide.
But, apart from this, here are the top 10 most popular 'American' dishes that are enjoyed across the country (and the world):
Nationwide Classics
Hamburger: Cheap, affordable, and delicious, a juicy cheeseburger is much beloved by all Americans. Although it has German origins, today it is the poster child of American cuisine across the globe.
Pizza: This Italian staple arrived in the U.S. with the Italian immigrants in the 1800s. Since then, it has snuck its way into the hearts and lives of Americans. With a culture of 'pizza parties' and U.S. renditions like the Deep Dish and New York-style pizza, a pizza is as American as it gets today.
Barbeque: The technique of slow-cooking meat over fire or smoke is present across the world. But, barbeque is integral to both American cuisine and culture, with regional styles and secret family recipes.
Chili: (A.K.A Chili Con Carne/Chili with Meat.) It was originally a Texan creation that soon became popular across the country. This spicy, meaty bowl is often eaten with bread, rice, or even spaghetti.
Fried Chicken: With both Scottish and West African origins, fried chicken has countless variations within the U.S. One unique style, chicken and waffles, is a combo of sweet and savory elements.
Mac 'n' Cheese: Boiled macaroni covered in cheese sauce is quintessential comfort food in the U.S. This dish became a staple in every home when its packaged version was created in the 1900s.
Grilled Cheese: A grilled cheese sandwich is an all-time favorite for American kids. (And a go-to comfort food for many adults as well.) Sometimes served along with tomato soup, it is reminiscent of sitting at a warm fire on a cold winter day.
Pancakes: These sweet American classics are usually eaten for breakfast or brunch. They are served stacked in a pile with a generous pouring of syrup, butter, and select toppings.
Chocolate Chip Cookie: Created by accident in the 1930s in Massachusetts, today this cookie is a worldwide hit. It is enjoyed as a treat or dessert after a meal, and sometimes as a snack along with a glass of cold milk.
Apple Pie: Neither apples nor pies are native to America, but this decadent dessert is central to American culture today. So much so, that it gave birth to the saying "as American as apple pie."
Each region in the U.S. has its own unique cuisine as well.
New England-Style Cuisine
A flavor palette that is unique to the Northeastern region of the U.S. (including New York, Philadelphia, and the New England states).
Influenced by English and Irish immigrants and the Atlantic Ocean nearby, this region is famous for its hearty seafood dishes. The cuisine combines older English methods of cooking with local ingredients to create its unique styles and flavors.
One particularly popular dish is Clam Chowder, with three competing variations: New England chowder, Rhode Island chowder, and Manhattan clam chowder—each of these broths has its own loyal fan base.
Boston baked beans, another staple, was created as a Saturday dinner meal by immigrants to last them through the Sabbath. The dried navy beans baked slowly with molasses and salt pork make a warm, delicious meal that fills you up.
Other local favorites in this region include the Yankee pot roast, the Maine lobster roll, and the New England clambake.
Midwestern Cuisine:
Known as the "breadbasket of America," the Midwest produces a large amount of wheat, corn, and soybeans. This produce combined with immigrant traditions creates some unique dishes.
Most of the food in this region is grain-heavy (and very satisfying).
Some examples from Midwestern cuisine are Goetta, Graham bread, steamed cornbread, Johnny cakes, Juneberry Pie, and the famous Deep Dish Pizza.
The Deep Dish Pizza, also known as the 'Chicago-style pizza,' is known for its thickness and size. In fact, it's thick enough to be called an actual pie, and is stuffed with lots of cheese, tomato sauce, and toppings.
Southern Cuisine
Unlike Northern and Midwest cuisines, Southern dishes don't have their origins only in European and Native American cultures. There is also a large African influence that came in the 1600s with the beginning of slavery.
The fusion of these three cultures has since evolved into the tasty, comforting cuisine we know today.
With the migration of African Americans to the North, this cuisine moved with them. So, traditionally 'Southern' dishes like barbequed ribs and fried chicken became national favorites, too.
Other Southern cooking examples are…
Shrimp and Grits: A thick porridge made from boiled cornmeal and served with sauces and fried shrimp. In some places, it's also served alongside fried catfish or salmon croquettes.
Biscuits and Gravy: A popular breakfast option in the South, this was originally a poor person's dish on the plantation. Soft dough biscuits are served with thick, meaty gravy poured on top to make it a hearty meal.
Southerners also love their sugar; the Peach Cobbler and Pecan Pie being prime examples of 'proper Southern' desserts.
New Orleans Cuisine
Popular in the state of Louisiana, this unique cuisine is a blend of many diverse cultures. African, Caribbean, Southern, French, and Native American food cultures come together to create flavors that aren't found anywhere else.
The two most popular styles of cooking within this cuisine are Cajun and Creole, derived from the ethnic groups they originated in. Creole food is usually referred to as "city food," and is more refined than Cajun food, which has rural origins. But both cuisines are unforgettable, with their deep rich flavors, and bold seasonings.
Some popular dishes in New Orleans include:
Gumbo: This dish was declared to be the official state 'cuisine' of Louisiana in 2004. Made in both Creole and Cajun style, Gumbo is a popular stew with West African origins. This thick stew made with meat, greens, and okra, is usually served over steamed white rice.
Jambalaya: This popular rice dish, created in South Louisiana in the 1700s, has countless variations. Made of rice, meat, vegetables, and spices, it is a one-pot meal that fills both the tummy and the heart.
Beignets: These square donuts of French origin are a popular dessert option across the state. Puffed up, dusted with powdered sugar, and sometimes filled with fruit – they are always served in sets of three.
Bananas Foster: Made with bananas, butter, cinnamon, and dark rum, and served over a base of vanilla ice cream—this dessert is the go-to for New Orleans residents.
California Cuisine (Western Cuisine)
With the Pacific coast and mild Mediterranean-like climate, this region has access to an abundance of fresh produce. The use of this fresh seafood, fruits, veggies, and nuts make the cuisine the 'healthiest' of all the rest.
Over the years, the cuisine has evolved to also reflect the diverse culture of the region. Today you can find Mexican, East Asian, Oceanian, and even West European influences in the everyday dishes.
A few popular eats on the West Coast include…
Cobb Salad: This classic salad that is now popular nationwide, was created in Hollywood in the 1930s. Made with lettuce, tomatoes, bacon, chicken, hard-boiled eggs, avocado, cheese, and vinaigrette—it's fresh and healthy.
California Sushi Roll: California's take on classic sushi replaces fish with avocado and crab. This creation is an example of the eccentric fusion that comes out of the state's cultural mix.
Tacos and Nachos: With a massive Mexican influence in the state, quick eats like tacos and nachos are popular lunch and dinner options across California.
Avocados: California is the largest producer of avocados in the US. So naturally, Californians love a bit of avocado on their dishes. From avocado toast for breakfast, to California's unofficial state dessert, the avocado fruit parfait—in sunny Cali, an avocado a day keeps the doctor away.
We are sorry that this post was not useful for you!
Let us improve this post!
Tell us how we can improve this post?