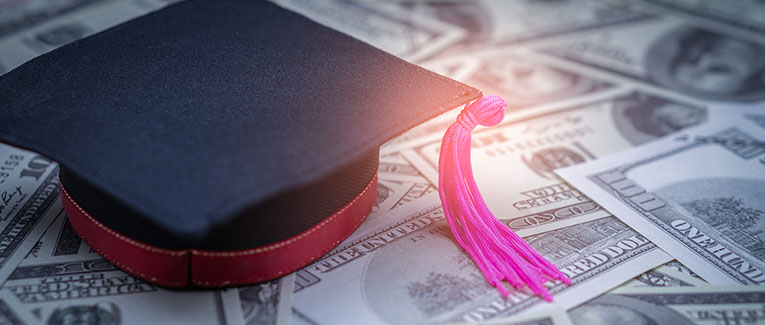 The cost of education in the U.S. is hefty, and it's understandable that you would like to seek federal aid. Documented (legal) immigrants are eligible to apply for federal student aid.
Before we go on, you should have a clear picture of the existing debt scenario in the U.S. Over 50% of college students drop out of school due to unmanageable student debt or inability to take on more student debt every year.
F-1/F-2 and J-1/J-2 visa holders can't apply for federal aid. Nor can you apply if you only possess a Notice of Approval towards providing your legal residency.
Note: If you aren't an eligible non-citizen or are unsure of your status, contact your country's embassy. If you can't get federal financial aid as a non-eligible citizen, you will be treated as an international student. Look for options of grants, scholarships, or loans as an international student.
While we're at this topic, let us brief you a bit on the Free Application for Federal Student Aid (FAFSA). It's an application form that you, as a student in the U.S., fill out and submit to the government to receive federal aid.
You need to furnish a lot of details, including family income and household details. The number of students from your home will also affect the federal aid given to you.
It's important to note the two changes that took place in 2016:
The FAFSA now releases on October 1st, the same date as admissions open for colleges.
Income is now taken from the previous tax year. For example: If you are filing your FAFSA for the year 2020-21, and the FAFSA application is out in 2019, use the tax information from year 2018.
Consider filling it out online to avoid filling out the whole application from scratch each year. The deadline is June 30th at midnight, U.S. Central Time.
What Are My Other Options?
In case you don't qualify for federal aid, consider state and college sponsor aid. There are also private student loan options available.
The private options are more flexible. If you are lucky enough to have a kind and generous lender, you can settle your debt for much less than what you owe.
What Documents Do I Need to Share?
Know and gather the necessary documents as far in advance of the deadline as possible. These documents are necessary for the FAFSA application form:
Dependency: Check it out on the official website and determine if you are an independent. If you are a dependent, you will need your parent's financial information as well as your own.
Proof of Alienage Registration: This is an alternative to a social security number for non-permanent citizens. The FAFSA will ask for this.
Tax information: You have to furnish your previous year's tax returns. Mention your parent's tax returns as well if you are a dependent.
Bank Statement and Investments: State the exact amount of money in your bank account. Also, if you have any investment in bonds, mutual funds, and/or stocks, you'll need to supply that information, too.
Your school might have additional requirements. Be sure to check for any additional requirements specifically for your school(s) while preparing to fill out the FAFSA application form.
The Application Procedure for Student Aid
American aphorist Mason Cooley once said, "Procrastination makes easy things hard and hard things harder." Listen to Cooley—the quicker you apply, the better the chances of you getting better financial aid.
Watch out for deadlines. They are state-specific and might be slightly different from school to school. The June 30 deadline mentioned earlier does not apply to all schools. Check with your school to learn the exact deadline.
Now that you know what documents you need, let's get down to the application and submission.
Visit the FAFSA website.
Get your I.D from the site. You create an I.D. under the "FSA I.D." icon. Make sure to make a note of the I.D. in case you forget it later.
You can now fill out a new application form by logging in with your I.D.
After filling in your personal details, it will ask for your schools. Fill in as many schools as you are applying to. If you apply to more schools after completing the form, you can easily update the form later.
Double-check everything, including your personal details, your parents' information, and your financial details.
Wait for the report (Student Aid Report, or SAR). It usually arrives within a week. Review the SAR for any errors.
Only accept the amount you need, not more. This is a loan, not a scholarship.
This one is for every dependent. Your family will contribute a certain amount towards your education (EFC). It's present on the SAR. Your respective school's financial aid office will help you address a high EFC. They will only entertain a request if your family income changes (depreciates) or there is some error in the EFC.
Grants and scholarships aren't loans and don't need to be repaid. There's another category of financial aid known as work-study. This allows you to work for the school in return for payment.
You need to update your FAFSA each year you attend school. It's best to do it online to avoid redoing the entire form. Unless something has changed, you just need to re-submit the form without making any changes.
Make sure to keep your documents and FSA I.D. safe. If you lose or forget the latter, it's going to be an arduous experience to reissue a new one.
We are sorry that this post was not useful for you!
Let us improve this post!
Tell us how we can improve this post?