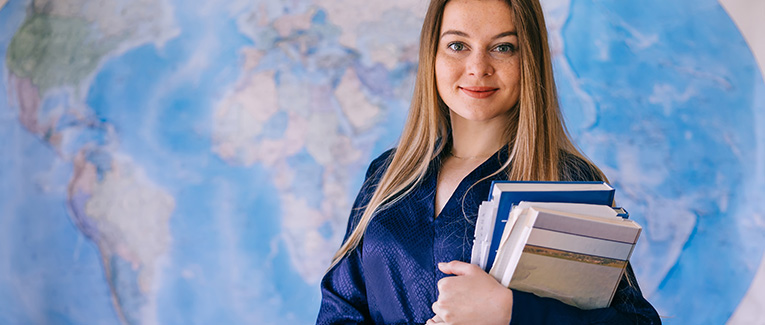 There are dozens of aspects of the American college system that are alien to new international students. But, the most important one to get the hang of is probably the academic credit system in the U.S.
To clear out the confusion surrounding this, we've put together simple answers for your most common questions.
1. What Are Credit Hours? And How Does The American College Credit System Work?
In universities in the U.S., students receive a set number of 'credits' or 'credit hours' for each subject or course. The number of credits you get for a subject or course is based on the number of hours you need to spend on that subject per week.
So, the more credits a course has, the more time and effort you are required to dedicate to it every week.
Simply put, 1 credit hour is equal to 1 'contact hour' in class, plus 2 hours of study and homework per week for that subject.
In some cases, students are awarded credits when they join college based on advanced coursework they may have completed in the past.
The larger picture idea is that you need a certain number of credits to complete a degree and qualify for graduation. This is not the only requirement to get a degree and graduate, but it is an important factor. Other factors include you passing mandatory courses and finishing core subjects.
Adding up the number of credits you've earned will give you an idea of how far you have come in finishing your degree.
2. Are Credit Hours Different From "Contact Hours"?
Credit hours in American universities are calculated based on the number of "contact hours" spent per week for a subject. A contact hour is essentially the time spent in class or lab, where you are in contact with a professor.
In most colleges, one contact hour is equal to 50 minutes in a class or lab.
3. How Many Credits Do International Students Need to Qualify as a Full-Time Student in an American University?
For international students, the number of credits you take in a semester is doubly important. These credits determine if you meet the eligibility for an F1 visa, and therefore are eligible to stay in the U.S.
According to U.S. immigration laws, international students staying in the U.S. on an F1 visa must maintain full-time enrollment during the main fall and spring semesters.
Undergraduate students need to be enrolled for at least 12 credits of study per semester to qualify as full-time.
For graduate students, the numbers vary between 6 – 12 credit hours, depending on what the course or college requires. Usually, full-time graduate studies need 9 credit hours per semester for an F1 visa.
The validity of the credit for full-time qualification varies for an offline or online course. So, check with your college to ensure you aren't stuck in a pickle at the eleventh hour.
4. How Many Credits Do You Need for Undergraduate and Graduate Programs in the USA?
The exact number of credits you need to complete a degree in the U.S. depends on your degree of choice, and the school.
But, generally:
For an undergraduate or bachelor's degree, you will need to complete 120 – 130 credits.
For a graduate or master's degree, this number can be anywhere between 30 – 60 credits.
And an associate degree, which grants you entry-level positions, needs 60 credit hours.
5. Do College Credits Expire?
We've got some good news and some not-so-good news for you.
The good news is that most of your hard-earned college credits don't have an expiry date. (There are a few courses, especially graduate-level ones that have limited validity.)
The not-so-good news is, while your credits may not expire, they may not be eligible for the completion of your degree or for transfer if too much time has passed. This is especially the case with courses in STEM fields, where the subject matter taught can become obsolete in less than a decade.
Another issue that may crop up is the validity of the credit towards your degree. If you choose to change your field of study, then any specialized courses from the previous field may no longer be valid for your new degree. So, while the old credit holds value, you will have to earn fresh credits to meet your degree requirements.
6. Can College Credits be transferred?
There are a lot of factors that play into whether your credits are transferrable to another college or degree. We've put together the 4 big ones you need to consider.
Where you got those credits from?
If those credits were earned from a regionally accredited school in the U.S., then you can transfer them to other colleges across the country.
Are they relevant to your degree?
If you have credits in core curriculum subjects like English, math, or science, they will be transferrable to any degree you decide to pursue. But, if you change your major, then any niche courses you may have taken might not count towards your new degree.
While your credits might not expire, most STEM and graduate-level courses lose their relevancy after 7-10 years.
However, there's consolation for you: if you've been working in a relevant field for a few years, most colleges will give you credits for work experience.
What grade did you receive on that course?
While the grade you receive doesn't change the number of credits you get (as long as you passed) – it's still important. Most colleges have a minimum grade requirement for accepting the transfer of credits.
So, be sure to check these 4 factors with your admissions advisor before you make any decisions.
7. How to Transfer College Credits in the U.S.?
To make this process easier, you can check online to find colleges that are transfer-friendly.
Start off by comparing your past credits with the curriculum of the major or degree you're applying for.
Once you've identified transferrable credits, discuss your eligibility with an admissions advisor at the college you want to apply to. Be sure that you are clear about their acceptance before you spend time and money applying to colleges.
Next, send in all relevant transcripts, from both undergraduate and high school, in your application. If you're looking to transfer credits internationally, then also include a credit evaluation report and an English translation of your transcripts.
Finally, check if there are any standardized or placement tests you can take to prove your knowledge of a subject. This is a common practice for prerequisite subjects for most degrees, so check with an advisor to save money and time.
8. Do Online Courses Give You Credits? Can These Course Credits be transferred to Other Schools?
Some, but not all online courses give you credits. If you take an online course directly from an accredited university, the credits you receive will be valid. They carry the same value as a credit from an offline course, and are transferrable.
Many people take advantage of this and attend online school for a couple of years, and then transfer to a physical college to complete their degree. This saves them money, plus gives them the flexibility to work while studying.
The regular requirements of relevancy, accreditation, and minimum grade apply for the transfer of online credits. To ensure you get the best credit transfer deal, research the school's transfer policy, and work closely with the advisor.
Remember, if you're unsure about anything credit-related, reach out to admissions or your academic advisor.
Especially as an international student, it's important to be clear on details like your credit requirements, core curriculum, and transfer of credits for your specific degree. Send your advisor an email or schedule a call to avoid any last-minute surprises. Share this with your fellow students, and spread knowledge about the college credit system in the U.S.
We are sorry that this post was not useful for you!
Let us improve this post!
Tell us how we can improve this post?