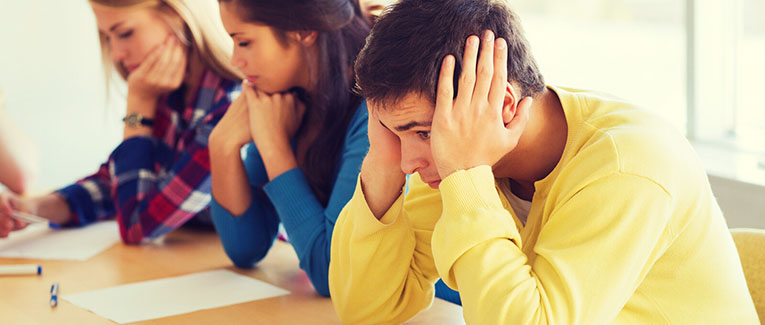 Has your GPA fallen so low that you're worried you might not get into your dream college? Fret not. Universities in the U.S. don't value only GPA. While GPA is important, there are other criteria on which your candidacy will be determined. Things like your standardized test scores, recommendation letters, and personal essay will also be taken into account.
Read this guide to find out how you can excel in other aspects to compensate for your GPA. Also, learn about the application process of colleges that do not require a GPA.
1. Perform well on your SATs and ACTs
Getting good scores on standardized tests like the SATs and ACTs is crucial for being accepted into your school of choice. If you score high enough on the test, you can compensate for your low GPA to some extent.
If you do badly on these tests, you can always retake them. Use study guides, so that you can score well. Set a target score based on your GPA, and seek help to achieve that score.
Your standardized test scores, GPA, and acceptance rate are the major factors that determine your candidacy. Go to https://www.prepscholar.com/sat/s/colleges/UGA-SAT-scores-GPA which combines these factors to determine your chances of getting into your school of choice.
2. Focus on your extracurricular activities
Don't be modest about your non-academic talents. The admission committee values more than just perfect scores. There are numerous candidates with such applications.
One way to distinguish yourself is through such skills. It's even better if your skills are related to your discipline. Most elite universities are not concerned strictly with the academic program you're applying to. They're more interested in how you can venture into other interdisciplinary fields and further your academic field in the real world.
Talk about how your skills can help you in this aspect, and how you can help accomplish the goals of the university.
3. Compensate with your personal essay
Each applicant has to submit a personal essay explaining why they think they should be accepted in the program of their choice. The essay is crucial to determining whether you're a suitable candidate, as it is a personal piece that allows the committee to assess your character.
Express your enthusiasm and tell them why you're passionate about the course. You can also talk about the challenges you've had to overcome in your education.
Look at the mission of the university and structure your essay around its aims. You need to convince them that your vision aligns with their goals.
4. You can explain your low GPA in your statement of purpose
You can use your essay as an opportunity to explain your low GPA. There are many reasons why students get a low GPA that have nothing to do with their academic potential. That might be the case for you, and the admission committee will recognize that.
Write an honest explanation. Explain your situation in a mature fashion. Take accountability for the situation and do not attempt to justify, rather explain.
5. Go to a community college and take the time to build a better academic record
Community colleges generally have an open admission policy. This means you can get in with just a high school diploma.
If you want to go to a public, private, or commonwealth university, you can go for the 2+2 arrangement in your college. Your college should have a tie-up with four-year universities.
After you get your two-year associate degree, you can transfer to a four-year university and attend an academic program for another two years. Your major will be related to the courses you have done in your community college.
This way you can get a four-year bachelor's degree.
6. Go to a university with 100% acceptance
Some universities in the U.S. offer 100% acceptance rates. These universities are easy to get into and often also provide online modes of education.
Here are some colleges with 100% acceptance rates
Bismarck State College in North Dakota has a two years bachelor program. After this, you can transfer to any other college or university in the United States. You can also choose to finish your degree by attending programs.
At Dixie State University (DSU or Dixie) in Georgia, you can pick from 45 bachelor's degrees, 4 master's degrees, and 19 certificate programs. These programs are offered both online and offline.
Granite State College is the perfect choice if you want to go into teaching. You can pursue the New Hampshire Teaching Certification course in 20 different subjects.
7. Go to a university that doesn't ask for a GPA
There are many universities in the U.S. that don't ask for a GPA. You can apply via different means.
Submit a two-minute video about yourself to Goucher College. Those two minutes will decide if you're a worthy candidate or not.
Go for the Dimensional Application at Bennington College. This is an open-form application in which you can choose the materials and format that will best prove that you're a worthy candidate for the college.
Take the Bard Entrance Examination. You can get into the university by taking an essay test. The examination is composed of 19 essay questions in four categories: Social Studies, Literature, Arts, and Science and Mathematics.
Some community colleges do not even require you to have a high school diploma. You can join the college and get a high school diploma side by side with your Associate's degree.
8. Get glowing recommendation letters
If your teacher has faith in you, they can convince the admission committee to have the same. Develop close relationships with your counselors and teachers. Explain your situation to them and ask them for help.
They can address the low GPA in their recommendation letter. Your recommendation letter should talk about how your GPA does not reflect your academic potential. Focus on how you've improved as a student and will achieve academic excellence in the college.
9. Go to a college with a low GPA requirement
Your safest bet is to apply to colleges that have low GPA requirements. Colleges like Harvard and Brown expect you to have a minimum GPA of 4.0. Any GPA below a 3.0 is generally considered a low GPA.
Some state college systems have fairly low GPA requirements. The most famous ones are:
California State University
Connecticut State University
University of Hawaii
Massachusetts State University system
University of Nevada
The GPA requirements in these universities are around 3.0.
If your GPA is not what you want it to be, don't give up hope. You still have plenty of options.
We are sorry that this post was not useful for you!
Let us improve this post!
Tell us how we can improve this post?