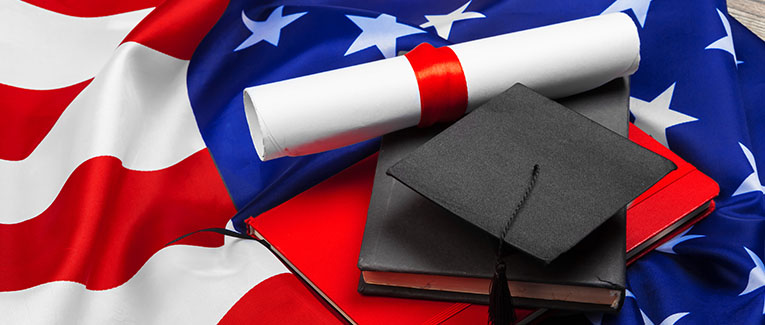 In the United States, the structure of the education system is more or less like that followed in many other countries abroad. The elementary school (primary school) follows early childhood education. Middle school, high school, and then post-secondary or tertiary (college/university) education follow.
Post-secondary education also includes non-degree programs. The academic programs lead to certificates, and diplomas of six degree levels. It also offers postdoctoral research programs. Adult education, continuing education, and special education cut across all educational levels.
The U.S. School Years
The U.S. does not have a uniform education policy, so the states are responsible for education policies. Even so, the U.S. federal government allocates 10 percent of its budget to education.
Every state has its own department of education. This department forms laws regulating the curriculum, guidelines for hiring staff, and other related areas. The states can also determine the number of years of compulsory schooling. In general, there are four popular patterns for mandatory education in the U.S. Formal education is recognized from the elementary level, which starts from age 5 or 6.
Elementary school (includes Kindergarten)
Middle school
High school
Number of years/levels
Elementary
Middle school
High school
1st pattern (5+3+4) years
5
3
4
2nd pattern (6+3+3) years
6
3
3
3rd pattern (8+4) years
8
4
4th pattern (6+6) years
6
6
The first pattern (5+3+4) years is the most common.
Some quick facts:
Language of instruction: English
Compulsory education: Up to age 16 or 18, depending on the state
Academic year: Mid-August or mid-September to mid-May or mid-June
For more on the regulations for starting kindergarten, click here.
For visitors, travel, student and other international travel medical insurance.
Visit insubuy.com or call 1 (866) INSUBUY or +1 (972) 985-4400

Accreditation and Quality Assurance
School-Level Accreditation
No specific federal laws or regulations govern associations accrediting primary and secondary schools. The U.S. Department of Education has no ultimate oversight in school accreditations. Most states have laws requiring or encouraging the certification of public and private schools.
The U.S. education system recognizes schools accredited by authorities recognized at the state level. It also recognizes private schools accredited by associations attested by agencies like the Departments of Defense, Homeland Security, and State.
Student Assessments
Assessments in the U.S. differ from most education systems. The students here leave school with a collection of them. Most high schools also issue a diploma after completion of grade 12, but the requirements to earn a high-school diploma are not nationally standardized. The respective states set the final assessment conditions. At the end of each school year (or the end of each semester), the pupils get a Grade Point Average (GPA). GPA is the average result of the last term.
For more on high school exit exams, click here.
For more on course credit requirements for high school graduation, click here.
Some high school trivia:
A first-year high school student is called a freshman.
A second-year high school student is called a sophomore.
A third-year high school student is called a junior.
A fourth- and final-year high school student is called a senior.
Does GPA count toward university admissions?
Most universities and colleges depend a combination of your high-school GPA and your scores on the SAT or ACT (American College Test). These tests help them assess students' aptitude for the various courses offered.
Is school education free in the U.S.?
Well, that depends on the school that the child enrolls in. U.S. schools are categorized into two groups based on the source of funding. Public schools are free (although "free" means funded by taxpayers). Local, state, or federal governments fund these schools. Private schools are usually supported by tuition fees and/or funded by institutions.
Most daycare and preschool facilities are private, and these are not free. They are expensive: The average cost to provide center-based childcare for an infant in the United States is $1,230 per month. In a family childcare home, the average cost is $800 per month.
What if my son or daughter comes to the U.S. before finishing school education?
State/local government departments make these decisions. For regulations about each state, click here.
Is CBSE/ICSE valid in the U.S.?
No authority in the United States can recognize foreign degrees and other qualifications. Even so, three competent authorities are recognized for recognition matters:
The school or higher education institution that admits students with international qualifications;
The employer hiring individuals seeking work with qualifications earned abroad; and
The local licensing boards that can recognize foreign certificates of regulated professions in the U.S.
College years
What applies to school education applies to higher education as well. The federal government has a minimal role in the administration of education. The Carnegie Classification of Higher Education is an excellent reference to compare higher education institutions.
Many not-for-profit associations work in the domain of international student affairs. Examples of such associations include:
For visitors, travel, student and other international travel medical insurance.
Visit insubuy.com or call 1 (866) INSUBUY or +1 (972) 985-4400

We are sorry that this post was not useful for you!
Let us improve this post!
Tell us how we can improve this post?