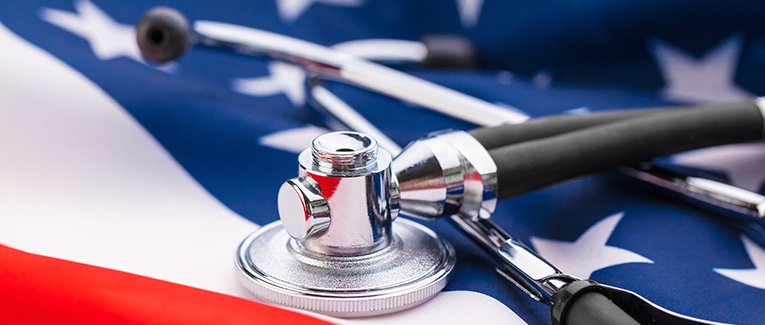 Medical treatment is very expensive in the U.S. It is unaffordable for most people if they don't have the proper health insurance. Fortunately, many people get health insurance through their employers. For those who don't, individual health insurance is available for most U.S. residents. For those who don't qualify for individual insurance, visitor medical insurance products may be available. If you are getting insurance through your employer, complete all the necessary forms as soon as possible so you are covered as soon as possible. If your employer has a waiting period before their insurance will start, you can buy short term health insurance in the interim.
Always carry your health insurance card and a photo ID (such as a driver's license) with you, as you will need them if you are hospitalized or visit a doctor. Moreover, make sure you understand the details of your insurance policy, and make sure you know what payments you're responsible for and what the insurance company will pay. Also, understand what the insurance company will and will not pay for.
Hospitals
Most of the hospitals in the U.S. are privately owned and big. There may be very few government-owned hospitals in some parts of the country.
Your health insurance plan will most likely have an annual deductible for hospital treatments. You will have to pay the amount of the deductible (this can be anywhere between $100 to $5,000 or more) to the hospital as it will not be covered by insurance. There may also be a per-day co-pay or coinsurance (in terms of percentages, like 20% or 30%) in your insurance plan.
Make sure you understand the complete details of the charges from the hospital and keep track of the treatment you're receiving. Some hospitals may overcharge you or just charge you for services you didn't get. Even though insurance may be paying for it, keep in mind that the insurance company is paying from the money that they get from customers like you.
Just because you are getting treatment in the U.S., don't assume everything will be perfect. Try to avoid serious infections. Always use common sense. It is possible that you will receive care from resident doctors who are generally overworked and may make mistakes. Even regular nurses are overloaded with work, as there is currently a nurse shortage in the U.S.
Doctors
Doctors are also called physicians in the U.S. There are two major types of medical insurance in the U.S., HMO (Health Maintenance Organization) and PPO (Preferred Provider Organization).
Primary Care Physician: This doctor is a family doctor, general practitioner, or an internal medicine doctor. This person is a general doctor that can take care of your basic needs.
Specialists: These are specialized doctors for a specific problem/part of the human body. A children's doctor is called a pediatrician. Women's doctors are gynecologists, eye doctors are ophthalmologists, cancer doctors are oncologists, kidney doctor are nephrologists, skin doctors are dermatologists, ear-nose-throat (ENT) doctors are otolaryngologists, and heart doctors are cardiologists.
If you have a PPO plan, you can either go to a primary care physician or specialists in the insurance company's network (PPO network) directly.
However, if you have an HMO plan, you will have to designate a primary care physician. For any medical problem, you will have to go to that doctor first. If that doctor considers it necessary to refer you to another specialist, he/she will write you a referral. You can go to the specialist only with that referral form. Otherwise, the insurance company will not pay for it.
In most domestic health insurance plans through an employer, you will most likely have to pay a co-pay when visiting a doctor. Co-pays can vary from $10 to $80. There may be different amounts of co-pay for primary care physicians vs. specialists, e.g., $25 co-pay for primary care and $40 for specialist. Short-term insurance products don't have a concept of co-pay. You have to pay the entire deductible first before the insurance company covers anything.
When you have insurance from a U.S. company, most doctors in your network will take your insurance card, driver's license (photo ID) and bill the insurance company directly, asking you to pay only your portion by credit card, check, or cash. If you have purchased insurance from a foreign company, you will pay up front and file for reimbursement later, which can be a big hassle. If you need to file for reimbursement, make sure to get the itemized bill from the doctor.
If you need to visit a doctor frequently for a certain health condition, some insurance plans pay for only a certain number of visits per year. Make sure you find out the details.
Choosing a Doctor and Appointment
You can't simply walk into a doctor's office and expect to be seen immediately. In most cases, you will have to make an appointment with the doctor. Most appointments are available after a few days, a few weeks, or even a few months.
If you have a fever and you can't get an appointment for 4 days, the fever may be gone by then! But that is the reality of the U.S. Try to visit an urgent care instead, if truly needed.
Whenever possible, you should choose a doctor from the insurance company's provider directory (network). It will always save you money. Among the doctors in the network, you can ask your friends, relatives, or colleagues if they have any suggestions. Most provider directories are available online. You may also look in the yellow pages to find doctors.
While making an appointment, you will almost always talk to a receptionist, not the doctor. Make sure to show up to all appointments. Otherwise, you may be charged a late fee or no-show fee. Generally, people at the doctor's office are somewhat bossy. You need to keep calm and have patience. Of course, if someone is obviously too rude, you need to inform them that such behavior is inappropriate. After all, you are the customer and they are providing customer service and charging very large amounts of money. They are not doing you a favor or performing charity.
Dental Care
Most insurance products are for medical treatment only. Your company may or may not provide dental coverage.
There are three categories of dental problems, and insurance coverage is different for each.
Preventive: Tooth cleaning, X-ray, oral examination, etc. This is covered 100%.
Minor: Filling, root canal, etc. This is covered 80%. You are responsible for the rest.
Major: Crowns, bridges, etc. This is covered 50%. You are responsible for the rest.
Generally, there is an annual cap of $1,000 or $1,500 per person with dental insurance.
It may be a good idea to purchase dental discount plans like CAREINGTON. They are very low in cost and don't have an annual maximum.
If your teeth are in bad shape, you will end up spending a lot of money out of pocket irrespective of whether you have a dental insurance, a discount plan, or both.
If you have dental insurance, you can see doctors in or out of network. The coverage is higher for in-network dentists, while you will have to pay the difference between what the dentist charges and what the insurance company pays if you go out of network. In dental discount plans, you can see providers only in the network if you want coverage.
Dentists will generally ask you to visit them once every six months for routine cleaning and check ups. Sometimes, they will claim that your specific teeth require dentist visit every three or four months. Use your own judgment as to whether or not you need to follow those recommendations.
Emergency Room
You should go to an emergency room (ER) only if you have a real emergency. You should not make it a practice to go to the ER just because you don't want to wait for a doctor's appointment every time you have a fever or a cold. That is simply an abuse of the emergency room facility. ER visits are very expensive, and they will perform a lot of tests. Even if the insurance company is paying for it, it will come back to hurt you in the long run. Insurance companies do not give out free money. They pay the bills of insured people with the premiums they collect from their subscribers. Please don't drive healthcare costs even higher.
When you visit an ER, you will be taken to triage where the nurse determines the severity of the problem. That helps them prioritize the patients accordingly. If your problem is not too severe or life-threatening, you can generally expect to wait a few hours.
Urgent Care
When you don't have a medical emergency but the situation is also not so minor that you can wait for a doctor's appointment, you should consider going to an urgent care center. They are somewhere in between a doctor's clinic and an emergency room. They can take care of a lot of patient needs immediately because they are walk-in centers. They may also be called as walk-in clinics. Read about choosing the right provider.
Paramedics
Paramedics are trained persons that provide emergency medical treatment in the field and at accident sites. In most places in the U.S., when you dial "911", you can get an ambulance that has paramedics in it.
Drug Stores
Complete details about drug stores.
Miscellaneous
Due to the spring mattresses and soft foam pillows used in the U.S., many people suffer from lower back pain, strain between the shoulder blades, or a stiff neck. However, most people get used to it eventually. Otherwise, posturepedic mattresses are available to help you with such problems. However, they are generally much more expensive than regular mattresses.
We are sorry that this post was not useful for you!
Let us improve this post!
Tell us how we can improve this post?