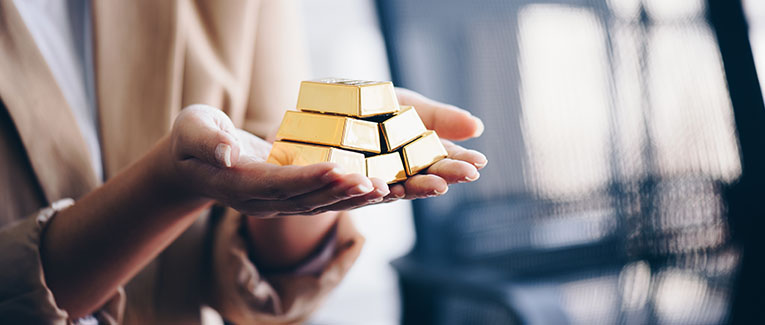 Gold has been a popular investment around the world for centuries, and for good reason. It almost always appreciates in value, and it doesn't take an enormous amount of space to store. However, if you're a newcomer, how to buy gold in the USA is a somewhat different process, and there are some things to keep in mind that you may not have had to consider if you've only purchased gold in India or another country previously.
Where to Buy Gold in the USA
How to buy gold in the USA depends somewhat on the form you wish to buy it in. If you're purchasing purely as an investment, gold bullion (gold bars) can be an excellent choice. However, if you're interested in collecting, you may be more interested in gold coins or gold jewelry. Each has its positives and negatives, and we will go through them all.
Gold Bars (Bullion)
If you're purchasing gold in the US as a monetary investment, buying gold bars, also known as gold bullion, is the way to go. Gold bars are typically sold by weight – either ounces or grams in the US. As of the writing of this article in January, 2022, gold currently sells for around $1,850 US per ounce, and around $60 US per gram.
The best place to purchase gold bars or bullion in the US is from a reputable gold dealer. Some popular gold dealers include the American Precious Metals Exchange (AMPEX), and JMBullion. These dealers allow you to purchase gold bullion from them online. However, keep in mind that you will have to pay extra for delivery charges and insurance. You can also research local gold dealers in your area if you'd like to avoid the delivery fees.
The most important aspect when investing in gold bullion is the purity. The purity of gold bullion should always be stamped on the bar, along with the manufacturer and weight. Always invest in bullion that is 99.5% pure gold at minimum. Gold bullion must be at least this pure if you want to keep it in a gold IRA.
Gold Jewelry
Gold jewelry is popular because, along with being an investment, it can be a fashion piece you can enjoy regularly, rather than just sitting in a safe. However, from an investment standpoint, you have to be careful.
In the US, it is very common for gold jewelry to have a lower percentage of gold than what you are used to seeing in your home country. 22KT gold is 91.6% pure gold, and what gold jewelry is made from in India and many other countries. However, in the US, many gold jewelry pieces may be 18KT gold (75% pure gold), 14KT gold (58.3% pure gold), or even less. Jewelry manufacturers in the US often combine gold with less valuable metals to make more durable pieces in a larger variety of colors.
If your goal is simply something attractive to wear, this is not a problem. On the other hand, if you're purchasing gold jewelry as an investment, it can be. A 14KT gold jewelry piece may be somewhat cheaper than a similar 22KT gold piece, but it will be worth only about half as much in terms of gold value.
Therefore, only purchase 22KT gold jewelry if you are buying as an investment. To make sure you don't get scammed, only buy gold jewelry from an authorized dealer. Look up a dealer near you on the Jewelers of America website, so you know the seller is reputable.
Gold Coins
Another popular investment option, gold coins can be an excellent choice if you want something with value that goes beyond just precious metal content.
As with gold jewelry, gold coins in the US are usually not pure gold. For instance, the popular one-ounce American Eagle coin is less than 92% gold, due to being combined with other metals for stamping and manufacturing. However, the right coin can still be an excellent investment if it becomes rare due to the coin collector market.
On the flipside, you will pay a larger premium for gold coins with lower gold content if those coins are popular, due to this same collector market. Therefore, it pays to research coins before you buy them. If you would rather only invest in precious metal content, bullion may be a better choice.
Gold coins are available for purchase from a variety of sellers in the US. It is recommended that you look up a dealer in the United States Mint Database. However, you can also purchase gold coins both locally and online from pawnshops and individual sellers that you trust.
Should I Invest in Gold in the US?
While gold is unlikely to increase your wealth as quickly as say, trading in the American stock market, many view it as a safer investment, as gold prices are usually more stable than those of stocks. It is recommended that you speak to a financial advisor before investing in gold if you are new to it, so you can make a smart purchase.
Where Can I Safely Store Gold?
One of the issues in investing in a physical asset such as gold is safely storing it. Being such a valuable commodity, you have to protect it from theft, fire, and natural disaster.
Storing Gold at Home
If you choose to store your gold in your residence, it is highly recommended that you do so in a secure, fireproof safe. Do not simply stash your gold in a hidden place, as this will not prevent it from being destroyed in a fire, or found by a lucky criminal. A safe offers the most security.
However, even the best safe is not completely impervious to theft or fire. Therefore, it is important to know whether your homeowner's insurance or renter's insurance can cover the loss of precious metals. With many insurance companies, you have to purchase additional insurance coverage for gold and silver, thus increasing the cost of your investment. Also, if you live in an apartment or other rental property, you may not be able to install a secure safe.
Storing Gold at the Bank
Due to the aforementioned issues, some people in the US choose to store their gold in a bank safe deposit box. Since you are the only one who is able to open the safe deposit box, it can be an ideal solution. However, there are still risks.
First off, you will only be able to access your gold during bank hours. While this may not normally pose a problem, it can be inconvenient if you need to suddenly move or procure funds.
Secondly, banks in the US typically do not insure items that are stored in safe deposit boxes. This means that you will still have to purchase insurance for your gold stored here. If not, a theft or fire at the bank that results in the loss of your gold could leave you with no recourse.
Finally, you have to consider what would happen if the bank were to go out of business. Although this is rare, it is possible. The Federal Deposit Insurance Corporation (FDIC) reports that between 2010 and 2016, 231 banks failed in the United States. Though this number is quite small when you consider the number of banks in the US, you must keep the possibility in mind if choosing to store your gold at a bank.
How to Buy Gold in the USA – In Conclusion
As with anything of value, knowing how to buy gold in the USA takes research, knowledge, and forethought. Smart gold investors should purchase only from reputable dealers who can guarantee the purity of the gold, and store their gold in the most secure location for their particular situation. By taking these steps, buying gold as an investment in the US can be a good financial decision.
We are sorry that this post was not useful for you!
Let us improve this post!
Tell us how we can improve this post?