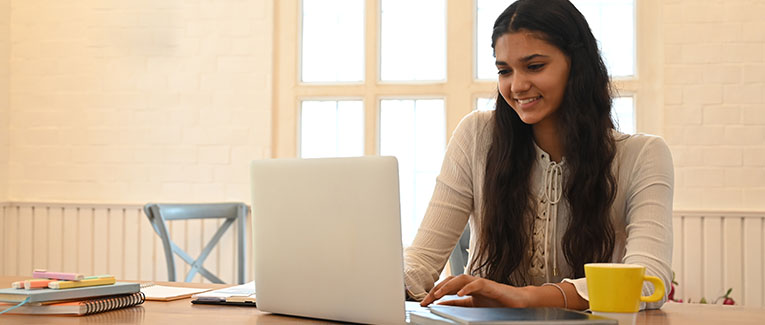 More than 7 million students enrolled in at least one online course in the U.S. in 2019.
Online courses, also called distance education or distance learning, help many students continue their education after the inability to do so on the university campus for various reasons. U.S. universities offer these courses through mobile apps, websites, email, and other means.
Major Universities Offering Online Learning
Some of the major universities in the U.S. offering distance education are:
Northwestern University
John Hopkins University
The University of California, Los Angeles (UCLA)
New York University
University of Texas at Austin
Boston University
Georgia Institute of Technology
University of Maryland
Ohio State University
University of Pittsburgh
Typical subjects
The universities offer various programs leading to bachelor's degrees, master's degrees, and certificates. Some of the subjects taught online in universities are:
Social Sciences
Engineering
Business
Management
Medicine
Computer Science
Health Sciences
Agriculture
Sustainability
Education
Unconventional Certificate and Diploma Courses
Apart from conventional subjects like various branches of physics, chemistry, mathematics, biology, English, history, geography, and cultural studies, many modern subjects are taught through online courses. Hence, you can enroll for certificate and diploma courses in areas like:
Interior design
Fashion design
Art
Graphic design
Robotics
Coding
Cooking
Music theory
Massive Open Online Courses (MOOC)
There are options available to help access free online courses through the Massive Open Online Courses (MOOC) program. Major course providers, including Udacity, Coursera, and eDx, provide the material for these courses. Apart from that, the U.S. government organizes discussions around MOOC and other online courses at its Embassies, Consulates, and other public spaces worldwide. These discussions are led by alumni who have participated in various U.S. government exchange programs, like the Fulbright program.
However, bear in mind that these tuition-free courses do not offer credits. These courses are meant more for personal enrichment than pursuit of a degree. Students usually pay tuition fees to earn degree credits for the courses attended.
Some universities also offer a blend of in-person and online classes. This way, students only have to visit the campus for a certain number of classes per week or per semester. It could be to submit their progress report or to keep up with research for their dissertation. These programs are known as "low-residency programs", and they offer a good combination of convenience and the full in-class experience.
Visas
Full-time online students are not eligible for U.S. visas. However, low residency program students can apply for student visas.
Students who are enrolled for full-time on-campus classes and online courses should speak with the institution's Designated School Official (DSO) in the International Student and Scholar Office to ensure visa compliance.
Online courses are slowly gaining traction worldwide. This is an excellent opportunity for international students to get academic credits from some of the U.S.'s most highly reputed colleges at a fraction of the cost.
We are sorry that this post was not useful for you!
Let us improve this post!
Tell us how we can improve this post?