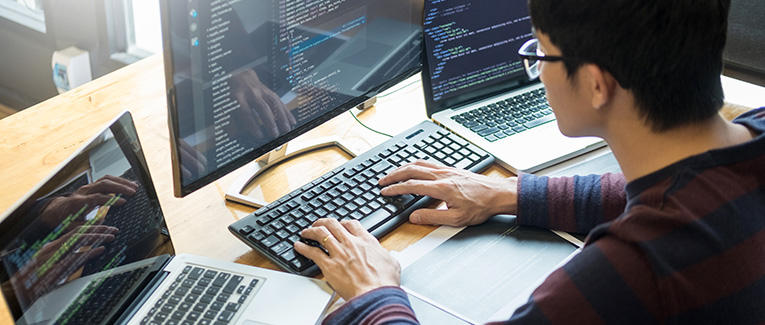 You might be wondering which path to go down: software engineering vs. computer science? The answer is yours to find out. These five points will help you decide which is better for you.
1. Pick computer science only if you have the mathematical abilities
Picking computer science as a subject means that you're training to become a scientist. You'll have to delve into complex mathematical problems, and gain knowledge about theoretical foundations in mathematics and information science.
Your primary task will be to develop algorithms that facilitate advanced scientific research. So, unless you have a keen interest in mathematics as a discipline, computer science is not a feasible choice.
As a student of software engineering, the mathematics expectations will be limited to your skills in programming. Programming is closer to learning a language than it is to solving math problems.
2. Think about which skills you're hoping to gain
Both fields specialize in different areas. Before you pick your major, think about the skills you want to gain by the end of your course.
As a software engineer you can learn how a specific software is made, maintained, and improved throughout its life cycle. Your course will be more oriented towards handling projects and undertaking the tasks of designing, building, and testing software applications.
Additionally, you'll also have to learn to program in different languages, and become well-versed in general computing principles.
In computer science, your work will be restricted to the theoretical aspects of the design and understanding of computers and computational processes.
Unlike software engineering, your course will not be oriented to project management. You'll have to focus on specialized subjects like artificial intelligence, machine learning, security, or graphics.
You will also have to study how data is stored and processed on computing devices.
3. Understand the challenges of the degree
Both choices can be very challenging. You should take on the workload that you know you can handle.
Software engineering requires understanding large and complex system requirements. You will have to deal with a large number of functions and users.
Technology is very dynamic; hence, you'll always have to adapt to the changing environment. There might be situations where you have to change the entire system to extend the existing system.
Computer scientists have to also deal with similar problems along the lines of the rapidly changing technological environment. With upcoming technology like quantum computers, the entire field is being revolutionized.
With such technological changes, computer scientists have to deal with challenges like algorithm bias and ethical conundrums. They constantly have to deal with questions about artificial intelligence and if it's harmful for society, as well as how to use it for progress without inadvertently causing adversities.
4. Consider the scope of both the fields
Think about which doors your degree can unlock for you. Do you just want a high-paying job or a work visa? Are you planning on settling in the U.S. with the help of this degree?
Having a degree in computer science or software engineering can really help you with getting a U.S. work visa. Companies may even offer to sponsor your visa. This is because the U.S. is always on the lookout for employees with exceptional skills.
Software engineering is becoming more popular in the world with each passing day. There is no limit to technology, so better software is always in demand and being built. In the U.S., the median annual pay for software engineers is around $76,000.
As a computer scientist, you can secure an average gross salary of $114,745, or an equivalent hourly rate of $55. In addition, you can also earn an average bonus of $4,934 per year.
A generous salary like that will help you cover the visa costs, which range from anywhere between $2,500 to $10,000 in legal and USCIS fees.
5. Job prospects in both the fields
With a degree in computer science, you can secure well-paid employment in various branches.
You can apply to be a computer and information systems manager. Your job will entail supervising the computer-related activities of organizations or companies.
As a computer systems analyst, you work in close proximity with your employer to ensure that the computer technology of the company is running efficiently.
A computer hardware engineer's job requires research, design, development, and the testing of the computing systems. Additionally, you have to supervise the manufacture and installation of computer chips, circuit boards, and computer systems.
Apart from this, you can also seek employment in web development, software development, and areas like programming.
Your degree in software engineering, plus your skills in coding in different languages, will bring out a diverse range of job opportunities.
You can go into the development of applications and games. You can either work with a firm, or design your application.
You can become a web designer. You'll be responsible for not only building the website from scratch, but also delving into the aesthetic aspect of the website. This is the perfect way to explore your tech and creative sides.
As a technical support specialist, you can work in almost any industry. You'll have to resolve problems for users, and report bugs.
Apart from these jobs, there are many other employment opportunities in the field of development and data administration. For an entry-level job, you should at least know Python and R.
When it comes to software engineering vs. computer science, you should make your decision based on your interest and future plans. Opt for software engineering if you like building and testing software. If you lean towards artificial intelligence, machine learning, security, and database management, go for computer science. When you consider aspects like visa and employment opportunities, both of the fields have numerous, diverse opportunities that can guarantee employment with a favorable salary.
We are sorry that this post was not useful for you!
Let us improve this post!
Tell us how we can improve this post?