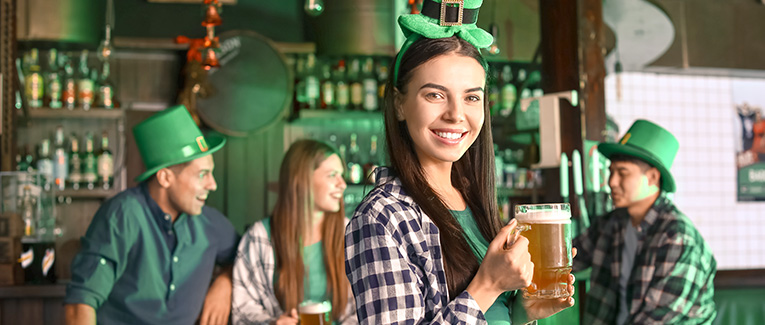 If you've been reading excited tweets about a 'Shamrock Shake,' or have driven past giant green signs for St. Patrick's Day sales and wondered what the deal is here in the U.S., here's a peek into what makes this holiday such an anticipated day in America.
Celebrated on March 17th every year, St. Patrick's Day in America is packed with parades, shamrocks, and Guinness beer.
This holiday was originally celebrated in Ireland in honor of St. Patrick, one of Ireland's patron saints. It was a religious day marked with church services and feasts with families and friends.
When Irish immigrants arrived in the U.S., it became a day of celebrating their heritage and culture. Over time, this holiday gained popularity and became a part of the all-American calendar.
While it is not a legal holiday in most of the country, it is still widely celebrated across the U.S.
More than 149 million people in the United States celebrated St. Patrick's Day in 2018. That's more than 44% of the total American population.
Whether you're Irish or not, in America everyone is said to be Irish on St. Patrick's Day. (St. Patty's Day for short.)
St. Patrick may be the patron saint of Ireland, but there are some traditions that make this day uniquely American.
Here's a breakdown of some of the classic traditions, so you are all set to go out and enjoy the celebrations.
1. Wearing Completely Green Outfits
Donning green outfits for the day is the most quintessential part of St. Patrick's Day in the U.S. It carries forward the longstanding 'wear-green-or-be-pinched' tradition of the holiday.
This tradition has its origins in folklore that the Irish-American immigrants believed in. It is said that wearing green makes people invisible to leprechauns (fairy creatures) who otherwise pinch anyone they see.
Pinching people who forget to wear green is a reminder to them that leprechauns could sneak up on them at any time, so the tradition began, and continues to this day.
With vivid green t-shirts, hats, and even glasses, there's no end to the abundance of green in people's outfits on this day.
Some people also believe wearing green brings good luck on St. Patrick's Day, while others wear it to honor their Irish ancestry.
Either way, you'd do well to put on your green outfits for the day to join in the fun, or be ready to get pinched at school, work, and even at parties.
2. Find Shamrocks on Everything
Baking shamrock-shaped cookies, donning shamrock printed outfits, shamrock sunglasses, hats, and pins… the list goes on and on. This green clover with three or four leaves is seen everywhere on St. Patrick's Day.
The Shamrock is associated with this day because St. Patrick was said to have used it to explain the Holy Trinity of Christianity to the pagan Irish.
It has also been the unofficial national flower of Ireland for centuries. Irish-Americans started wearing it on St. Patrick's Day as a way to acknowledge pride in their heritage.
Over the years, the Shamrock has become the go-to symbol for all things Irish and St. Patrick's Day.
3. Greening the Country's Landmarks
It's not just people's outfits that sport the color green on St. Patrick's Day; public buildings and landmarks are lit up as well.
From the Empire State Building to the White House fountain, and even the Niagara Falls, a greenish glow lights up many famous American landmarks in honor of this holiday.
Perhaps the most iconic among them all is in Chicago, where the Chicago River is dyed green to mark this day. This six-decade-long tradition draws thousands of people to the banks of the river to watch it turn a vibrant shade of green every single year.
4. Parades and Marching Bands
Many cities across the country have traditions of St Patrick's Day parades that bring in huge crowds and lots of revelries. The iconic parades of performers, floats, and cars are cheered on by spectators.
These parades are elaborate celebrations of the rich Irish heritage in America.
From traditional Irish folk music to talented step dancers in Irish outfits, these parades pull out all the stops to put on a show.
A St. Patrick's Day parade in America wouldn't be complete without some revelers dressed up as leprechauns. Roads are filled with people in the classic green suit jacket and pants paired with a top hat.
While most cities have their local parades, New York City, Chicago, Savannah, Boston, and Philadelphia host the most popular ones.
If you're around any of these parade hotspots, be sure to head there and catch some of the fun. Join the cheering crowds, don't forget to don your green, and bring along some extra enthusiasm for the day.
5. Themed Home & Work-Parties All Around
If there's one thing Americans love, it's to throw a theme party – and St. Patrick's Day is the perfect excuse for one.
In addition to the parades, a ton of intimate parties also line people's social calendars on this day.
Many local Irish groups host traditional Irish music and dance shows throughout the day.
People also gather at annual St. Patrick's Day-themed work parties and home parties. They are the perfect excuse to unwind at home with families, friends, and colleagues. Celtic music, Irish-themed food, and all-green decor set the tone and amp up the fun for these parties.
6. Enjoy the Classics: Corned Beef and Cabbage
A tradition that started in immigrant Irish-American households in the 1850s has now spread to homes and restaurants across the country.
A cozy dinner of corned beef and cabbage is now a St. Patrick's Day staple for most people. In fact, cabbage shipments in the U.S. increase by up to 70% in the week leading up to the holiday.
This Irish-American dish was born when impoverished Irish immigrants in the 1700s substituted corned beef in their traditional dish of bacon and cabbage.
Today, thousands of Americans get together with their loved ones to share this humble meal and celebrate the origins of this holiday.
Other Irish-inspired dishes that fill up people's dinner plates on this day include shepherd's pie, Irish soda bread, and the classic Irish stew finished off with an Irish coffee (coffee with Irish whiskey, sugar, and cream).
7. Coloring All Food Green
Comforting Irish food aside, the past decade has also brought in a wave of green food that hits cafes, restaurants, and even fast-food chains across the country on this day.
Find green-galore on St. Patrick's Day with all of your favorite dishes colored in various shades of green.
To add to the excitement are special St. Patrick's Day themed-dishes that pop up for the week of the holiday. From green bagels to green milkshakes, shamrock specials and green combos appear on menus across the country.
8. Downing Those Drinks: Guinness, Jameson, and More…
A proper St. Patty's Day would be incomplete for most Americans if they didn't have a drink to finish up the day.
This holiday has earned the reputation of being the fourth-biggest drinking day of the year in America, after New Year's Eve, Christmas, and the Fourth of July.
Head down to the nearest bar, preferably a local Irish pub, to get the full St. Patty's Day experience of a pint of Guinness with your friends. For most Americans, this dark Irish beer is the quintessential St. Patrick's Day drink.
On an average day, Americans consume about 600,000 pints of Guinness. But, on St. Patrick's Day, about three million pints of it are sold.
Alternate favorites for the day are Irish whiskey, and green colored cocktails of every imaginable variety.
So, whether you enjoy a good day out on the streets or prefer to keep it lowkey over a takeout dinner with friends, join in on some of these traditions to enjoy your St. Patrick's Day in true-blue (or should we say green) American style.
We are sorry that this post was not useful for you!
Let us improve this post!
Tell us how we can improve this post?