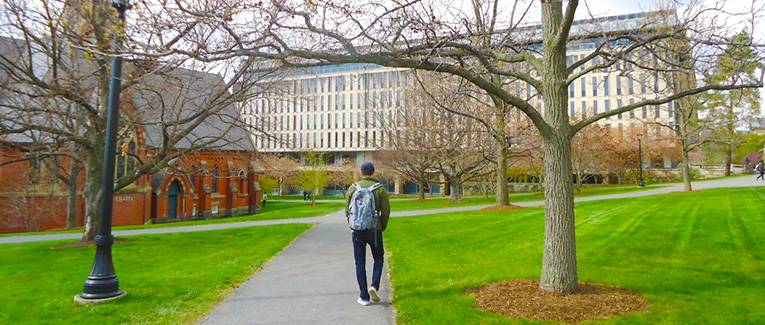 More than one million international students are enrolled in school in the United States. Part of what makes the "land of liberty" so appealing for international students is the variety of locations available, and the different opportunities they offer.
The process of choosing your university in the U.S. is greatly influenced by the city or state where the university is located. This factor matters because you will be offered different sets of academic advantages and disadvantages in different locations.
For instance, New York has the best professional opportunities for medical students, whereas Arizona is a leader in innovation and technology. Similarly, exploring different locations will expose you to a varied number of opportunities.
As a student, you must visit certain destinations that will benefit you in two ways. Firstly, they will aid your career by opening up academic and professional opportunities. Secondly, they will enable you to understand the culture and lifestyle in the U.S.
Here are the top 10 destinations for international students in the U.S.:
New York
It is only fair to call New York the land of dreams in the U.S. The city depicts the very essence of the country. There is ambition in the air and boundless opportunities. It is America's political, cultural, and economical epicenter.
As a student, your stay in the U.S. isn't complete unless you explore New York. 20% of the population is comprised of immigrants. The most iconic U.S. tourist destinations await you, such as Central Park, Times Square, and the Empire State Building.
But most importantly, New York is where you should go to chase your dreams. New York has universities that can link you with the most exciting, influential people.
Here is a list of the best universities in New York:
New York University
Cornell University
Columbia University
City University of New York
As an international student, you must be mindful of certain health risks in New York. The roads are extremely unsafe and car accidents are a big cause of death. Obesity and asthma are two diseases new residents are most at risk of.
Another fact you may not be aware of is that healthcare is very expensive in New York. However, a health insurance plan can provide coverage for medical expenses.
Los Angeles
Los Angeles is a haven for artists and students interested in the field of art, design, and creation. Los Angeles has earned the title of the world's "creative capital," and for all the right reasons.
The city is the heart of Hollywood. Many of the residents here are creators. Naturally, students hoping to make a career in this field will receive incomparable exposure. You will never run out of things to learn from in LA.
The city has museums, art galleries, and relevant production houses. The creative industry is booming here. Additionally, you can gain impeccable work experience while simultaneously finishing your graduation. The people in LA encourage young ambition.
The only drawback of living in LA is the poor air quality and high risk of contracting asthma. Respiratory problems, cardiovascular problems, and drug usage are medical risks that may also result in financial loss. Healthcare is not cheap in California.
Nevertheless, as long as you have a student health insurance plan, medical finances should not be a bother.
Washington DC
Are you studying law or politics? If so, Washington DC is a city you must explore. It is home to the most iconic political and legal institutions of the U.S. This city is an ideal destination for international students looking to understand American politics and legal dynamics.
However, work exposure is not the only exposure you will receive here. All universities in Washington DC mandate that you have the prescribed level of coverage via a student health insurance plan. This is done because students are at risk of exposure to asthma and diabetes. Respiratory problems are also very common.
Atlanta
Atlanta is one of the best cities in the U.S. for higher education. The city was of immense importance during the American Civil War. Hence, it is the ideal destination for history and political science students. The museums and art centers in Atlanta are wonderful.
Living in Atlanta also proves to be extremely beneficial financially. The city has reasonable rates for important amenities such as health insurance plans, apartments, food, and transportation.
Chicago
Chicago is the land of entrepreneurship. 12 Fortune Global 500 companies are based here. To say Chicago is a business paradise would be an understatement.
Business students should look no further than Chicago. You will be offered superior work experience and employment opportunities here. There are an endless number of startups looking to hire new graduates.
Chicago can offer a high-end lifestyle, but it comes at a price. Healthcare and living expenses are on the rise, and international students may find it is hard to afford medical procedures. Purchasing international student health insurance is essential.
Indiana
The state of Indiana is the perfect destination for students interested in arts and history. Indiana offers a classic mix of countryside, yet has every modern amenity available. There is plenty of farmland in Indiana, which makes living there a pleasant experience.
You can enjoy the sun and explore the various art museums. Additionally, Indiana has many historic monuments that are of immense relevance to American history.
You must be cautious of health risks like poor air quality, obesity, diabetes, and secondhand smoke. 9 out of 10 universities in Indiana require students to have health insurance. Make sure to check out the details before you choose your university.
Boston
Home to Harvard University, Boston is a peerless student destination, and offers numerous excellent educational institutions. This city derives its significance from its rich history and multiple historical landmarks.
Boston is a city of excellence. Universities here strive to be the best. Students in Boston can go on to become members of the elite part of society.
Here are the best universities in Massachusetts:
Berklee College of Music
Boston College
Tennessee
Are you an aspiring musician? If so, Tennessee is the place for you. Nashville in Tennessee is renowned as the Music City.
The city is not merely relevant due to its rich history of music. It is also home to music landmarks like the Country Music Hall of Fame and Museum, Grand Ole Opry, and Ryman Auditorium. Students will find plenty of opportunities to expose themselves to the industry.
There are frequent live performances in the evenings with influential persons present to recruit. Moreover, you can put yourself in a position to present your music to the public on stage.
Williamsburg
In Williamsburg, Virginia, learning experiences are enhanced through adventure. The city is a must on every international student's itinerary. Even if you don't decide to study here, exploring the city will give you a lot of knowledge about U.S. history and culture.
The experience is made interesting via live history museums, field trips, etc. Amusement parks are also very famous in Williamsburg. Excessive physical activity tends to lead to medical problems. Make sure your health insurance plan is in place before your visit.
Other popular destinations
As a new resident in the U.S., you will naturally feel the urge to explore. After all, travel is the best mode of learning. Here are the most popular tourist destinations in the U.S.:
Mount Rushmore, South Dakota
Kennedy Space Center, Florida
Great Smoky Mountains National Park, Tennessee
Grand Canyon, Northern Arizona
Golden Gate Bridge, San Francisco
Before you explore the U.S., remember to make sure your health insurance plan is in place. International students tend to be unaware of the high healthcare costs in the U.S, so it's essential to be prepared.
We are sorry that this post was not useful for you!
Let us improve this post!
Tell us how we can improve this post?