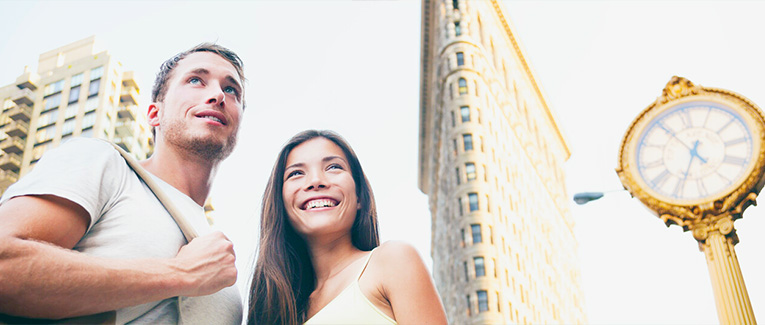 For many students, spring break is the perfect opportunity to let off steam. Thanks to pop-culture, spring break trips have become like rites of passage for students. Many prefer traveling to sunny beaches, while others choose more exotic locations. While you are planning a spring break trip, why not visit a destination that complements your studies? Here we bring you top destinations across the country that will speak to you academically as well.
1. New York City (for Finance majors)
New York has been long considered the financial capital of the United States. If you are a Finance major, a trip to the financial district of New York City is a perfect spring getaway for you. Visit the iconic Charging Bull, One World Trade Center, the 9/11 Memorial, the NYSE, and much more during your trip here.
You can also go on a guided tour with former traders and bankers to get a background on Wall Street. Observe the bustling activity of the place, understand its notorious history, and learn the inner workings of New York stock exchange. The financial district is most active during weekdays, so plan your itinerary accordingly.
2. Washington D.C. (for Political majors)
The political capital of the U.S. is packed with lavish boulevards and colossal marble monuments. Visit the Capitol building to learn how Congress works. Attend a live court session at the Supreme Court. Examine telegrams from Abraham Lincoln in the public vaults of the National Archives. Go on a guided tour of the Pentagon, and visit the International Spy Museum in L'Enfant Plaza.
The city also has a thriving social scene with some of the best clubs in the country. Downtown D.C. is much quieter at night, so head to the city outskirts for some late-night fun. While there, don't forget to get your hands on Washington's famous oysters and crab cakes.
3. Los Angeles (for Art majors)
Los Angeles is known not only for the flourishing film industry, but also for its beaches and the world-famous Disneyland. The burgeoning art scene in Los Angeles makes it a perfect springtime destination for art lovers.
The city boasts of many galleries, museums and public installations that are worth exploring: Wilding Cran Gallery to the east, Kohn Gallery in the center, and Morán Morán on the west side of the city are some of the more famous contemporary art galleries.
4. New Orleans, Louisiana (for Music majors)
The birthplace of Jazz is a must-visit destination for music majors. New Orleans is home to a rich and historic jazz scene and is known for its outstanding festivals like Mardi Gras and Jazzfest. Frenchmen Street is the hub of cutting-edge jazz, but there are many other legendary establishments across the city that you can visit.
You can enjoy music almost anywhere in this city, from street performances, to smoky clubs, to giant concert halls. The most famous jazz venue in the city is Preservation Hall, while the street music scene is unrivalled anywhere else in the world.
5. Seminole Canyon State Park & Historic Site, Texas (for History majors)
For students of history, a trip back to the furthest frontier of human settlements is the best way to spend spring break. First opened to the public in 1980, Seminole Canyon State Park and Historic Site are spread across an area of 2,172 acres in Texas.
The area is known to have been first inhabited around 12,000 years ago. It contains prehistoric relics in the form of 200 pictographs, examples of cave art, and other archaeological artifacts. The park is home to other Native American sites and also contains remnants of the Southern Pacific Railroad.
6. Silicon Valley, California (for Tech majors)
For Tech enthusiasts, nothing could be more invigorating than a trip to Silicon Valley in San Jose. Learn more about innovative tech startups and emerging technologies that are disrupting industries worldwide. Visit the new Apple Spaceship campus, test out the incredible Tesla Model X, visit the Intel Museum, and learn about robotics and artificial intelligence.
There are many guided tours across the city that will enable you to visit the headquarters of prominent companies or take a peek at the Silicon Valley Innovation Center. For students on a budget, you can go on a self-guided tour through all the noteworthy places. But be aware, you might miss half the fun and information provided by a reliable guide.
Plan the Perfect Getaway – Buy Travel Insurance
Plan your trip ahead of time to avoid the last-minute rush. Spring sees a lot of tourists across popular destinations, so book your accommodations early. You might also wish to secure trip cancellation insurance, in case of last-minute changes. Look for reputable service providers in your area. Always read your policy document to be aware of inclusions.
We are sorry that this post was not useful for you!
Let us improve this post!
Tell us how we can improve this post?