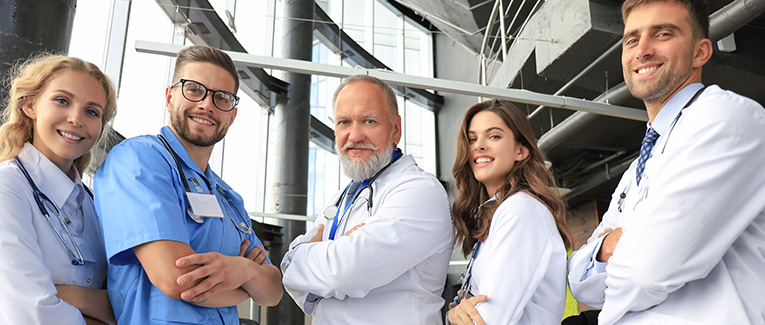 When you hear the word "doctor," you might picture medicines, X-rays, and a $1,000+ invoice. Right? The situation worsens when you move to, or visit a new country. You hear new medical terms. You are surrounded by unknown faces. You wish for a friend who could help you understand the whole process.
If you are a newcomer to the U.S., this article is your friend. In the next five minutes, learn all about what to do and expect when visiting doctors in the U.S.
A visit to the clinic
1. Choosing your doctor
Running a fever? A persistent cough or abdominal pain? Schedule a session with a primary care physician.
A primary care physician practices general medicine. The physician can treat nonemergency illnesses or injuries. Primary care physicians offer routine checkups as well.
If the physician decides it is necessary, they will refer you to a specialist. If you need to be admitted to a hospital or require further treatment, the physician monitors the process. A primary care physician helps you to make decisions regarding your treatment as well.
Doctors in the U.S. can run behind schedule, so try to book the first or second slot of the day. You will have a better chance of seeing the doctor at your scheduled time.
Never book appointments when you must go somewhere else afterward. Avoid appointments, engagements, or meetings right after your doctor's visit.
If you cannot book an appointment during your working hours, you can book them in the evening or on the weekends as well, depending on the office hours of the physician you are seeing.
2. Documents you should bring to the clinic
Bring a photo identification document, such as a student identification card or a driver's license. You can also show your passport, employment badge, or military ID.
If you have insurance that will help pay the medical costs, bring the insurance ID card with you.
If another physician referred you, make sure to bring past prescriptions, test reports, and any other documents you received from the referring physician.
If you want your physician to fill out any forms for you, bring them as well. These forms include school physical forms and immigration physical forms.
3. What happens after you arrive at the clinic
Arrive at the clinic at least 15 minutes before your appointment to do the paperwork.
The receptionist will give you three forms — a patient information form, a patient history form, and an authorization for communication form.
You will need to share personal details including name, address, and contact number in the patient information form. Doctors ask to share information about any existing or past medical conditions in the patient history form. You will need to give consent to the clinic for contacting you in the authorization for communication form.
You can find the forms in languages like English, Spanish, and Chinese.
The receptionist will ask for your ID and insurance card (if any) as well. If you have insurance, you must pay any deductible or co-pay to the receptionist. If you don't have insurance, you must pay the entire visit fee.
Clinics accept most credit cards including American Express, MasterCard, and Visa. You can pay in cash or with debit cards as well.

For visitors, travel, student and other international travel medical insurance.
Visit insubuy.com or call +1 (866) INSUBUY or +1 (972) 985-4400
4. What does a general checkup include?
A general checkup includes checking your vitals, measuring your blood pressure, and checking cholesterol levels. The doctor will verify that you are up to date on your vaccinations as well.
If you are a male, your physician can run prostate or testicular exams.
If you are a woman, the physician can complete breast exams. For further exams, such as a Pap smear, consider seeing a gynecologist. This is a doctor that specializes in female health.
Primary care physicians can also offer suggestions on weight loss, and provide lifestyle counseling.
Children can either see a family doctor, or a pediatric doctor as their primary care physician. This primary care physician oversees if children have the ideal height, weight, and blood pressure. They also check the child's diet, exercise habits, and sleep patterns. The primary care physician gives children the recommended vaccines as well.
5. How much does it cost?
For a general check-up, primary care physicians charge up to $250.
For a blood count lab test, expect to pay up to $100. If you must do a chest X-ray, you will need to pay up to $250. Furthermore, a fetal ultrasound will cost you up to $480.
A visit to the dentist
1. What does a regular checkup look like?
The first thing the dentist will ask for is your dental history. Take any past prescriptions with you. If you had difficulties with any dental treatments in the past, share the information with your dentist.
Afterward, the dentist performs a complete exam. The exam includes assessing your teeth, tongue, and gums. The exam helps to spot any symptoms and signs of diseases.
The dentist often performs X-rays of the teeth as well. The X-rays help to diagnose abscesses, problems in the jawbones, any impacted teeth, cysts, and tooth decay. The dentist decides whether or not to perform an X-ray based on your previous records, the dental exam, and your age.
If you are pregnant, please opt out of the X-ray. However, if the X-ray is necessary, the dentist will suggest a panoramic X-ray. The panoramic X-ray captures the entire mouth in one image. The image includes teeth, upper and lower jaws, and surrounding tissues and bones. The panoramic X-ray helps to see the bite better than a traditional X-ray as well.
When the X-ray is done, the dentist will conduct a full dental cleaning. The cleaning process removes plaque and tartar buildup from in between your teeth and around the gum line. The process helps to prevent cavities, bad breath, and gum diseases.
Afterward, the dentist will use toothpaste and an electronic toothbrush to polish the teeth. The dentist will also floss and rinse your teeth. The rinsing liquid contains liquid fluoride to help keep your teeth clean.
Your regular checkup is now done. If the dentist does not find any dental issues, they will ask you to visit after three to six months. However, if the dentist must perform a particular treatment such as teeth removal or filling, they will ask you to book an appointment.
2. How much does the treatment cost?
For one professional cleaning session, dentists charge up to $200.
If you choose to have a full dental cleaning and exam, you will need to pay around $350. The process includes a comprehensive exam, a complete dental cleaning, X-rays, and oral cancer screenings.
The dentist can suggest a root canal treatment so that your tooth won't need to be extracted. A root canal can set you back up to $2,000.
The charges for tooth extractions vary as per the severity and complication. If the dentist performs a basic extraction, you will need to pay around $450. If the dentist performs a surgical extraction, like for the removal of wisdom teeth, the charges can be in the thousands.
The dentist suggested a dental crown? Expect to pay up to $3,000 depending on the type of crown. Dentures can cost up to $5,000 for each plate.
Should you buy insurance?
The U.S. does not offer universal healthcare, and medical treatment is very expensive.
A typical checkup can weigh heavily on your wallet. If you are admitted to the emergency room for ailments, expect to pay tens of thousands of dollars.
This is why you must buy medical insurance before you suffer an ailment that requires you to visit a doctor in the U.S.
If you are a visitor or new immigrant to the United States:
Head over to Insubuy.
Compare the available medical insurance plans with the click of a button.
Receive instant quotes.
Make a purchase and save the policy documents.
Receive post-purchase support.
Why should you trust Insubuy? Here are a few reasons:
Highest BBB Rating of A+
A Dun and Bradstreet verified business means you can rely on its authenticity
Trusted Site secured site for protecting your information against phishing, hacking, and malware attacks.
We are sorry that this post was not useful for you!
Let us improve this post!
Tell us how we can improve this post?