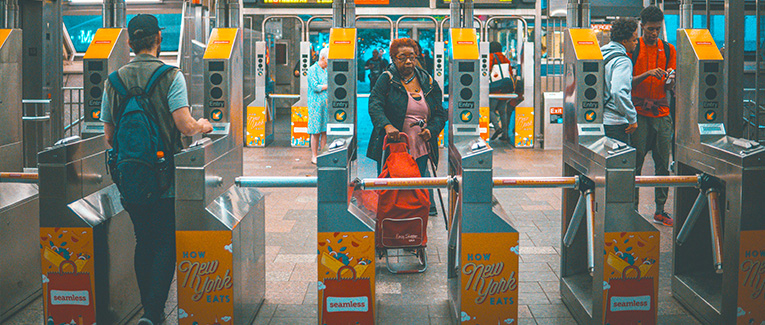 After exiting the airport in the U.S., you will be greeted by the sight of hundreds of taxis. You hail one and head to your hotel. The whole way there, you only catch sight of one or two buses, and if you're lucky, a single train station.
If you ask your cab driver about bus stops, you may get a raised eyebrow in response. That's because American public transport isn't as well-developed as the rest of the world. Their transport system relies heavily on cars.
Public transport is concentrated in urban, high-density areas. You will likely find bus and train services to shuttle you across big cities, but the more rural the area is, the sparser public transport gets.
Benefits of Using Public Transportation
1. Reducing Fuel Usage
This is the most obvious benefit of public transportation. Nonrenewable fossil fuels are running out. If more people use public transport, this depletion can be slowed down.
It is also better for the environment if one bus carries 30 people, as opposed to 30 cars doing the same. Plus, you won't be paying for the exorbitant cost of gas.
2. Parking Charges Are Eliminated
Yes, you will see numerous parking lots in the U.S., but most of them charge by the hour if you want to use them. These charges can add up.
So, if you're looking to cut back on your expenditure, using public transport is a great way to start.
3. Gives You A Rest
If you have an hourlong commute to and from your office, driving both ways can be very tiring. Using public transport is a great way to get some rest. You can also use this time to catch up on other hobbies like reading.
The biggest argument against public transport is that it's too erratic to trust. But, if more people started using it, the level of service would increase.
4. Traveling By Train
It's no secret that the U.S. is a very large country. Because of that, traveling between states can take a long time. That's why air travel is preferred by most Americans.
Because of the sparing use of trains to travel between states, connections are few and far between.
But some cities have famous intracity train connections. The most popular of those is the New York City Subway.
Navigating the New York City Subway
This is the largest rapid transit system in the world by the number of stations. It is also one of the oldest and most used rapid transit systems in the world. The NYC Subway has 472 stations and operates in the Bronx, Brooklyn, Manhattan, and Queens areas.
There are various ticket systems with which you can access the subway.
For visitors, travel, student and other international travel medical insurance.
Visit insubuy.com or call 1 (866) INSUBUY or +1 (972) 985-4400

1. MetroCard
A one-week MetroCard will allow you to use the subway an unlimited number of times in a week. But, if you're not going to stay in NYC for that long, you can buy a regular card that you can load with money.
2. First/One-Way Trip
This is a paper ticket that lets you use the subway only once.
3. OMNY Payment System
This is a contactless system that uses your credit card or e-wallet to charge you for your rides. It is extremely convenient to use since you don't have to stand in lines to get your MetroCard.
The next step to navigating the NYC Subway is to download a subway map. There is no other way for a newcomer to successfully traverse the stations. When in doubt, ask someone for help.
There are two types of trains: local and express. Local trains stop at every station, whereas express trains only stop at stations marked with a white dot. So before boarding, verify if the train will stop at your location.
Other cities with a rapid rail transit system include Washington D.C., Boston, and Chicago. None of these can even come close to the NYC subway in terms of ridership, but these transport systems are also prominently used. These systems function similarly across the country. So, if you've got the NYC subway nailed, the others will be a piece of cake.
Taking a Trip on a Bus
Taking the bus is one of the most affordable ways to travel in the U.S. Intercity and interstate bus services are available. This is the best option if you have a lower budget, or you're hesitant about air travel.
Intercity and Interstate Buses
Bus travel is a great way to go city-hopping in the U.S. Buses are available at all times of the day. So, if you're comfortable with daytime travel, it is an excellent way to see some of the sights on your way to the destination. Most buses are fairly comfortable, so if you choose to travel at night, you can catch a decent night's sleep.
Traveling by bus will eliminate the heavy parking fees you need to pay in some cities. But, ensure that you have a way of getting around the city that isn't super expensive.
Most bus services will let you pre-book your tickets. But, if your trip is on the spur of the moment, you can book your tickets at the bus depot just before departure.
Urban-Suburban Buses
Intracity bus travel is largely nonexistent in the U.S. The frequencies and usage are very low. This is mainly because most people in the U.S. prefer to travel by car.
Commuter buses are only prominent in large metropolitan areas like San Francisco or New York City. You will be hard-pressed to find a metro bus operating in a rural area.
If you are visiting a metropolitan area, a commuter bus is a great way to get around town. Since the usage is fairly low, you won't be pushing against large crowds for space.
Metro buses have a fare collecting machine as you board, so you won't have to pre-book your tickets.
For visitors, travel, student and other international travel medical insurance.
Visit insubuy.com or call 1 (866) INSUBUY or +1 (972) 985-4400

Using Ferries to Get To Places
Though it may come as a surprise, ferries form a widely used method of travel in many states in the U.S. The northeastern part of the country has many bodies of water across which important cities lie. This is where a ferry comes into play.
One of the biggest advantages of a ferry is that it can transport cargo. That is, you can shuttle your car across the water.
The main disadvantage with using a ferry is that it's pretty slow. So, if your commute relies on a ferry, you need to plan ahead. You will also need to plan out your mode of transport after you get to your destination.
You typically won't need to book your ticket in advance if you're using a ferry service, but it's always best to check with the ferry service beforehand to make sure.
In Conclusion
Using public transport in the U.S. is a good option for tourists who don't have a car. Taxi fees may hike up your expenditure, and that's where public transport can come in handy. American public transport is safe and easy to use once you get the hang of it.
Although public transportation in the U.S. is highly regulated and quite safe, there is always the chance that using a subway, bus, train, or ferry could result in an injury that requires medical treatment. You could just as easily twist your ankle stepping off that bus, or come down with an illness that is totally unrelated.
Because travel is never completely without risk, it is highly recommended that you invest in visitors insurance for your trip to the U.S. Visitors insurance can provide coverage for new injuries and illnesses that occur during your trip, after the effective date of the policy. This coverage can protect you from having to bear the full brunt of famously high American medical treatment costs. It is essential protection that you should not go without.
We are sorry that this post was not useful for you!
Let us improve this post!
Tell us how we can improve this post?