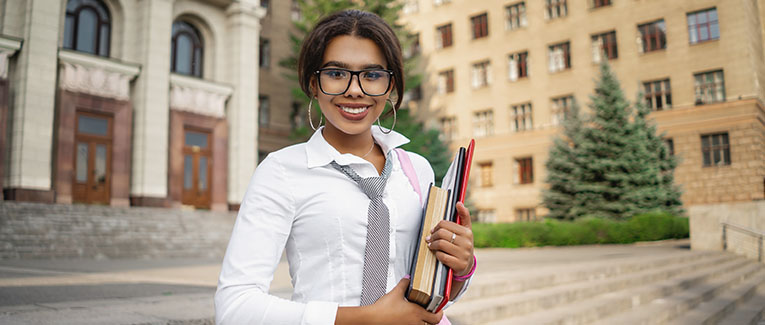 With the price of education in the US, working a part-time job while attending university is a requirement for most. All over the country, working off-campus at retail and service industry jobs is practically a rite of passage for American college students.
For international students, the job market can be a little murkier. There are strict rules in place for F-1 visa-holders that determine where they can work, where they are not allowed to work, and how many hours they're permitted to work. If you're headed to the US for your first semester as an international student, employment rules for F-1 students can seem complicated. We aim to clear up any confusion.
Who Determines Employment Rules for International Students?
United States Citizenship and Immigration Services (USCIS) sets the rules and regulations for international student employment, which is contingent upon your visa status. The majority of international students in the US are on F-1 student visas, for which there are a number of restrictions regarding employment if you want to work off-campus.
On-Campus Employment
USCIS allows F-1 students to work on-campus, provided they comply with certain regulations. On-campus employment refers to any position on school grounds that is directly related to the school's operation, or relating to an assistantship or grant you are a part of. In addition, on-campus employment can include commercial businesses on-campus, such as a library or cafeteria, or locations that are physically off-campus, but directly affiliated with the school. These most often include academic research facilities.
F-1 students are allowed to work on-campus so long as they meet the following requirements:
They maintain valid F-1 status for the entire period of employment.
Their position does take employment opportunities away from any US resident.
They work no more than 20 hours per week while school in session.
They are permitted to work full-time during campus holidays and breaks.
Advantages of On-Campus Employment for International Students
On-campus employment doesn't require USCIS approval
As most jobs are located physically on-campus, they are easy to commute to even for students without their own transportation.
Disadvantages of On-Campus Employment for International Students
As schools only have a finite number of on-campus jobs available, opportunities may be limited.
Available jobs are often low-skilled and unrelated to the student's field of study.
Some schools may not permit students to work on-campus during their first semester or academic year.
Off-Campus Employment Options for International Students
While off-campus work is possible for F-1 students, it's not as simple as it is for your classmates who are US citizens. Unlike them, you cannot simply take a job working at a local coffee shop, bookstore, or fast-food restaurant, as your visa will not allow it. Even if one of these establishments were to hire you, it would be illegal, and could threaten your visa status.
However, there are still off-campus employment options you can take advantage of:
Pre-Completion OPT
Optional Practical Training (OPT) is a common way for international students to work off-campus in their field of study. Most students do not begin OPT until after graduation (post-completion OPT), but pre-completion OPT is available in some situations, so long as you meet the following requirements:
You must have been enrolled in your program for at least one full academic year.
The work must be directly related to your field of study.
You work no more than 20 hours per week while school is in session.
You are permitted to work full-time when school is not in session, but only if you are eligible for next academic semester and intend to register.
You are also permitted to work full-time after completing your coursework, so long as a thesis or dissertation is still required and you are making progress towards your degree.
To take part in OPT, you cannot simply go and get a job. You must initiate the request by having your Designated School Officer (DSO) recommend the OPT by endorsing your form I-20, and taking the appropriate actions in SEVIS. If approved for OPT, you will be issued an EAD. You cannot begin working on OPT until after the EAD has been issued.
Curriculum Practical Training (CPT)
As with pre-completion OPT, CPT is a program where you are authorized to work by USCIS in the industry related to your field of study. To qualify for CPT:
You must be enrolled in your program full-time for at least academic one year on valid F-1 status. The only exception to this is for graduate students taking part in a program that requires immediate CPT.
Your employment must be directly related to your degree program, or be a requirement for a course you are taking for academic credit.
You need to have received a valid job offer that qualifies you for CPT before you submit your request for CPT authorization.
The job offer can only be for a position that is directly related to your major or field of study.
As with OPT, you will need to contact your DSO to endorse and file the proper paperwork before you are legally allowed to work on CPT. It should also be noted that if you undertake 12 months of CPT or more, you will not be eligible for post-completion OPT at that degree level. Get in touch with the International Student Services Office (ISSO) at your school for all the information.
Employment with an International Organization
F-1 international students are permitted to take part in off-campus employment with what are known as "recognized international organizations." These organizations must be on the official US State Department list, and include the World Health Organization, American Red Cross, and many others. To qualify:
The student must have a job offer and sponsorship from a recognized international organization.
The position must both be within the scope of the organization's mission, and directly related to the student's field of study.
The student must have maintained valid F-1 status for at least one academic year.
The student must be in good academic standing.
As this type of employment is only available to international students who receive sponsorship, it is rare. However, if you are fortunate enough to quality, you can begin work after applying for and receiving your EAD from USCIS.
Severe Economic Hardship
While this is not an enviable position to be in, international students can qualify to work off-campus if they fall under "severe economic hardship," as defined by USCIS. To qualify:
You must provide evidence of severe economic hardship due to unforeseen circumstances that are outside of your control. See below for examples.
You must demonstrate that on-campus employment is not available and is not sufficient for your economic situation.
You must prove that you have made a concerted effort to secure on-campus employment prior to applying.
You must be in valid F-1 status for at least nine months (one academic year) before applying.
You must be in good academic standing.
What are Examples of Severe Economic Hardship?
To be approved for off-campus employment due to severe economic hardship, you will need to prove that a scenario similar to one of the following has occurred:
Medical bills or other major unexpected expenses have created an economic hardship.
You have lost your financial aid or on-campus employment due to no fault of your own.
There has been an unexpected financial change in your source of monetary support, such as with a parent or relative who is paying for your education.
Your tuition and/or living costs have increased an inordinate amount.
You have experienced significant financial loss due to fluctuations in currency values or exchange rates.
If you meet the abovementioned qualifications, you can apply to work off-campus due to severe economic hardship by contacting your school's international student office and applying for an EAD. Though you do not need to have a job offer in place to apply for an EAD in this situation, you are not allowed to begin working until you are approved for that EAD. Once approved, you will be allowed to work for any employer in the United States.
Working Your Way Through a US University
As we've demonstrated, there are numerous options for international students to work in the US. If your school permits you to begin working on-campus early in your program and you can find a suitable position, this may be your best option, as it requires the least amount of paperwork.
Once you reach a point where you can apply for CPT or pre-completion OPT, it could be a logical next step that allows you to earn more and gain experience in your field of study, not to mention something good to put on your resume. The other off-campus options may not be as widely available, but it is good to know they exist if you can take advantage of them. As always, contact your school's international student office for more details. They can provide you with all the information you need to find appropriate employment options for your situation.
We are sorry that this post was not useful for you!
Let us improve this post!
Tell us how we can improve this post?