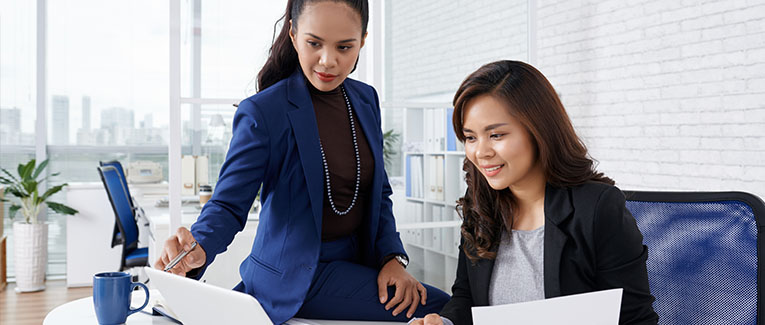 Since 2013, at least 60% of students from each graduating class in the U.S. have completed an internship during their time at college. More than half of those students take up more than one internship.
If the idea of pursuing an internship as a business administration student is weighing on your mind, we've got your back.
In this comprehensive business internship guide we've covered:
The 5 big reasons why internships are crucial for your success as a business administration student in the U.S.
The 6 top business internship avenues in the U.S. you can and should explore.
The 4 most common business internship categories in America, so you can pick the one that fits your needs best.
5 Simple steps to landing a career-launching business internship in the U.S.
Pro-tips on how to make the most of your internship once you land one.
Here are the 5 biggest benefits of an internship for business administration students:
They give you practical training & real-world experience.
They are fantastic network-building opportunities.
They can help you realize the avenues and industries that you will enjoy working in after college.
They have the potential to convert into full-time job offers.
They boost your resume with much-needed work experience, which boosts your chances of landing a job later.
Internship avenues to explore as a business administration student in the U.S.
Business administration studies are very broad, and teach you the basics of a wide range of industries and fields. So, internships are your chance to explore each of them to discover what works best for your skills and interests. Here are the top 6 internship avenues for you to consider:
1. Sales & Marketing Internship
If you're looking for sales and marketing experience, then this internship might be for you. It's usually offered only in smaller businesses or startups, where the two teams are combined.
Your day-to-day work could include training for sales calls, preparing client presentations, and helping with the launch of campaigns. You will likely also work on market research, customer surveys, and market analysis.
Key skills preferred for this role:
being familiar with marketing software
comfortable on social media platforms
informed about marketing trends
communication & analytical skills
Internships in this field could lead you to future jobs as a sales consultant, sales manager, marketing consultant, advertising manager, or account executive.
2. Product Marketing Internship
If pure marketing is more your passion, then consider a product marketing internship. You will get to learn a lot about the reality of marketing by researching market trends, analyzing product reviews, and studying competitor strategies.
Marketing internships can have very diverse roles and might require you to be comfortable going beyond your baseline skills. Depending on where you're working, you may need to double up as a copywriter, public speaker, video editor, graphic designer, and more.
Key skills needed for this role:
solid understanding of branding and marketing
awareness of marketing trends
analytical & communication abilities
Bonus skills that will help you stand out are basic graphic design skills (Photoshop, final cut, illustrator, etc.), and a basic understanding of HTML/CSS.
Future careers in this space include advertising and promotions manager, content strategist, copywriter, digital marketing manager, market research analyst, marketing manager, or product manager.
3. Finance Internship
Finance internships involve a lot of job shadowing, where you are assigned a mentor for the duration of your internship. This gives you a chance to get deep insights into their daily work and learn from their experience.
Apart from this, most other day-to-day work involves entry-level tasks like data entry, records management, data maintenance, organizational work, and running audits.
Key skills preferred in finance interns:
the ability to create financial statements
run basic internal audits
ability to perform basic data analysis
relationship management & communication skills
An internship in the finance field can open you up to future roles such as a business analyst, accountant, public relations manager, data analyst, or auditor.
4. Business Consulting Internship
Unlike internships in other fields, in business consulting, you will be put in a full-scale team and work directly on parts of a live client project. This means responsibilities and expectations are higher, but you also learn a lot more.
Usually, you will have a short training period on problem-solving, excel processes, and presentation tools. Following this, you will be paired with a manager who will mentor you and review your work. Day-to-day activities might involve tasks like analyzing data, conducting research, and giving internal presentations.
Key skills companies look for:
strong problem-solving abilities
analytical skills
ability to take ownership of work
communication skills
ability to work well in a team
Future career prospects after this internship could be full-time work as a business consultant, management consultant, financial consultant, or operations consultant.
5. Business Management Internship
In a business management internship, you will learn project management, how to perform an analysis, and the nuances of business strategies. The internship will give you an overview of everything that goes into running and managing a business, from finance to operations.
Key skills needed for this internship:
knowledge about project management practices
awareness about business practices & theories
communication & presentation skills
A future job in roles like project manager, production manager, management consultant, risk manager, and business advisor stems from internships like this.
6. Business Development Internship
A business development intern helps a company increase sales and grow further. They work with teams that handle lead generation, marketing, and growth strategies. Day-to-day work could involve identifying and contacting prospects, working on promotion strategies, and creating client proposals and contracts.
Key skills that companies value for this role:
Excellent interpersonal skills
Organizational skills
Sales skills
Ability to work well in a team.
Potential future roles could include business development manager, sales operations representative, account manager, and business development consultant.
Types of business internships for you to be aware of in the U.S.:
Business internships aren't a one-size-fits-all system. There are a ton of variations for you to consider and pick from based on your schedule and goals. Here are the 4 main types you should know about.
1. Based on duration:
Apart from the ever-popular summer and winter internships, also consider a semester-long internship.
If you're looking to be part of a project from beginning to end, then consider a part-time, semester-long internship. This kind of internship will give you more exposure, but you will have to juggle both work and school at the same time.
2. Based on credit:
Some business administration programs have a mandatory internship period students have to finish as part of the curriculum.
Other business programs allow you to substitute a regular subject or elective with an internship for the same number of credits. This alternative helps you reduce double workload, earn credits, and get exposure at the same time!
Remember to check the college requirements for an internship to qualify for credit hours. They might have requirements on a minimum number of hours or type of work done on a day-to-day basis.
3. On-location vs. virtual Internships:
We no longer live in an age where you will have to move cities and countries to work in your dream company. Many businesses have remote or hybrid internship opportunities available for you to consider.
These are especially helpful when you're doing an internship during the semester, so you can stay near campus and still intern with a company anywhere across the country or world.
4. Externships:
If you aren't sure about committing to a full-blown internship in an industry or company, then consider an externship. Business externships can last anywhere from a few days to a couple of weeks, and typically involve you shadowing an employee for that duration.
They might not count for much on your resume, but they give you a chance to understand the everyday work and responsibilities of a certain career.
How to land a career-launching business internship.
Now that you've figured out industries and avenues for your internship, here's how to actually get the internship.
Prep your resume and cover letter.
Put together a resume tailored for the field or industry in which you're looking for an internship. Be sure to list all your relevant coursework, previous work experience, passion projects, and relevant college groups you are a part of. Highlight your hard and soft skills that fit the role requirement.
Start with your professors.
Especially if you're new to the country, it can be hard to make industry contacts or find the right businesses to apply to. Reach out to your professors to ask for recommendations of places to apply, and people they can connect you with.
Start early and build your network.
Even if you're new to the country, there are ways for you to grow your network during college. Most business schools host industry and alumni networking events on campus. Make use of these opportunities, and make connections with people who are in roles or industries you aspire to be in. Be sure to follow up and stay in touch with them after the event. To expand your network even further, attend popular industry events outside of college as well.
Put yourself in front of companies.
Apart from sending out job applications on LinkedIn, reach out to managers at companies you admire. Send them personalized emails expressing your interest in interning with them. Personalize your applications and messages to reflect your interest in that specific company and role to catch their attention.
Be patient and keep at it.
Some industries and roles are highly competitive, so don't lose heart if you don't land an internship in the first couple applications you send out. Stay consistent in applying to open roles, and following up with your connections.
Pro-tips on making the most of your internship as a business administration student in the U.S.
While you're actually doing the internship:
Show up with enthusiasm, an abundance of curiosity, and a willingness to learn. Be proactive in your work, and be open to throwing your hat in for new responsibilities.
Doing this will help you make the most of the internship opportunities and get you noticed. Even if it doesn't land you a job, you will definitely leave with glowing recommendations for future roles.
Be sure to meet people and build friendly connections with people in your team and outside of it. Don't be that isolated intern who talks to no one but their supervisor. Business internships are as much about the network you build as they are about the experience you gain.
When you finish your internship:
When it's all over, don't leave abruptly. Make sure you send a personalized thank you note to your supervisor, managers, colleagues, and mentors at the company. Stay in touch with them regularly to maintain the relationships you've built.
We are sorry that this post was not useful for you!
Let us improve this post!
Tell us how we can improve this post?