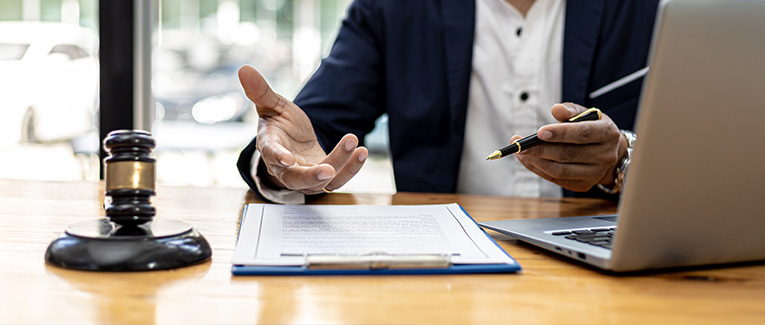 The reasons you need to go to court in the U.S. can vary from minor traffic violations to serious criminal charges. More than 100 million cases are filed each year in state trial courts, and one in nine Americans end up being involved in some legal tussle in their lifetime.
But, not all of them require you to hire an attorney or look for free legal aid services.
There are some cases when you can represent yourself in court, as long as you have a basic understanding of the law. Prime examples for these are:
Simple Divorces:
Amicable divorces rarely need an attorney's help. If you and your partner have no disputes over property division or child custody, then you can very well handle it yourself.
Minor Traffic Violations:
Things like a parking ticket, speeding, or running a red light usually don't call for a lawyer's advice. Most people show up in court to represent themselves for minor traffic violations.
Small Claims Court:
Minor disputes (usually under $10,000), are filed in a special court called a 'Small Claims Court'. Hiring an attorney for these cases is not necessary, and some states don't even allow it.
Court personnel will help you in understanding the process and filing a case, so you can represent yourself at the hearing.
Setting Up & Running A Business:
Most simple business needs like setting up an Employer Identification Number, a trademark, forming a business entity, or creating basic contracts don't require a lawyer. A quick Google search will give you everything you need to know to do it yourself.
But, not all cases are as simple and quick as these.
There are many situations when hiring an attorney or finding legal aid is your best option to ensure you get justice.
When Prison Time Is Involved: For any case where you may be sentenced to jail or an arrest warrant is issued in your name, you should have an attorney.
If it's A Sizable Lawsuit: If you could potentially lose a lot of money in a lawsuit, seek legal help.
When The Other Side Has "Lawyered Up": If your opponent has hired an attorney, then seek legal aid to ensure you have strong representation as well.
For Messy Divorces: If you are fighting it out over the division of assets, custody, or settlements, hire a lawyer to help you sort it out.
Even if you are on amicable terms, if your finances are intertwined, then you will need a lawyer to ensure proper splitting of taxes, retirement benefits, etc.
In any case when you feel you are "in over your head." Being able to represent yourself in court depends largely on your knowledge of the legal system and your ability to confidently represent yourself.
Since hiring an attorney is not a viable option for many, free or low-cost legal aid comes to the rescue.
Legal Aid for Criminal Cases:
If a case has been filed against you by the government, you can invoke the 6th Amendment right to counsel. It guarantees your right to receive legal assistance for court representation, even if you can't afford an attorney.
This means that the government will appoint you an attorney for free. So, you usually won't have to look for external legal aid in this case.
Legal Aid for Civil Cases:
If a citizen or private organization is suing you, then it is considered a civil case. In these cases, you are not provided free access to an attorney by the government.
In situations like this, you will have to find your own support through legal aid providers.
Civil legal aid organizations help maintain a fair justice system by ensuring legal help to those who can't afford it otherwise. America takes the responsibility of ensuring equal justice under the law very seriously.
In the U.S., legal aid is offered through three main sources. There are federal-funded legal aid, state-level aid, and private legal aid organizations.
Your Best Options For Free or Low-Cost Legal Aid in America Are:
1. Federal-Funded Aid – Legal Services Corporation (LSC):
The LSC receives the largest funding for legal aid to low-income individuals in the U.S. This corporation provides funding for civil legal assistance for tenancy issues, domestic abuse cases, and even assists military families.
You are eligible to apply for LSC legal aid if your household income is less than 125% of the Federal Poverty Level.
There are 133 independent, nonprofit legal aid organizations across the country that are funded by the LSC. Get the legal help you need by finding one near you on their official website.
2. State-Managed Aid – Interest on Lawyer Trust Accounts (IOLTA):
This raises money for providing civil legal aid to people who can't afford it otherwise. Each state manages its own IOLTA fund and has a list of IOLTA-funded organizations for that state.
Each state also has its own eligibility guidelines and service policy defining who qualifies for state managed aid. To apply for IOLTA aid, look for state-approved organizations near you.
3. State-Funded Legal Aid Services:
37+ states in the U.S. allocate funds for additional legal aid services from their state budgets. Most states also set aside a fixed percentage of court filing fees towards legal aid every year.
They offer free legal aid not just by allocating attorneys to represent qualified people in court, but also through:
Appointments for legal counsel with attorneys.
Community legal clinics that are held regularly to offer access to legal advice from attorneys. (Common topics that are covered include rights on housing, employment, and public benefits.)
Helpline numbers you can call for access to expert advice on legal issues such as housing and domestic violence. These are sometimes also funded by the LSC and IOLTA.
Online 'DIY Kits' that include legal guides, forms, sample letters, and instructional videos. These also provide fact sheets and informative videos to expand your legal knowledge.
Training and workshops where attorneys educate people on their rights and the basics of handling legal issues.
Similarly to IOLTA, the eligibility criteria for these legal aid services is unique to each state.
4. Private Organizations – American Bar Association (ABA):
Many private law firms encourage their lawyers to take on pro-bono cases as a way of giving back to the community. There are also hundreds of volunteer organizations across the U.S. that offer free or low-cost legal aid to those in need.
You can find some of these organizations in your state through the ABA pro-bono resource directory.
If you qualify for their low-income standards, you can even use their 'Free Legal Answers' portal to get legal advice from volunteer lawyers. Keep in mind, this is only for civil cases; they don't allow questions on criminal cases.
Additionally, there are many other private organizations, like LawHelp, that help you find free legal aid programs in your community.
Finally, here are some more U.S. government-led organizations that offer niche legal aid services…
With all these and many more volunteer organizations out there, we hope you find the help and support you need to tackle the American legal system.
Share this article with your friends and family so they know where to go as well, should the need ever arise.
We are sorry that this post was not useful for you!
Let us improve this post!
Tell us how we can improve this post?