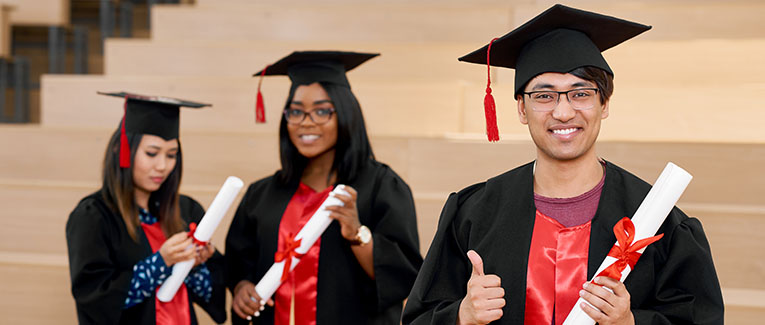 Many international students who come to the United States to pursue their higher education have the ultimate goal of staying in the country long-term after graduation. There is ample reason for this. The US is home to some of the top companies in the world, has extremely well-paying jobs, and offers a lifestyle that is attractive to many.
However, the path from degree to career is more complicated for international students than it is for US citizens. You cannot simply apply for a job after you graduate and stay in the US. In fact, you will have just 90 days after graduation to move on to your next phase of education or employment. Otherwise, you will have to leave the United States.
The Next Steps After Graduation
Optional Practical Training (OPT)
For many international students in the US who are coming to the end of their academic careers, the next logical step is Optional Practical Training (OPT). OPT is temporary employment in the US that is directly related to your field of study. Most international students begin OPT after graduation, which is known as post-completion OPT, but some students can take part in pre-completion OPT while they are still in school.
The total duration for OPT is 12 months, but STEM degree holders can get a 24-month extension for a total duration of 36 months. This means that, depending on your degree, you can work in the US on OPT for a maximum of one to three years. Once the total duration of OPT has been reached, the individual must either change their visa status, return to school full-time to pursue another degree on F-1 status, or leave the United States.
H-1B Visa
For those interested in staying and working in the US long-term, the preferred step after OPT is an H-1B visa. The H-1B category allows foreign-born professionals to live and work temporarily in the United States for a maximum of six years, though this can be extended depending upon your employment-based Green Card processing status.
However, the H-1B visa is one of the most sought-after visa classifications in the US, with many more applicants than available visas. Only 65,000 H-1B nonimmigrant visas are issued each fiscal year, in what is known as the H-1B cap. Even if you find an employer that's willing to sponsor you, there's no guarantee that you will be selected.
So, how can you maximize your chances of receiving H-1 sponsorship while on OPT? Let us explore the topic.
Find an Employer Willing to Sponsor You
You cannot apply for an H-1B visa yourself. The only way to apply for H-1B status is for an employer to initiate the application on your behalf. For some, this can mean speaking to your OPT employer about the possibility of sponsoring you. If you have demonstrated that you bring value to the employer by excelling during your OPT program, this may be possible. Even if your OPT employer is not willing to sponsor you, making a positive impression during OPT can lead to strong reference letters that can make you an attractive candidate to other employers that will sponsor you.
As for those other employers, consider the top H-1B sponsors for the previous fiscal year. These companies have demonstrated that they are willing to commit the resources to sponsor deserving individuals, and should definitely be on your shortlist of companies you apply to.
Start Your Search Early
The United States Government's fiscal year begins on October 1st, and employers can submit H-1B applications up to six months in advance of the new fiscal year, or as soon as April 1st. Since most employers are subject to the H-1B cap, they must file applications for the upcoming fiscal year on or near April 1st to obtain an H-1B visa for the following fiscal year.
Therefore, it is imperative that begin discussing H-1B sponsorship with employers well before April 1st of the year your OPT will end. If you wait until the last minute, your chances of receiving an H-1B visa for that fiscal year will be practically nil, and you may have no choice but to return to your home country to wait until the next fiscal year.
Get an Advanced Degree
In addition to the 65,000 new H-1B visas granted each year under the cap, an additional 20,000 H-1B visas are issued for those with advanced degrees, such as a master's degree or Ph.D. By earning an advanced degree, you give yourself a greater chance of being issued an H-1B visa than if you only have an undergraduate degree.
In addition, many employers who sponsor H-1B visas do so primarily for job titles that require advanced degrees, such as software engineers, professors, and architects. You can give yourself a leg-up in more ways than one by earning a master's degree or Ph.D.
Seek Out Cap-Exempt Employers
Certain employers in the US are not subject to the H-1B cap. They are permitted to sponsor H-1B professionals throughout the year without limitations set by the US government. The types of employers that usually fall under the cap-exempt category include:
Nonprofit institutions of higher education – Most colleges and universities in the US are nonprofit institutions. With the proper education, you can apply for positions such as a professor or researcher at a nonprofit institution of higher learning and be sponsored for an H-1B visa that is not subject to the cap.
Nonprofit entities that are related to institutes of higher education – Many colleges and universities have nonprofit hospitals and research facilities that are affiliated with them. If your educational background is in a field that will allow you to qualify for a position at these facilities, they can be another option H-1B sponsorship that is exempt from the cap.
Nonprofit research or government research organizations – USCIS defines these organizations as "not for profit" and "primarily engaged in basic research and/or applied research" or as a "United States Government entity whose primary mission is the performance or promotion of basic research or applied research." As with the previous two cap-exempt options, these organizations can sponsor H-1B workers year-round.
It's understandable that looking at these cap-exempt options may give the impression that they're only for STEM degree-holders. However, this is not necessarily the case. While scientists, educators and doctors are integral parts of these organizations, they aren't the only part.
Even nonprofit research organizations still need IT professionals, accountants, financial analysts and HR managers to operate. So, even if your skills and education are unrelated to STEM or higher learning, these employers can still be a path to H-1B sponsorship that isn't subject to the cap.
To view a list of cap-exempt employers, go here and check the "Cap Exempt" box to start your search.
Wrapping Up
Although H-1B sponsorship is far from guaranteed, if you're currently on OPT and hoping to make the jump to H-1B status, remember these following steps:
Excel in OPT – The better you perform during OPT, the better your chances of finding an employer that's willing to sponsor you for an H-1B visa.
Start early – Begin exploring employment and sponsorship options well before April 1st of the year your OPT will end. If you don't, it may be too late to find a sponsoring employee for that fiscal year.
Advanced degrees help – An additional 20,000 H-1B visas are issued each fiscal year for holders of master's degrees and doctoral degrees. You only increase your chances of securing H-1B sponsorship if you further your education.
Search for cap-exempt employers – Regardless of your degree, there are hundreds of educational, research, and medical employers throughout the US that are not subject to the H-1B cap. Even if you're an accounting or business major, you may still be able to secure sponsorship and employment through one of these organizations.
We are sorry that this post was not useful for you!
Let us improve this post!
Tell us how we can improve this post?