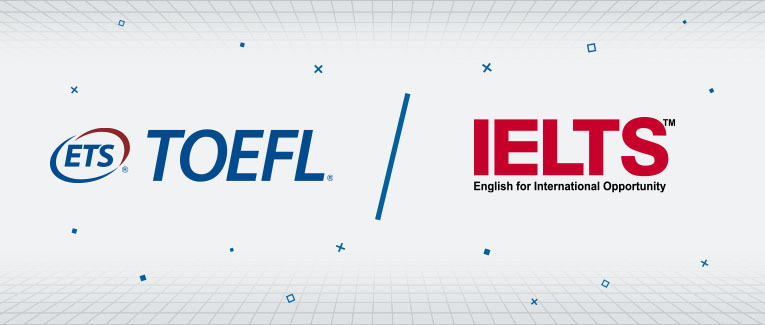 Almost all universities in the U.S. require international students to take English language proficiency exams in order to enroll. The most widely accepted scores are that of TOEFL (Test of English as a Foreign Language) or IELTS (International English Language Testing System).
Do you need to take the exam? If yes, which one should you take? The answer depends on the course you're planning to apply for, the university you're applying to, and your grasp of the language.
You don't need to take the exam if you're applying for an English program
The prerequisite to applying for an English program at the undergraduate or postgraduate level is that you're proficient in English. No matter what English program you're applying for — literature, language, linguistics — your application will reflect that you're proficient in speaking, reading, listening, and writing in the language.
The test is only meant to assess if the applicant will be able to keep up with what is being taught in the classroom, as well as if they can communicate effectively. Your literary skills will not be judged.
However, some universities might still request the scores from these tests even if you're applying for an English program. So, make sure to check the guidelines. Even though you might not need TOEFL scores for admissions, you might be asked to take the exam later for placements.
Community colleges may not ask you to take the test
Usually, only private universities ask you to take English proficiency tests. However, recently some private universities, like Harvard, have removed the requirement for TOEFL and IELTS.
You can choose to submit your score to Harvard, but there is no undergraduate minimum required or recommended TOEFL score.
If you're applying for a two-year course or to a community college, they might not ask you to take the test.
Here are some universities that don't require you to take these tests: Green River College, Shoreline Community College, Edmonds Community College, and Rice University.
You can also opt for the Conditional Admissions Program (CAP). Under this program, some universities like the State University of New York, the University of Arkansas at Little Rock, and the University of Delaware will not ask you to take the exam, but you'll have to enroll in the Intensive English Language Program (IELP).
The program will help you become proficient in English, and also help you adjust to American culture.
You can be exempt from the exam if your education has been in English
Only students that are not native English speakers are expected to submit a TOEFL or IELTS score.
However, if you earned a degree/diploma from a non-U.S. educational institution where the primary language of instruction was English, or a U.S.-based educational institution, you are likely exempt from taking the exam.
Students from these countries are generally not required to take the exam: Australia, Bahamas, Botswana, Cameroon, Canada (except Quebec), Ethiopia, Ghana, Ireland, Kenya, Lesotho, Liberia, Malawi, New Zealand, Nigeria, Zimbabwe, South Africa, Sierra Leone, Swaziland, Tanzania, Gambia, Uganda, United Kingdom (England, Scotland, Northern Ireland, Wales), West Indies, and Zambia.
TOEFL OR IELTS: which is better for you?
On the face of it, both exams are similar. They assess the same skills, but scoring is different.
If you have to take the exam, you need to do well. Top universities recommend minimum scores of 577 on the paper-based test, 90 on the Internet-based test for TOEFL, and the overall band score of 7 for IELTS.
In TOEFL, you mainly have to answer multiple-choice questions. In IELTS, you'll have to answer a wider range of questions that require short answers, fill-in-the-blank, and short essay tasks. So, if you're not good at analyzing and weighing between options. Go for IELTS, as it relies more on memory and basic comprehension skills.
TOEFL is also more predictable than IELTS. This is because IELTS will give you a mix of different types of questions, and they make slight changes to the instructions every year.
The IELTS speaking test is done face-to-face with an examiner, which can be anxiety-inducing for some people. In the TOEFL test, you have to answer six questions into a microphone. The recording will be reviewed later by six examiners.
The written component of TOEFL is online, whereas IELTS is paper-based. So, if you're more comfortable using a pen and paper, go for IELTS.
For TOEFL, the speaking and writing sections are graded on the standards of the test taker's range of vocabulary, writing style, and grammar. In IELTS, you'll be scored based on individual criteria like logic, cohesion, grammar, and fluency. With this in mind, you might score higher in TOEFL with poor grammar, and score higher in IELTS with poor logical connections in your essays.
IELTS is graded on a band system. Your overall score will be an average of the four tests on a range between 1 and 9. Your score is also rounded off to the nearest half band. If you score 7.25, you'll get a 7.5. For the TOEFL, you'll be graded on each test separately, and the final score will be the sum.
Alternatives to these tests – DET
The DET stands for the Duolingo English Test. The test is relatively new, and Universities only started accepting its scores in 2021.
If you're not confident about scoring well on TOEFL and IELTS, you should give the DET a try. This test can act as a backup score in case you don't do well on your other test, as long as your preferred university accepts DET scores.
What makes the test so convenient is that it is only 45 mins long, costs only $49, can be taken online from the comfort of your home, and the results arrive in just two days. Compared to TOEFL and IELTS, which can cost between $160- $225 and $140 – $335 respectively, this is definitely a cheaper option.
Like TOEFL and IELTS, this test also assesses speaking, reading, listening, and writing skills. But, unlike them, it only has one section. The questions in the section have varying levels of difficulty.
The minimum expected score is 120 out of 160. You can prepare for the test online for free on https://www.englishtest.duolingo.com/readiness.
Not all universities accept DET, but the numbers are rising. Some famous universities that accept DET are Columbia, New York University, and Northeastern University. So, before you decide on which test to take, check with your university to see which tests they accept, or if you even need to take one at all.
We are sorry that this post was not useful for you!
Let us improve this post!
Tell us how we can improve this post?