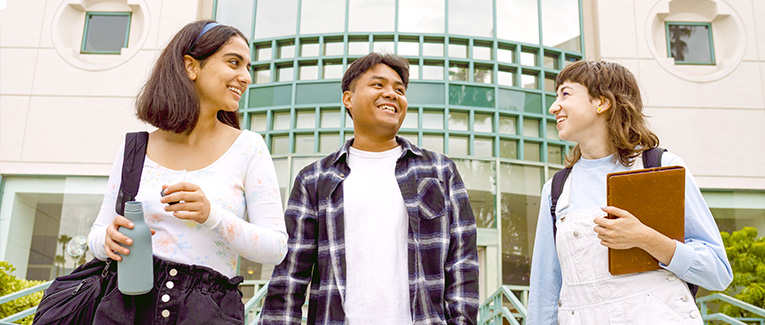 When you reach your college campus as an international student, you have already survived the most daunting part of the process – admissions.
However, life on campus is also overwhelming. You are away from your family and friends, you have to adapt to a new culture to be able to fit in, and above all that, you hardly know your way around the campus.
There is nothing more frustrating than struggling to find the way to your classes on day one, or getting lost in the confusing corridors.
Before admission, a visit to the university might be able to give you a rough idea of where things are on campus. However, before your classes start, it is best to do some campus exploration on your own.
As an international student, it is always wise to arrive on campus a few days before your classes begin. You can spend those couple of days exploring the university, as this will prepare you for when classes start and the crowd arrives.
Here are a few important areas of the campus that you should become familiar with:
Check Out Your Residential Area
If you are living on campus, your residential hall or dorm room is your home away from home. Start by understanding all the entry and exit points. Then, check out the communal kitchen, the restrooms, laundry areas, computer labs or any other communal facilities that you might have access to.
Also, talk to the dorm staff and get to know the rules that you are expected to follow and whom you can contact in times of need. Ask them for the things that they can rent out to you, like a university map or cleaning supplies.
Also, don't forget to ask them for the exact postal address so that you can get your mail and deliveries with ease.
If you are living off-campus at a rented place or with a foster family, you can explore your neighborhood, or ask your host family about the area.
Explore What the Common Rooms Have to Offer
After acquainting yourself with the dorm and your class locations, you are likely to spend a lot of your time in the common room. This is where you can relax and make friends between classes or on the weekends. The common rooms have a lot of amenities to offer.
Restaurants, coffee shops, and couches are often available in these rooms. In some universities, you may also have entertainment options like a theatre, bowling alley, or workout facilities.
Take some time to learn what facilities are available and what times they are open. Don't forget to ask about the rules that you are expected to follow.
Find out What Facilities the Bookstore and Library Offer
Other than making friends and having fun, you also need to maintain good grades. The university bookstore is where you'll find all the supplies that you need for classes. You can also get shirts, stationary, jackets and other items with your university name and logo at the bookstore.
The library will be your source for books, CDs or DVDs that you might need. Plus, it is a good place to study in peace. Whether you just need a silent space or like being surrounded by books, the campus library is the perfect option.
Know where the library and the bookstore are located, the operating hours and what other amenities they offer.
Get Your Gym or Sports Center Pass
Most universities have a gym or sports center that the students can use. However, to make use of the gym or sports center, you might need a pass. Before your classes commence, find your way to the university gym and get your pass made.
Even if you are not enthusiastic about playing a specific sport, occasional visits to the gym will keep you healthy, and of course, you can make new friends too.
Note the hours of the facilities and the rules of using the equipment and space to avoid hassles later.
Study the Campus Map and Go for a Walking Tour
Once you have the university campus map with you, set out on a walking tour. Get to know what corridors lead to where, and where your classes will be held.
Your course schedule will mention the room numbers of the classrooms where your lectures will be held, and your campus map will help you find your way around.
If American English isn't your first language, you might also want to know where the language center is. The language center is the place where you can get proofreading help with your resume, essays, and assignments. The services offered here are typically free of charge.
It is also good to know where the administrative offices are. If you need any help with your visa, university fees or paperwork, the administrative office is where you'll find the right information and assistance.
Find Your Way to the Student Health Center
While the gym and sports center will help you stay healthy and active, the possibility of medical emergencies cannot be ruled out. Should you need any help with health issues, the student health center will be your go-to place on campus.
Make sure you know where the center is located and what kind of medical treatments the center offers. Most universities have a doctor on campus and you can visit the clinic for common ailments and injuries. You may also be able to get some over-the-counter medications at the health center either for free or for a small charge. Some universities also have counseling facilities for mental health.
You should make sure that the student health center accepts your health insurance plan. As an international student, it is important that you have insurance according to the university guidelines. Healthcare in the U.S. is expensive, and international student health insurance can save you from unplanned medical expenses.
The student health center is where you can get more information about how you can make use of your insurance plan when in need, and what level of medical care is available on campus.
When you know your campus well, life at the university will become much simpler. Keep your map handy, and don't shy away from asking for help if you ever feel lost.
We are sorry that this post was not useful for you!
Let us improve this post!
Tell us how we can improve this post?