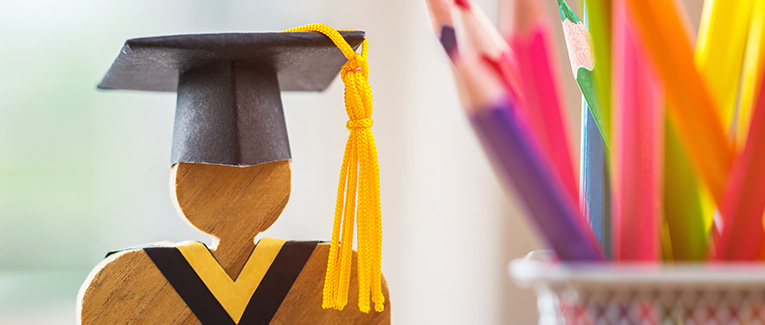 Are you planning to move to the U.S. as an international student? The very first step is to get an understanding of the basic framework of the American college education system.
We understand that it can be confusing to choose between different types of undergraduate and graduate degrees. After all, the sheer number of study options that you can pursue in the U.S. can get a little overwhelming.
Here we break it down in simple terms. What are the college degree levels? What courses can you take in each? How do they stack up against other options? Read on to find out.
Undergraduate degrees
If you are right out of high school, you ought to be looking for an undergraduate program. There are two main types of undergraduate degrees offered in the U.S. – a bachelor's degree and an associate degree. Both have different durations, future options, funding opportunities, etc.
Bachelor's degrees in the U.S.
Most bachelor's degrees are four-year programs that are offered at any traditional university. The degree equips you with a beginner-to-intermediate level of knowledge in the major of your choice. Remember that the subject that you specialize in is called your "major."
Here are some examples of the most popular types of bachelor's degree programs:
Bachelor of Science (B.S.) – This is for students specializing in sciences, mathematics, statistics, etc.
Bachelor of Arts (B.A.): You can major in any humanities and social science subject like history, English, law, economics, sociology, education, etc.
Bachelor of Business Administration (B.B.A.): This is an entry-level degree in management and entrepreneurship. Most students go on to do an M.B.A after this bachelor's.
Bachelors of Applied Sciences (B.A.S): This degree is for aspiring engineers, data scientists, software developers, biotechnologists, etc.
Other bachelor's degrees include Bachelor of Engineering (B.E.), Bachelor of Fine Arts (B.F.A), Bachelor of Science in Nursing (B.S.N.), Bachelor of Architecture (B.Arch.), etc. These are more specialized degrees geared towards specific industries and interests.
A bachelor's degree can help you land an entry-level level position in a company related to your major. It is also a stepping stone to a graduate program – which we will discuss later in this article.
Associate degrees in the U.S.
An associate degree is a shorter and more practical version of a bachelor's degree. They focus on applied knowledge, professional training, and vocational subjects.
Associate degrees are mainly offered by community colleges and trade schools in the U.S.
What type of associate degrees can you take up?
Associate of Science (A.S.): This is ideal for an introduction to math, physics, biology, physics, chemistry, or technical subjects like computer science.
Associate of Arts (A.A): Popular A.A. majors are history, business, communication, literature, art, etc.
Associate of Applied Sciences (A.A.S.): This degree gives you professional training in majors like software management, health studies, aviation support, dental hygiene, electronics, etc.
Associate of Applied Technology (A.A.T.): This is a vocation-specific degree for majors like welding, plumbing, media production, construction, etc.
An associate degree prepares you for the job market through internships and practical learning. You can also choose to continue your education by transferring to a bachelor's program after finishing your associate degree. This way, you start your bachelor's with a strong base of the major you pick.
Some "transfer" community colleges have arrangements with four-year schools so that you can seamlessly enter into an undergraduate degree right after you complete your associate degree.
Graduate-level degrees
Obtaining a graduate degree after your undergraduate degree helps you dive deeper into your area of specialization and opens up more employment opportunities. The U.S. is globally recognized for its excellent graduate programs and state-of-the-art universities. You can go down two routes for a graduate degree.
Master's degrees in the U.S.
Usually lasting one to two years, a master's degree gives you intermediate to advanced level knowledge in your field of study. You need to meet specific GPA and English language proficiency cutoffs to get into a reputed school for your masters. Some programs also require you to clear the minimum score on the Graduate Record Examination (GRE).
Most programs offer a thesis and non-thesis choice, referring to the final-year research project that some schools mandatorily require for graduation. Like a bachelor's, you can pursue an academic or a professional master's degree depending on the sector you want to enter after graduation.
Some examples of popular masters' programs:
Master of Science (M.S): This degree is usually pursued by engineers, financial consultants, software professionals, data analysts, etc.
Master of Arts (M.A.): You can specialize in academic research work in literature, philosophy, history, social work, etc.
Master of Business Administration (M.B.A): An M.B.A is ideal for business executives, management consultants, or project managers.
Master of Laws (LLM): This program is for aspiring lawyers, judges, public policy professionals
What can you do with a master's degree?
With additional qualifications in your area of study, you are eligible for higher-level jobs. You can also use your degree to apply to a doctoral program to specialize further and enter into academia or research organizations.
Doctoral degrees in the U.S.
A doctoral degree is one of the most rigorous and specialized study programs that you can pursue. They take five to seven years to complete and require you to submit an original research thesis in your field. Acquiring an academic doctorate is a logical option for professors, researchers, and scientists. In contrast, a professional doctorate in medicine or business administration is ideal for those who want to further increase their skills in their industry.
Some common doctoral degrees:
Doctor of Philosophy (Ph.D.): This is mainly for academics, specialists, and scientists.
Doctor of Medicine (M.D.): For surgeons, medical scientists, medical instructors
Doctor of Education (D.Ed.): For university professors, deans, college presidents, etc.
Your stay in the U.S. will be greatly influenced by the type of degree you pick, so be sure to take a well-informed and forward-looking decision.
We are sorry that this post was not useful for you!
Let us improve this post!
Tell us how we can improve this post?