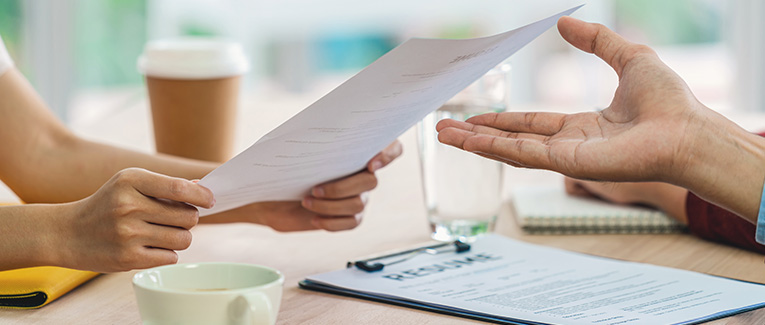 So, you're on the hunt for a job again, and you've found one (or maybe 10) open positions that you'd like to apply to.
Now comes the biggest hurdle to cross: Putting your resume together, and then drafting that dreaded cover letter.
Both are crucial elements of an application that will define the success of your job hunt.
Without further ado, let's get started with the top five tips for making a standout resume that will land you an interview.
How To Create A Resume That Will Set You Apart:
1. Review Successful Resume Examples from Your Industry
Before you set to work on your resume, it's good to know what the standards look like. Study sample resumes from your industry to see what recruiters are looking for in similar roles.
Look for the achievements and skills that have been highlighted, and model your resume accordingly.
2. Make It Easy To Skim: Choose the Right Template & Formatting
It's not all about the content on your resume. It's just as much about how it's presented.
On average, recruiters look at a resume for six seconds, so if your resume looks like a massive block of text, it's likely to get placed in the reject pile.
Make it easy for the recruiter to see if you're a good fit by consolidating your resume into sections using a well-organized template.
But, don't be limited by a template. If there are some unnecessary sections or subheadings, clear them out. Keep the ones that showcase your experience and history best.
For example: If you're a student, you don't have to keep a blank work history section in your resume. Focus instead on adding a section that highlights relevant coursework or academic achievements.
To make your resume even more reader-friendly, use text formatting to highlight the parts you want the recruiter to notice. Use bullet points, bold text, or larger font sizes to highlight vital achievements or keywords.
3. Keep it Succinct
On that note, keep it brief by prioritizing your achievements. A good rule of thumb to follow is to have one page on your resume for every 10 years of experience.
Focus on only the most relevant experiences, roles, and achievements for the job you are applying for. Be sure to highlight your biggest achievements by having them at the top of the page.
Pro Tip: Instead of wasting precious space talking about how well you performed at your last job, show them. Use simple and measurable performance metrics to showcase the impact of your work.
For example, mention how you increased sales by x%, or how you reduced customer response time by y%. This is more impressive to recruiters and doesn't take five lines to explain.
4. Use Active Verbs
Active verbs show clarity and control, and bring strength to your statements. When you use them, you draw the reader's attention to your actions that resulted in the achievements.
So, be sure to start every bullet point with an action word, and use a variety of action verbs to avoid monotony for the reader.

For visitors, travel, student and other international travel medical insurance.
Visit insubuy.com or call +1 (866) INSUBUY or +1 (972) 985-4400
5. Get ATS-Friendly: Use Keywords from the Job Posting
Most companies these days use an Applicant Tracking System (ATS) to manage the application process. This system collects, scans, and ranks the fit of your resume for job eligibility, making recruiters' work much easier.
But, it also means that on average 75% of applicants' resumes don't even make it to the recruiter's desk.
Give your resume a fighting chance by making it ATS-friendly. The best way to do that is to use keywords from the job posting in your resume.
Go through job postings and identify the skill or personality markers that they are looking for in the ideal candidate. (Hint: They're usually mentioned in the "Requirements" and "Qualifications" sections.)
Ensure you use the exact same phrases in your resume to increase your chances of passing the ATS test. But, don't just stuff your resume with keywords. Make it reader-friendly by using them strategically.
Pro Tip: Be sure to run your resume through one of the many free ATS Checkers online to see if it passes the ATS check.
While you're at it, don't sabotage your chances by making these common resume mistakes:
Three Common Resume Mistakes to Avoid:
1. Taking the 'One-Size Fits All' Route
Using the same generic resume for all of your job applications is a rookie job hunter mistake.
Even if all the jobs are in the same industry, sending out the same resume will not get you any responses. Employers like to know that you're truly interested and committed to the role and company.
The company culture and role specifics vary for each job, and a good resume reflects these subtleties.
2. Grammar or Spelling Errors
You might not be applying for the role of a communications manager, but a typo is still a red flag for recruiters.
Poor grammar creates the impression of someone who doesn't communicate well, or perhaps doesn't care to check. Misspelled words on your resume show a lack of attention to detail.
Ensure you do a thorough spelling and grammar check before sending. If possible, have a friend or colleague read through it to catch any errors you may have missed.
3. Focusing On Your Duties, Not Accomplishments
Your resume must show the recruiter how good you are at your job, not just what you do on a daily basis. Don't make the mistake of simply listing your activities and job description.
Recruiters want to know how you've made an impact in each role and what you've achieved while working.
A simple way to do this is by asking yourself these two questions:
How did I resolve or overcome any obstacles and challenges in that role?
What are the results (for the team, company, or stakeholders) I was able to achieve in my role?
Use these answers to shape your content, so that your achievements shine through.
Cover Letter Basics:
To maximize your chances, your resume should be accompanied by a well-written cover letter. (Yes, even in this era of LinkedIn applications and online interviews.)
You no longer have to mail a physical copy of your letter, but attaching it to the application or email will set you apart from other candidates.
If the thought of writing 500 words makes your palms sweaty, we've got your back. Here are some simple guidelines for crafting an impressive, standout cover letter.
The 4 Things You Need To Create A Standout Cover Letter:
1. Address the Recruiter by Their Name
It is recommended that you do not start your cover letter with 'To Whom It May Concern.' Vague addresses like this make it seem like you haven't put in the effort to research the company and role.
If the hiring manager's name isn't mentioned in the job posting, then check the company's LinkedIn page or website. To go the extra mile, you could even call the company's HR department to confirm the name.
Addressing your letter to them directly will catch their attention, and they will appreciate the detail.
2. Don't Copy-Paste Your Resume Contents
Don't bore the reader by restating the information from your resume in longer sentences. Your cover letter should be an extension of your resume, but it must also go beyond it.
Use the following prompts to help you expand on your achievements for the cover letter:
What approach did you take to tackle the obstacles you've overcome?
What strategies of yours led to the big accomplishments you mentioned in the resume?
What personality trait (or work ethic) helped you make a difference in your role?
3. Tailor It to the Company
While your resume may be tailored to the role you're applying for, your cover letter must do more. Use this letter to show the recruiter that you've done your research about the company, and how you can help the company achieve its goals.
Apart from telling them why you're a good fit, also tell them why you want to work there.
Do you have a personal connection with the brand? Have you used their products before? Are their service and mission something you are passionate about?
Showing a personal interest in the company's goals will portray you as a better fit for the role.
4. Keep It to a Single Page
While the recruiter may want to know more about you, they won't have time for a three-page detailed account of your work.
Limit it to a single page, and don't overstuff it. The font size must be at least 12 pts, and be sure to leave some breathing space as well.
Value the recruiter's time and ensure that every sentence of the cover letter offers them an insight into your fit for the role.
Know that everyone's first drafts are messy and awkward. So edit, proofread, and snip through your first few drafts until the letter is razor-sharp.
Keep these tips in mind to help you get an edge over the hundreds of other candidates applying for the same job.
If you have a friend who is job hunting with you as well, help them out by sharing this article with them.
We are sorry that this post was not useful for you!
Let us improve this post!
Tell us how we can improve this post?