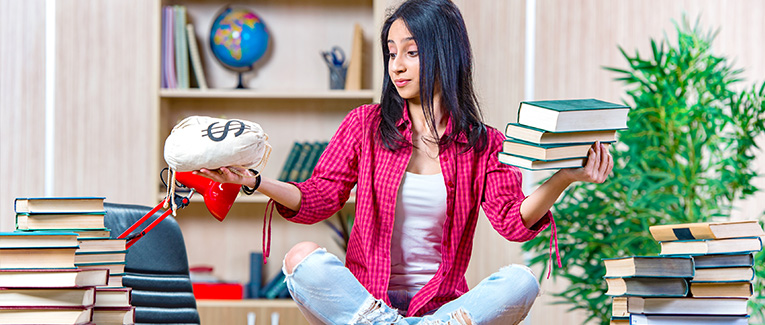 Studying abroad is rewarding. But it comes with a hefty price tag. Tuition fees, boarding costs, and dining costs in the U.S. can be unaffordable to many international students. Scholarships and grants might help you ease the financial burden, but they can't cover the entire cost. Most students don't qualify for scholarships. That's why you shouldn't put your hope in them.
That's where international student loans come in. Many foreign students apply for loans and borrow money to pay for the costs of studying and staying in the U.S.
Read this article thoroughly to understand the most crucial aspects of international student loans in the U.S.
What Are International Student Loans?
Student loans in the U.S. often fall into two categories: private student loans and federal student loans.
The U.S. Department of Education offers federal student loans. But these loans are available only for students who are citizens of the U.S. Students who are staying in the U.S. with an F1 or F2, or J1 or J2 visa can't apply for federal loans.
International student loans are designed especially for students who are not U.S. citizens. These loans have more flexibility for repayments too. You can borrow money at affordable interest rates and monthly payments.
What Do International Student Loans Cover?
Tuition fees: It's the cost of attendance and the main fee for a given academic year as certified by your university. Make sure you check the period that your student loan should cover. It could be for an academic semester, trimester, or a year.
Boarding costs: It's the cost of on-campus boarding in your university. It also includes purchasing a standard meal plan. If you're planning to live off-campus, opt for a student loan that better suits your needs. Consider the cost of rent, utilities, and transportation and choose accordingly.
Books and supplies: The cost of textbooks and other supplies you might need while studying can be covered by student loans. The cost of laboratory instruments can be covered too.
Transportation cost: The cost of purchasing a monthly bus pass or a metro pass can be covered.
The abovementioned factors will decide the maximum amount you're eligible to borrow. The amount will vary mainly on the institution you've already chosen or you're planning to study at. Similarly, the cost of living depends on the location of the institute.
Note that, if you receive any grant or scholarship, it would lessen the maximum amount you were eligible for previously.
Keep this easy-to-learn formula in mind. It will help you calculate what's the maximum amount you can receive in the form of a student loan.
Maximum loan amount = Total cost of education – financial aid received.
Understand Some Important Terms for Your International Student Loan
During the process of choosing a student loan, you'll come across some terms you might not be familiar with. You should understand them first to make the process effortless for you. Here are some of the terms that you will come across:
Interest rate: It's a percentage of the total amount that you borrowed which is to be paid to your lender. In short, it's an additional fee you must pay for the amount you borrowed. Keep in mind that interest rates aren't fixed. They fluctuate depending on the market and the lender.
You can opt between the variable interest rates and fixed interest rates while repaying your student loan. It's recommended that you go for the fixed interest rate. This rate remains constant over the time of repayment. This way it becomes easier for you to create a repayment plan by building efficient timetables.
Keep in mind that the interest rate you'll have to pay the lender depends on your credit score. So, not everyone will get the same interest rate for the same amount of money borrowed.
Credit score: It's a three-digit number that depicts the likelihood of the borrower to repay the loan to the lender. It's based on the borrower's credit history: the number of accounts they have, their repayment history, and the level of debt the borrower is in.
In short, it shows the lender your worthiness in repaying the loan in time. The higher your credit score, the better are your chances of finding lenders offering loans at low-interest rates.
International students who are not U.S. citizens will not have a good credit score. This is because they have limited financial information that is essential in building a good credit score. Thus, you'll need to find a U.S. citizen or a permanent resident who can act as your co-signer.
Co-signer: As mentioned above, a co-signer is a U.S. citizen or a permanent resident. The co-signer is legally obligated to repay the loan if the borrower fails to pay. The co-signer is often a relative who has lived in the U.S. for at least two years.
If you're unable to find a co-signer, you should opt for no-co-signer loans. But you'll find fewer options if you opt for the latter.
For a no-co-signer loan, your lender evaluates your academic success and career path instead of looking at credit history. They will take into account many other factors too. This could include your home country, the university you're attending, and the date you're supposed to graduate.
How to Apply for an International Student Loan?
Step 1: Decide if you want to opt for a co-signer or a no-co-signer loan.
Step 2: Compare different student loans. For this, you can use the international student loan comparison tools which are available on the web. Select the name of your institution and the amount you need to borrow and compare the results.
Step 3: Select the loan that meets your criteria. Make sure you go through the terms and conditions of the lender before proceeding further.
Step 4: Fill out the application form. If you've opted for a co-signer loan, you'll need the help of your co-signer to fill the form.
Step 5: You'll get the approval of the loan within a week if you meet the criteria set by the lender.
The key takeaways from this article:
Compare the plans of different lenders. rather than settling on the first one you come across.
Opt for a loan with a fixed interest rate.
Find a co-signer for your international student loan.
We are sorry that this post was not useful for you!
Let us improve this post!
Tell us how we can improve this post?