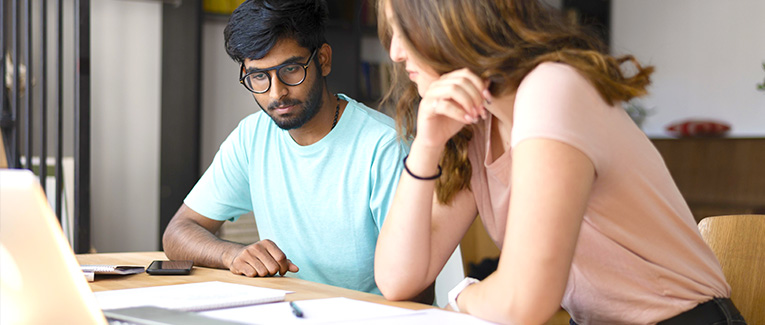 Finally, the moment that you have been waiting for has arrived. You have been accepted to an American university. However, there is one small but very important step left: Applying for the appropriate student visa. There is a lot of work involved in applying for a visa. The U.S. visa office issues different types of visas depending on your program of study. The F1 student visa is the most popular type of student visa.
FAQs – How Can Your Academic Performance Affect F1 Visa Approval?
One of the most common questions that students have is, "Will my academic performance affect my F1 visa approval?" The simple answer is that your academic scores cannot be the only reason for visa rejection if you have an admissions letter from an American college or university. However, your scores play an important role, along with a few other factors.
Will You Get the Visa if you Have any Backlogs?
You can apply for a visa only when you have a university admissions letter. Backlogs can directly affect your admission to a college or university. There are some universities that accept students with backlogs, but there is a limit to the backlogs. So, once you have the admissions letter, then you can apply for the F-1 visa.
Will You Get the Visa if You Have Good Test Scores but Poor GPA, or Vice-Versa?
During your visa interview, you will likely find that the interviewer will focus on your test scores. One of the primary purposes of the interview is to determine your capability and dedication as student. The key is to give convincing replies to the interviewer to justify your test scores.
What are the Questions Asked During the F-1 Visa Interview?
To understand what factors might affect your visa approval, you must know what kind of questions are asked in a visa interview:
What are your standardized test scores (GRE, GMAT, TOEFL, etc.)?
What was your GPA?
Why do you want to study in the U.S. and not in any other country?
Can you tell me some details about your chosen university or college?
What are your career plans?
Do you have any scholarships?
How will you pay for your education in the U.S.?
Do you have any relatives in the U.S.?
Have you been to the U.S. before?
How will you overcome the cultural differences that you might face in the U.S.?
How to Handle the Visa Interview
The visa interview at the embassy can be an intimidating experience for many. The key to the interview is to stay positive and confident. Here are a few things that can help you during your interview.
Dress to impress. A visa interview is a formal event, and it is good to dress accordingly.
Give short and straightforward answers to the questions asked. This will let the visa officer check your English skills. However, if you do not understand a question at all, you can ask for an interpreter.
You can prepare for the interview, but do not give vague answers. Keep your explanations genuine, not rehearsed.
Convince the officer of your dedication to studying in the U.S. If you have low test scores, then it becomes all the more important to make the officer understand how dedicated you are to pursuing the program at your chosen U.S. university or college.
Share the correct details of your college and place of study when asked. You can also explain the reason why you choose that particular college for your studies.
Reasons Why Your Visa Application Might Get Rejected
You might feel that you have performed extremely well at the interview, yet fail to impress the officer. Here are a few reasons why your visa application might get denied:
You failed to convince the visa officer that you do not intend to stay in the U.S. after you have graduated. Be clear in your answer and tell the officer that you are going to complete the program and then return to your home country.
You failed to show enough evidence that you have the means to pay for your education in the U.S.
Your previous degree or certificate is found to be suspicious. The program you completed previously in your home country must be accredited. Also, your college must be approved by the Student and Exchange Visitors Program, as well as Immigration and Customs Enforcement.
If you have family or relatives in the U.S., then this can raise suspicion. It might indicate that you are not intending to return to your home country, and you plan to settle in the U.S. after completing your program.
Preparation is Key
If you have all your documents ready and you meet the requirements stated by the visa office, there are fewer chances that your visa will not be approved. Stay confident during the interview and give it your best shot.
We are sorry that this post was not useful for you!
Let us improve this post!
Tell us how we can improve this post?