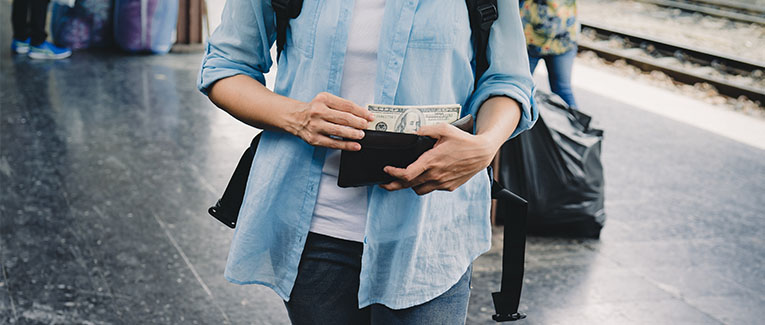 Apart from the classes themselves, financial instability is a plague for college students. Most of them are in debt, and as a result, are looking for the cheapest ways to get by with their lives. For some, that means skipping meals, or a life of reduced comforts. But it doesn't have to come to that. In the U.S., many businesses and services offer student discounts that help students save money.
Here are some ways to use student discounts to maximize savings.
Carry Your Student ID Wherever You Go
You'd be surprised how many places offer student discounts. The only catch is that you need to be able to prove that you're a student.
For that, you need to carry a valid student ID. Put it in your wallet or purse, so that even if you go on an unplanned shopping trip, you can make sure to get any available discounts.
If you're not sure whether a place offers student discounts, ask anyway. On the chance that they do, you can save some precious cash.
Never Pay Full Price for Food
After textbooks, students spend most of their budget on food. Well, as luck would have it, most fast food joints offer student discounts if you flash your ID.
These are some of the places you should go to if you want discounted food:
Burger King
Dunkin Donuts
Chipotle
Buffalo Wild Wings
Arby's
Of course, your diet can't be restricted to fast food. So, try to mix in some healthy alternatives as well.
Up Your Fashion Game on a Discount
Putting together and strutting around in cool outfits is a significant part of the college experience. Sadly, college students don't always have the budget to do that. Without student discounts, that is.
However, you need to be on your guard when you're shopping. Many stores like to hide the fact that they offer discounts for students. So, either research online, or ask an employee at the store whether they have discounts.
Here's Where to Shop for Discounted Clothes:
Topshop
Forever21
ASOS
Adidas
Levi's
Get a few staple pieces, and play around with the clothes to get iconic outfits.
You can also consider shopping at the thrift store for used clothing. Don't turn your nose away at the word 'used.' You can find classic pieces for much cheaper when thrifting.
Play Around with Makeup and Skincare
What's a good outfit if you don't have a makeup look to match it? Forget the woes of expensive makeup products thanks to student discounts.
Online and physical stores like GHD and Stock N Go have discounts on beauty and health care products. So, don't let your personal care slip even if you're a college student.
Get Gadgets For Cheap
You would think the latest MacBook Pro is a wild dream for a college student, but thanks to student discounts offered by Apple, you can buy the laptop for cheaper.
Many other brands like Samsung and Best Buy have good discounts for students. So, despite being on a tight budget, you can stay updated with the latest tech products.
Student discounts on technology extend to Microsoft software, Norton anti-virus protection, and even Adobe Creative Cloud.
Taking Entertainment Breaks
All work and no play is a one-way ticket to burn-out. You may argue that entertainment is an unnecessary expense that will exacerbate your debt situation, but that doesn't have to be true.
With your student ID, you can get discounts even for entertainment. Want to go to an amusement park to let loose? Six Flags has student discounts for you.
You can even sign up for OTT services like Hulu for cheaper if you're a student.
Sports tournaments like Major League Baseball, National Hockey League, and college sports have concessions for students.
If sports is not your arena, some theatres and concert halls offer discounts for students. Ever imagined going to a Broadway show on a student's budget? It is possible in Chicago for certain shows. The trick is to ask every establishment you enter whether they have discounts for you.
Get Insured For Less
Being in the prime of your youth is no excuse to not have insurance. Neither is not having the money for it.
The fact is that medical emergencies can happen to anyone, and when it happens to you while you're uninsured, financial crisis that rivals student debt will ensue.
So, it's always prudent to protect yourself with insurance. Thanks to student discounts, you can get insured without breaking the bank.
Many insurance providers offer conditional discounts for students who have top-class grades.
Additionally, you can search for great deals on student insurance with Insubuy.
The website makes it easy to compare plans, their features, and the premiums you'll have to pay. With all the information in one place, making a decision on the best insurance plan is simplified.
With an A+ customer service team ready to answer any question you have, Insubuy is the perfect insurance marketplace.
Cell Phone Plans For Cheap
Living without a cell phone is probably the hardest challenge for a college student. If you're an international student, you're going to want to call home every chance you get.
Having unlimited data may seem farfetched for a college student, but it's not. Verizon, AT&T, and Sprint offer student discounts with unlimited calling and data options.
Verizon offers discounts depending on the University you attend. To get a discount on an AT&T plan, you just need to sign up with an .edu email ID.
Getting Around Town with Student Discounts
Unless you live in a dorm near your university, you'll end up spending a fortune on transport, and buying a car is not a good option for students who're trying to save money. Apart from the car costs, you'll have to pay for fuel and parking.
Public transport is the best option for saving money, and it so happens that many cities offer discounts on transportation facilities for students. Greyhound, Amtrak, and Coach USA have student discounts up to 20% off.
Many hotels also participate in discount programs, and you can find travel companies that offer concessions for students as well. You just need to book through their sites.
Amazon – The Best One of Them All
Students can get the benefits of Amazon Prime at half the price. Prime Student can be used to buy textbooks and supplies for cheaper, and you will also get access to exclusive deals and discounts with a student account.
You don't even have to fully commit to it. You can try out Prime Student for free for 6 months. Then, if you find it beneficial, you can sign up for it.
With a Prime Student account, you will have access to Prime Videos, Prime Delivery, and much more. It is the ultimate way to save when you're a student. Take advantage of the discounts you can get as a student. Be smart with your finances, and you can succeed in saving for the future.
We are sorry that this post was not useful for you!
Let us improve this post!
Tell us how we can improve this post?