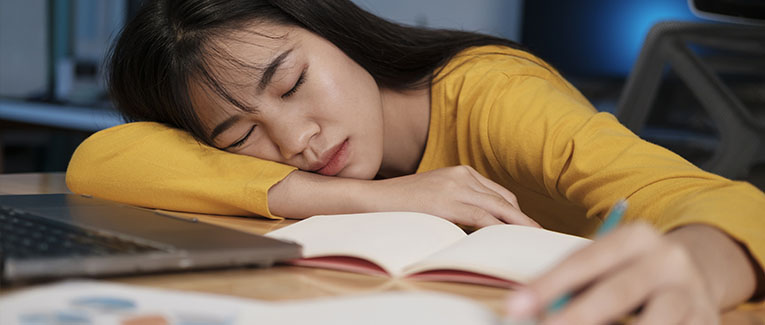 Your time as an international student is filled with never-ending activities. You have been studying, going to classes, making new friends, engaging in social activities, and more.
It is natural to feel burnt out.
The heap of stress sitting on your head, be it with regards to your studies or coping with changes, is bound to lead to burnout. It's unavoidable, but not incurable.
There's no instant cure to burnout, but the first step is to acknowledge that you're tackling it. Here are some symptoms that may help you understand your situation:
You feel exhausted even on days that have been perfectly normal.
You keep feeling overwhelmed at even the slightest obstacle.
You are unable to sleep at night and unable to get up early in the morning.
You often feel like everything is out of control.
You lack motivation, and there's a noticeable change in your sleep pattern (which is not positive).
You doubt everything that you do.
You want to stay alone and avoid all social gatherings.
What causes academic burnout?
There can be various reasons that cause academic burnout. You could be attending back-to-back classes, completing lots of assignments, and thereby neglecting yourself. International students tend to feel it the most because they are also simultaneously adjusting to a new life.
Here are some common reasons why you may be having academic burnout:
As an international student, you may be worried about finding the right accommodation.
International students often feel stressed out due to financial issues. Your rent may be due, and the paycheck of your part-time job hasn't been credited yet.
Bundles of assignments and projects are piling up, and there's no time to complete them all.
Other members of your group are not chipping in their time or efforts for the group project.
Lack of appreciation from your teachers, or lack of social relationships at school.
How to tackle burnout when abroad?
There is no perfect way to tackle burnout. But, there are some ways that, when incorporated, may help you tackle burnout better when abroad.
1. Understand where it's coming from
Many students refuse to acknowledge that they are dealing with burnout. They continue exhausting themselves to the point that they can't operate any further.
Try to understand why you're feeling exhausted. Is it the school work that's taking a toll on you, or is it the stress of finding a suitable accommodation that's depriving you of sleep?
2. Take a day or two off
Yes, you have a lot of tests lined up and so many assignments to complete. But, if you continue working under pressure, you won't be able to focus on your work and accomplish what you need to get done.
Take a well-deserved day off. It's important, and you need it! End of story.
Visit the library if reading soothes your mind, or cozy up with a mug of hot chocolate and read in bed.
If a movie helps distract your mind from studies, catch up with your favorite flick.
3. Go for a mini-vacation for the weekend
There are many mini-vacation options that you can go for without burning a hole in your pocket. Explore some below:
Mt. Washington, New Hampshire
You can borrow your friend's bike or rent a car to drive up to New England and climb up the Mt. Washington Auto Road in New Hampshire. It's one of America's most ancient man-made tourist attractions. Excursionists often drive a mile to reach the highest point to witness the breathtaking view of the Atlantic Ocean.
If you want to stay the night before you drive back, you can book the Glen House located within the White Mountain National Forest. You can spend the next day hiking or biking at the Great Glen Trails Outdoor Center. Also indulge in some comfort food and New Hampshire special brews while you are here.
If it's the mountains that soothe your senses, then Boise, Idaho would be an appropriate excursion destination for you to rejuvenate.
The city of trees has a lot to offer if you are a biker, wine connoisseur, hiker, or whitewater paddler. There's a 200-mile-long trail for the hikers within the foothills. Let that heap of frustration melt as you hike and bike amidst the hills.
Spend your evening at a wine or beer tasting room at Boise's Greenbelt near Boise River. In Idaho, you can experience the essence of Basque culture up close.
Here's the best part. You don't have to spend a fortune on this mini-vacation. There are ample inexpensive dining options in Boise. Plus, for your stay, you can opt for the Riverside Hotel located right across the Greenbelt. For only $159, you can get accommodation, free breakfast, and a large pool to jump into!
Hilton Head in South Carolina
If you are a beach lover, then Hilton Head in South Carolina can be your next perfect rejuvenation destination. The Hilton Head Island offers a perfect beach adventure to international students in the U.S. The best part is that this adventure doesn't come at a huge cost. If you are studying in a school or college nearby, you can ride your bicycle to the beach.
Fun fact: The Hilton Head has been named as a Gold Level Bicycle Friendly Community by the American League of Bicyclists.
Isn't it amazing? Cycling helps clear your head, and if it's summertime in South Carolina, there can be no better time to take a ride!
If you are visiting Hilton Head from a location far away, you can book a room at the Westin Hilton Head Island Resort & Spa at an affordable cost. There are lots of within-the-resort activities that you can indulge in while you are there.
But, we'd suggest that you go out and explore the pristine beaches, and let the seawaters wipe away your worries.
Are you a history buff? Well, we know that you won't want to escape to a location that reminds you of studies all over again. But history buffs out there would know how relaxing it feels to be amidst the ancient structures and listening to age-old stories in peace.
Savannah, Georgia is full of historic mansions, oak trees dressed in Spanish moss, and cobblestone alleyways. You can plan to spend an afternoon at the Forsyth Park with a picnic basket, and witness the cast-iron fountain, built in the 9th century and modeled after Paris' Place de la Concorde. For just $199, you can book a comforting stay at the Perry Lane Hotel nestled in downtown Savannah. There's also a charming library and rooftop pool.
Temecula is an unexplored local getaway that has recently begun to attract international students in the U.S. Since it's not too popular amongst travelers, you won't find it crowded or peak-priced. You can take a break from your school and book a weekend stay at the Pechanga Resort Casino. There's a cool RV Resort at Pechanga, which gives you a chance to bring your own RV or a trailer while you experience a truly resort-like stay here.
Temecula is a hidden country, famous for its engaging vineyards and lots of outdoor activities like horse riding and wine tasting. For $10, you can have a fun-filled day at Pennypickle's Workshop. It's a museum designed like a laboratory of the popular fictional character, Phineas T. Pennypickle. Enjoy!
4. Try to get help
If it's affecting you too much, it's time to seek help. According to the World Health Organization, burnout is more of an occupational phenomenon than a medical condition. It occurs because of a toxic environment leading to students developing a negative sense of themselves. It also leads to inefficiency, which further ends up causing depression and anxiety in students.
While there are many ways to rejuvenate oneself and tackle burnout, some students have it harder than that. Some students are already dealing with anxiety, and the added pressure of school and coping up in a new environment causes major burnout.
If you don't think that a vacation can help you tackle burnout, you should seek help in the form of therapy. Sometimes you may feel that no one, not even a close friend can understand what you are going through. You won't feel like talking to anyone, and that's when you need a therapist; someone you can confide in without worrying about being judged.
This is, of course, the last resort, but an essential one when required. That said, everyone has their own way of tackling burnout when abroad. You can go for whatever rejuvenates you best. Or, you can do all of these and start feeling better.
We are sorry that this post was not useful for you!
Let us improve this post!
Tell us how we can improve this post?