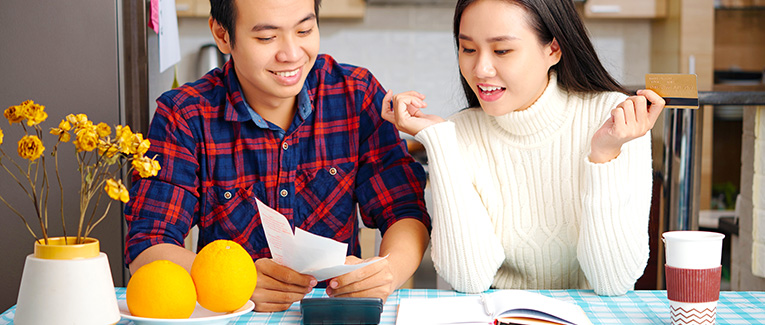 Everybody has at least once dreamt of studying abroad. The dream usually goes like this: You take a flight to your country of choice, immediately make friends with your roommate, and hit up parties the same day. Well, welcome to reality.
Suffice to say, this is unlikely, and it's imperative on the student's part to know what they're getting into. If you're an Asian student, it is fair to assume that this will be your first time alone. This means budgeting might not be your strong suit. We're here to help you with that.
Find the Funding
You can no longer depend on your parents to fund your weekend plans. So where does the money come from?
Get a Part-Time Job
It is a good idea to get a part-time job so you can ensure a steady source of income. Most countries place restrictions on the type of work international students can do. So, make sure you research that beforehand. For example, international students in Canada can only work 20 hours per week for a paid job. In the U.S., some visas allow you to work only on-campus.
Explore Financial Aid
Many institutions provide financial aid for international students. There are various eligibility criteria for institutionally awarded grants. A deep dive into your university's website is necessary to learn more. Besides this, there are large private student loan lenders for international students. Some need a U.S. citizen to co-sign. But there are a couple of banks, like MPOWER Financing, that do not.
How to Save Money
Learn to Cook
Ordering food may seem like an easy option, especially amidst heavy coursework and jobs. But, done too often, the expense tends to add up, and you may find yourself out of money. Learn to make quick and healthy meals that don't need much prep or talent. Your digestive system will thank you later, as will your wallet. There are many meal plan subscriptions that you can sign up for.
Invest in a Solid Insurance Plan
Health is not a guarantee, even if you're in the prime of your youth. That being the case, it is prudent for international students to enroll in a good health insurance plan. Without a good plan, medical expenses in the U.S. are highly unaffordable.
Research Student Discounts
Many grocery stores, clothing stores, and even public transport in the U.S. offer discounts to students. Students can present their ID cards to benefit from these discounts. Even online stores like Amazon offer discounts to students, in which case, you can sign up with your university email ID. In the long run, this can save you a lot of money.
Count Your Pennies
"Save the thousands and spend the hundreds." That is a common phrase told to those who are trying to save money. Essentially, you're told to live a frugal life now to have fun later. If you're working, pledge to save 10% of your paycheck every month. Deposit this cash in a place where it will generate interest. That is an easy way to make money doing nothing. You now have a way to fund fun activities like weekend trips and spring break.
Track Your Expenses
Yes, you can roll your eyes, but it is imperative to get into the habit of keeping track of your expenses. It often happens that at the end of the month: You're short on cash, even when you've "spent nothing." Well, money has this way of sneaking its way out of our pockets, even when we're diligent about spending. To get a better handle over it, write down every single expense you've paid, so you know what to cut the next month. Plan your expenses and stick to your plan.
Pick the Location Wisely
If you're not very particular about the university, the best option would be to choose the location where you'll go to school very wisely. Some cities have extremely high costs of living that may be beyond a college student's budget. This is especially the case in large U.S. cities like New York and San Francisco. Places like Pittsburg and Philadelphia offer prestigious universities, but their cost of living is lower in comparison.
Live On-Campus
Most U.S. universities insist students live in on-campus dorms for their first two semesters. After this, students can choose to move out, which many do. However, this comes with financial burdens like paying rent, transportation to and from college, and food. So, as exciting as it may seem to move out and be independent, be mindful of your budget. Dorms are closer to your classes, allowing you to spend less time and money commuting.
Save on Study Material
Textbooks and study materials are notoriously expensive. Most colleges will require you to buy a brand-new set even if there's even a minor edit from an older edition. There are many online resources, like Nexus Notes, where you can buy cheaper variants that are just as good. Your school's library will also usually contain the bulk of your coursework. You can make copies of this for future reference. In the last year, students saved an average of $200 each per semester by working this way.
Cellphone Savings
Since you will be away from home, you will probably be making frequent calls. Therefore, a reliable cellphone provider is crucial. In some countries, you can get away with simply changing your SIM card. However, this will not work in the U.S., as the phones use different technologies. If you have to purchase a phone, don't spend all your money on the latest model. Most providers will have an array of budget-friendly phones that will work just as well for all practical purposes. Some providers, such as Verizon and Total Wireless, offer discounts and packages for international students you may be able to take advantage of. This way, you can get the service you need with less expense.
Though daunting, studying abroad can be a lot of fun. That said, it is vital to stay responsible and accountable for financial decisions. Budget and spend wisely, so you can enjoy your time studying abroad will fewer financial worries.
We are sorry that this post was not useful for you!
Let us improve this post!
Tell us how we can improve this post?