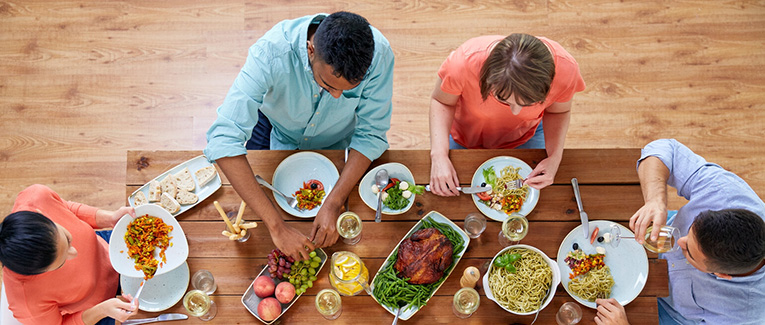 Thanksgiving is one of the biggest family holidays of the year in America. On Thanksgiving, families come together to enjoy a traditional meal, with a stuffed turkey as the centerpiece. Everyone is thankful for what they have, and there is a fun, festive vibe.
As an international student, this might be your first opportunity to experience Thanksgiving. If you've received an invitation from one of your American friends to join them for Thanksgiving, don't pass up the opportunity to enjoy this time of family and fellowship. However, if you did not, you can always host a Thanksgiving dinner yourself.
A potluck is one of the easiest and most convenient options for hosting a Thanksgiving dinner. At a potluck, each attendee brings their own dish to add to the meal. This ensures no one person is overburdened with cooking, which is especially important if you live in dorm with limited facilities and space.
To have a successful Thanksgiving potluck, proper planning is key. With this quick guide for international students, anyone can host a successful Thanksgiving meal.
Decide the Theme
Before you start inviting people, finalize a theme. You can either host a traditional Thanksgiving potluck, or let everyone bring a dish that is a specialty of their country or culture.
Traditional Thanksgiving dinners will vary by region, but will almost always include a roast turkey, mashed potatoes, and a few varieties of pie. In most cases the host is expected to be in charge of the turkey. If you aren't confident about cooking a turkey – or able to do so in the confines of your dorm – you can always purchase a cooked turkey from a grocery store or market.
You can also choose to go with a traditional dish from your country as the meal's centerpiece instead. Remember, Thanksgiving is more about being thankful for what you have than the actual dish you decide to serve.
Send Out the Invites
Make a list of all the people you'd like to invite to your Thanksgiving dinner, and make sure you have enough space to accommodate all of them. Once your list is ready, start inviting people. You can call, email or text them, or use any one of the varieties of online invite-sending services out there. You can also choose to go the traditional route and send physical invitations. This can help add a personal touch.
It's extremely important that you ask everyone to RSVP, and indicate if they will be bringing a guest. This way, you can ensure you'll have the right amount of food and space for everyone.
Distribute the Tasks and Keep Everyone Coordinated
The true essence of a potluck is that everyone contributes in some way. Once you have decided on the menu, make sure everyone is coordinated. You don't want two plates of beans and no dessert, right?
You can make a WhatsApp group and add all the invitees to it. This way, everyone will know what they have to do and what the others are doing. This will also help accommodate any special dietary requirements of your guests or their allergy concerns.
As a student, it is unlikely that you will have all the serving bowls, plates, and cutlery to feed a party. So, you can also ask your guests to bring a few supplies.
Those who cannot cook can be given beverage duties, or they can bring utensils, paper plates, napkins, etc. This way, everyone gets to be involved.
Another important thing is to coordinate the use of the refrigerator and the oven. Some dishes are best served cold, and others won't be enjoyable if they aren't hot. When your guests bring dishes from home, they might need to be refrigerated or reheated for the best taste.
Figure out a schedule so that everyone gets to use the oven or stove in time, and the refrigerator has space for whatever dishes need to be kept in there.
Make Seating Arrangements and Decorations
As the host, this will be entirely your job. If you want, you can make a seating chart. Or you can just let your guests sit where they please. Just make sure you have enough chairs and space on the table for everyone. Even if you don't have a dining table, you can use couches and chairs.
And for decorations, you can use orange or white pumpkins or gourds, candles that smell like fall, and anything else that you deem fit. Shop around for decorative items in local stores, or find deals and discounts online. Fancy tablecloths and DIY Thanksgiving-themed centerpieces can also be a fun addition.
However, get all the supplies you need beforehand. Most stores are closed on Thanksgiving or have limited operating hours. It is best not to leave things to the last moment.
Have Backups Ready
While your guests should bring the items they're assigned to bring, it's best to have backup dishes and supplies ready. If someone forgets to bring an item or is unable to attend at the last moment, you'll be glad to have these items on hand.
If you have extra food or drinks after the party, you can share the bounty with your guests and allow them to take food home. For college students on a budget, a free meal is usually appreciated.
Plan Entertaining Activities
What fun is a party without some entertaining activities? Depending on the preferences of your guests, you can plan board games, video game tournaments, or other party games that pique your interest. Try to plan these activities with your guests ahead of time, so that everyone has a good time and no one feels left out.
Be Thankful for The Family, Friends, and Food
Last but not least, don't forget to be thankful for everything that you have in life. You can go around the table asking everyone to share one thing they are thankful for. After all, this is the true reason we celebrate Thanksgiving.
We are sorry that this post was not useful for you!
Let us improve this post!
Tell us how we can improve this post?