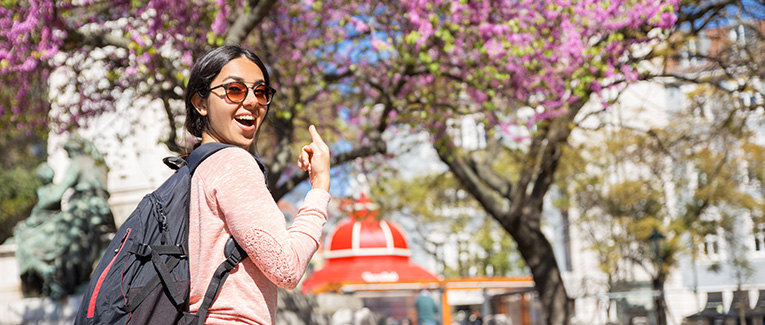 Want to know the best part about studying in the U.S? You get two-and-a-half long months of summer vacation. With this much free time on your plate, the immediate question is – what should you do? After a hard semester of classes, we're sure the only thing you'll want to do is curl up in bed. However, you will probably get bored of this in a few weeks. This means you've still got two months left to fill up with activities. What can you do?
Don't fret, that's what this article is all about.
Jobs or Internships
Your best and most productive option is to find a job or internship. This serves two purposes: It helps you gain relevant work experience, and it allows you to earn some extra money. Many colleges offer on-campus jobs. Staying on campus usually means your housing and food costs will decrease, helping you save more money.
Optional Practical Training
During your first year of study, you will only be permitted to work on-campus. However, after completing one academic year, students can apply for employment through programs called Optional Practical Training (OPT) and Curricular Practical Training (CPT). These programs allow students to work for a period of 12 months in jobs related to their field of study. And extensions up to 24 months can be applied for by students majoring in a STEM subject. Students can work for 40 hours a week in the summer. This will keep them occupied for most of the day and makes for the perfect summer activity.
Travel
We are sure you moved to the U.S. with the intention of traveling in your free time. This is a terrific option provided you have the money for it. The United States is a huge country with many interesting places to visit. If you're a beach person, there are plenty to explore. Additionally, there are mountains, deserts, and just about any sort of terrain you'd want to see. The U.S. also has a long and interesting history, so if you're into that, you can visit historical sites as well. Another advantage is that you don't have to rely on air travel. You can take the train or drive, which may be a more affordable option. Just keep in mind the vast distances between some attractions in the U.S. if you don't plan to fly. Many can require several days of driving to reach.
Must-Visit Places in The U.S.
Endless fun at Disney World, Florida – this is the most popular tourist destination in America. This fantastic theme park has four parks which will make for a tremendous weeklong holiday.
Behold the wonders of nature at the Grand Canyon – situated in Arizona, this is a natural canyon formation that is a sight to behold. It is a very popular destination, but can get very hot in the summer.
Experience a different form of nature at Niagara Falls – This massive waterfall is located in New York State, along the Canadian border. You can take a ferry on the river and get close to the waterfall. The adjoining park also provides a rich educational experience on the history of the falls.
A walk around New York City – If you're into city life, there's no better place to visit than New York City. Popular attractions include the Empire State Building, the Statue of Liberty, Times Square, and Central Park.
Camping in the Appalachian Mountains – If you're a nature person, you will have endless fun on a camping trip. The Appalachian Mountain range is one of the biggest in the U.S. and has many campgrounds in it. Round up a couple of your buddies for a nice weekend trip.
Summer Courses
This is another very productive option for students in the summer. Summer courses can help you earn extra credits and more experience in your field. The subjects offered during summer school are typically not offered during the regular semester. They may even provide an opportunity to travel with your class.
Benefits of Taking Summer Courses
Bonding with Classmates – Typically, fewer students apply to summer courses, meaning a more intimate class. This will allow you to bond better with your class.
Earning Credits – In the U.S., your college credits are what allow you to graduate. The more quickly you accumulate credits, the faster you can graduate. Summer courses allow you to earn more credits while also increasing your breadth of knowledge.
Take Up A New Hobby
There's no better time than the summer to indulge in new hobbies. These can be educational, or just something you do for fun. If you can gather a couple of your friends, you will end up having a ton of fun in whichever activity you choose. If you want, you can also double your hobby as a part-time job. For example, say you want to learn how to climb rock walls. You can go to rock climbing facilities and volunteer as a student-supervisor. This will allow you to both have fun while also earning some income. You can also try joining in summer activities like hiking or water sports to keep you occupied.
Take a Trip Home
Studying alone in a different country can be a lonely experience. There's no better time than the summer to take a trip home. Take at least two weeks off and head back. You can come back refreshed for the new semester having seen your family and friends.
Vary your Activities
Having over two months to yourself means you'll have time to pick more than one activity to enjoy. Try to squeeze in a variety of experiences to have a well-rounded summer. Also, ensure that you take some time to simply relax. This will allow you to start the next semester in a refreshed, positive state of mind.
We are sorry that this post was not useful for you!
Let us improve this post!
Tell us how we can improve this post?