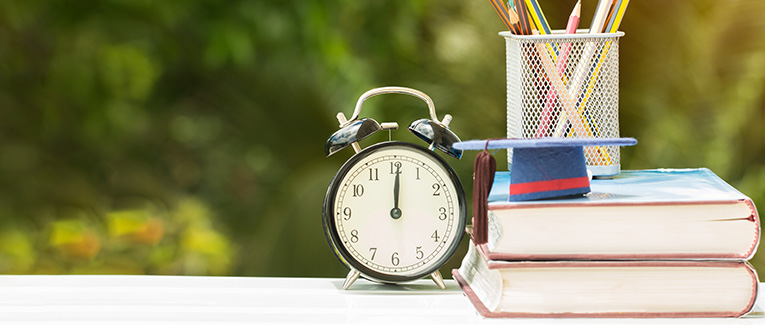 The opportunity to study in the U.S is exciting. However, the process leading up to this can take a year or longer. Before starting class at a U.S. college or university, international students have a whole list of things to accomplish.
You will need to familiarize yourself with the U.S. education system, choose a school, apply to that school, get accepted, get approved for a visa, and plan your move to the U.S. This is an involved process that will take a significant amount of time and effort from you.
If you're planning to study in the U.S., use this checklist to get an idea of what you need to do – and when you need to do it – to become an international student at a U.S. college or university.
18 Months in Advance – Research and Organize
You should begin your research at least a year-and-a-half before you're planning on starting school in the U.S. The first step is to find schools that offer the major or program you're interested in. It's best to choose at least six to nine different schools you may want to attend, and rank them by preference.
You need to know what you will be required to do in order to apply to your preferred schools and program. Once you've decided on which schools you're interested in, the next step is to request application information from them. You can get this information on university websites, or by contacting fellow applicants and school officials.
You should also research which visa you will need and how you can obtain it. If you're opting for an F-1 visa, you must have your I-20. It will be issued by the school once you are accepted into the program.
A Year in Advance – Take Required Tests
All colleges and universities have different admission processes. As soon as you receive the requirements, you should start focusing on the process. If you need to take entrance exams such as the SAT, ACT, GRE, IELTS, or TOEFL, you need to start preparing for them right away.
You also need to make sure that you remember to schedule these tests and keep the appointments. Missing out on a test can delay your admission by an entire semester. Here's a pro tip: if you take a test once and are not satisfied with your score, re-taking these tests may lead to higher scores. So, make sure you have enough time to take the test more than once if necessary.
You should also start gathering your transcripts, letters of reference, essays, and certificates. You will need them for your college applications.
Up to One Year in Advance – Apply for Your Student Visa
After you've been accepted by one of your schools of choice, it's time to apply for your student visa. International students most commonly apply for an F-1 visa. The F-1 visa allows students to complete their college program, and stay in the U.S. for up to 60 days after graduation.
In order to get approved for an F-1 visa, you will have to pass an F-1 visa interview. Make sure you do your research and prepare yourself well for this interview. However, even if you are not accepted the first time you apply for a student visa, you are able to apply again.
10 Months in Advance – Research Scholarships and Financial Aid
Financial planning is one of the most essential aspects of studying abroad. The competition to be accepted into international programs is high. So, if you don't plan well, you might miss out on potential financial aid or scholarships. U.S. schools offer a variety of programs that provide financial aid for international students. Depending on the school, you may need to include your application for financial aid with your college application, or you might need to contact the school to submit it separately.
Apart from educational costs in the U.S., you should also assess the cost of living. If you choose carefully, your financial aid could also cover part of your living expenses.
Eight to 10 Months in Advance – Complete Your Applications
Once you've researched schools and programs, taken the required tests, and looked into financial aid, it's time to complete and submit your college applications. The content of each application will determine whether or not you are accepted by a school, so take plenty of time completing each one.
Every school will have different requirements for their application in terms of references and recommendations, required exams, test scores, and essays. Be sure you read each application carefully to ensure you're including all the required information when you submit it.
It's a good idea to set reminders for college application deadlines. This way, you won't risk missing the opportunity to attend your school of choice because you didn't apply in time.
Four to Six Weeks in Advance – Prepare for Your Move to The U.S.
Now that you've been accepted to your school and your visa is approved, you can start planning your move to the USA.
First on your list should be booking your travel tickets. After that, you'll need to arrange housing for once you arrive. If you're planning to live on your school's campus, you can contact their international student office to get further details about accommodations. If you're planning to rent an apartment, now is the time to start looking. If you're staying with a host, you should begin finalizing your arrangements now.
It's also essential that you understand your requirements for international student health insurance. Some schools will automatically enroll you in a student health insurance plan as part of your tuition, but others will require you to purchase insurance on your own. During this time, do your research and make sure you have the proper plan in place when you arrive. You may also want to purchase travel insurance for your trip to the U.S.
Once you have your accommodations and insurance sorted, take some time to create a budget for yourself. The U.S. is an expensive country to live in, so you will want to make sure you're keeping track of your finances while studying there.
The next thing you'll have to do before your move to the U.S. is pack the things you need. You must be smart about what you pack, since there's only so much luggage you can take with you. Bring the essentials, and remember that you can buy many other items after you arrive.
Finally, you will want to ensure you have all of your travel documents in order, and decide on a safe place to keep them during your trip. Keep your passport, visa, and other important documents in a bag or briefcase that you will carry with you. They should be secure, but easily accessible. Do not put them with the baggage you intend to check, as there is the possibility that your luggage could be delayed or lost during your trip.
The Day Before Departure – Take a Deep Breath
The process of studying abroad in the U.S. is long and involved. After over year of research and work, it's only natural to feel a little stressed and anxious right before the big move. However, if you've completed every item on this checklist, you should be well-prepared.
Do your best to relax and enjoy some remaining time with your family and friends. You're about to embark on an exciting journey that will expose you to new experiences, help you make new friends, and result in a rewarding career. There will be trying times to be sure, but the experience of studying abroad is sure to be an enriching, life-changing adventure.
We are sorry that this post was not useful for you!
Let us improve this post!
Tell us how we can improve this post?